#LiftAsWeClimb – Celebrating 500 Episodes of Wings of Inspired Business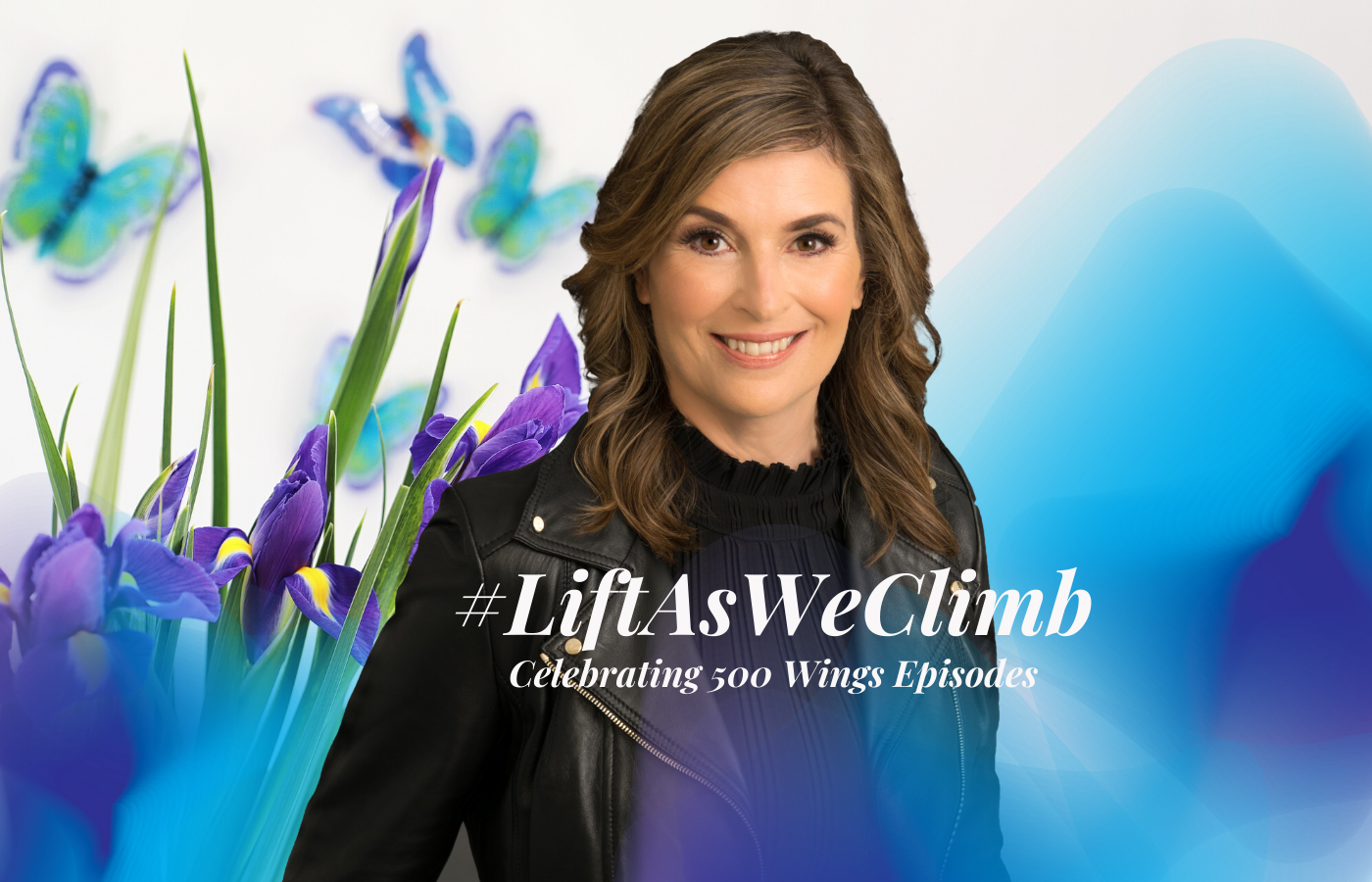 500 episodes.
500 interviews with many of the most inspiring women entrepreneurs on the planet.
Millions of dollars in value created by the #LiftAsWeClimb mission of Wings of Inspired Business in myriad ways:
Promoting the businesses of badass women entrepreneurs to my listeners

Providing practical tips and inspiration my listeners put into practice to grow and scale their businesses

Precipitating connections resulting in new business opportunities, strategic partnerships and investments
All of that, and then some, has happened since I launched Wings two years ago.
When I launched it was little more than a passion project.
All I wanted to do was affirm and acclaim the entrepreneurial journeys of female founders like me, who I believed were "succeeding in silence." We didn't fit the stereotype of a 20-something dude in a garage wearing a hoodie eating ramen (too many carbs!) And tech founders like me with scalable opportunities weren't getting a fair share of the venture capital funds out there – to this day only 2%.
I wanted to change the game for women in business and ignite an ecosystem where women help each other to soar to success. 
I imagined a world of abundance where women mentored each other, promoted each other, bought each other's products and services, and invested in one another. 
So, I simply decided to BE the change I wanted to see in the world.
I started promoting women entrepreneurs through my podcast. 

I started opening doors by connecting women to each other.

I created mentoring programs, online summits, and a membership site for women starting and building scalable businesses.

I co-created a successful luxurious retreat and mastermind for successful women entrepreneurs.

I started buying women's products and services.

I set an intention to invest $10mm+ in women-owned businesses in the next 10 years.
And magic started to unfold in myriad ways in my life.
It's incredible what happens when one takes massive action in alignment with a clear mission … and your true purpose and talents.
My gratitude on this 500th episode milestone for Wings truly knows no bounds.
Gratitude my ever-growing community of listeners

Gratitude for my inspiring guests who share their best hacks, "aha's" and secrets of success

Gratitude for all the recognition – especially Entrepreneur Magazine naming us #8 of its Top 20 Business Podcasts for 2020

Gratitude for the lessons, connections, and dharma I get from hosting it

And gratitude for how it led me to found

Podopolo

,

the world's first socially-interactive podcasting network
Over these two years, I've learned firsthand the power … the possibility … and the challenges of being a podcaster.
I know what it's like struggling to be discovered.
I know what it's like burning out trying to grow and engage a community.
I know how frustrating it is to be locked out of sponsors and ad revenue.
I learned that 85% of podcasters don't make a dime.
You see, all but the elite 1-2% of podcasters 10,000+ downloads per episode are locked out of lucrative sponsorship and advertising dollars. That's because lack of anything but simple download data turns advertising ROI into "guesswork".
I learned too that listeners and viewers were as frustrated as me trying to find and engage around podcasts.
That all had to change. I stepped up with Podopolo™.
Podopolo is all about empowering content creators to profit from their podcasts while engaging their audiences to make a positive difference in the world – all while having fun, connecting with friends, and winning prizes.
Great content IS conversation – and magic manifests when people join together around their favorite podcasts. Ideas turn into action and learning transforms lives.
The next 500 episodes on Wings will all feature ways you can join and engage in our interactive community – and the wider podcast network. You'll be unlocking rewards, putting learning into measurable action to enhance your life and your business, making new friends, boosting your influence, and much more.
I hope to see you there. 
On Wings we will continue to #LiftAsWeClimb.
Please join me there by downloading the free Podopolo app – get it here and start unlocking cool offers, discounts and prizes.
And the first 10 to like, follow and comment on Wings on Podopolo will win a free consult with me!
If you liked this Post...
Then you will love these!