Entrepreneurs
& Executives
with inspiration and
actionable strategies.
…So Your Audience Can Seize Opportunities Where Others Don't and Transform
Their Lives and Businesses for Rapid Bottom Line Growth … All While Enjoying A
Purposeful, Intentional and Joy Filled Life.
Let Melinda share the same proven methods that catalyze 7, 8 and 9-figure success and help top-caliber entrepreneurs and conscious executives grow their influence and impact and build a mission-oriented life they love and enjoy.
Melinda shares practical, inspiring and game-changing strategies, including her 'Mindset, Mojo, Money' methodology to help business owners:
+ Align with their true passion and purpose
+ Harness fast-paced change and new technologies
+ Transform and scale their companies into viral mission-driven movements
+ Leverage VoiceTech and podcasting to build influence and impact
+ Become conscious leaders and engage their team and tribe
+ Enjoy life and succeed without sacrificing health and happiness
A passionate advocate for
conscious impact...
…as well as women entrepreneurs, innovators and executive leaders solving global challenges with mission-driven business models. Melinda draws on her unique cross-disciplinary expertise and experience founding and scaling media and technology companies and as an award-winning journalist to inspire, motivate, and grow influential leaders and successful team members to achieve game-changing impacts and happy lives.
Create A Magnetic Million Dollar Message with Your Podcast:
Learn Practical Marketing and Tech Hacks to Grow a Loyal Community Around Your Podcast, Boost Cross-Platform Downloads, Subscribes and Reviews, Know and Understand Your Listeners, and Profit Make Money from Sponsorship, Paywall, Courses And More.
Stiletto Strapping Your Business:
10 Proven Ways Women Entrepreneurs Can Bootstrap and Finance Their Businesses From Idea Stage to Scale While Balancing In High Heels, Leveraging Feminine Power and Avoiding #MeToo's. Includes the 7 Things Angel and VC Investors Look for In a Founding Team.
Let's Get Messy, Ms. Perfect:
How to Avoid the Perfectionism Trap that Keeps 97% of Women Business Owners From Scaling Their Businesses to $1mm+ or More – Plus Hustle to Flow and How to Turn Time on Its Head for Increased Productivity .
Doing Great By Doing Good:
How To 'Walk Your Talk' to Boost Business Growth, Influence and Company Valuation with 10 Conscious Social Mission Business Models and Conscious Leadership Strategies You Can Implement Right Now.
Leverage Melinda's Proven "Three M" Success Formula from Startup to Scale and Align With Your "Soul Purpose" and Your Dream Lifestyle. Learn How to Ride the Ups and Downs of Entrepreneurship, Overcome Fear, and Leverage #FailForwards So You Can Manifest Outer Success with Inner Growth.
Your Return on Authenticity™:
Find and Engage Your True Tribe of Raving Fans to Drive Viral "Word of Mouth" Business Growth and Impact and Catalyze Referral Networks To Transform Your Business Into a Movement. Plus Tips on Social Media, Chatbots and Leveraging AI to "Personalize at Scale".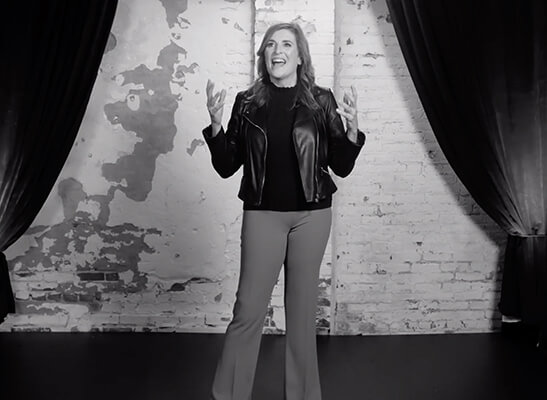 TO HOST YOUR EVENT OR MODERATE A PANEL
Leverage her award-winning interviewing and network TV hosting skills to bring your event to life!
Steve Jobs once told Melinda she "asked the best questions". Melinda has interviewed Fortune 500 CEOs, Rock Stars, Astronauts, Super Models, Politicians and Scientists – from President Barack Obama to Twiggy, from Sir Elton John to Steve Jobs to Neil De Grasse Tyson. Her TV, Radio, and Conference Interviews – for the BBC, ABC, CNBC, her former company Capitol News Connection, and now her podcasts Wings of Inspired Business and 10XTogether win consistent acclaim and boast several Edward R Murrow Awards. She has moderated panels at SXSW, Georgetown University, the National Press Club and the European Commission among them.
Featured Interviews + Talks
Stages, Networks and Podcasts Featuring Melinda

What people say about Melinda...
"Melinda's Verifeed technology is revolutionary, not only in its concept of being able to measure the return on authenticity in social media, but also in its accuracy. However, for me - and I believe for a lot of other people - technology can easily be a subject that puts us to sleep at a conference, unless the speaker knows how to present it. That's where Melinda's genius comes in. She makes the topic come alive by showing the audience exactly what it can do for them and their businesses. Her points are crystal clear, her stories keep you wanting to know more, and her clear, articulate speaking style, coupled with her easy stage presence, keeps you fascinated with her through her entire talk. If you're looking for someone who can present a revolutionary piece of business technology in a way that enraptures even non-techy types, bring Melinda to your stage!"
Terra Goeres Ramachandran, Underground Online Seminar
"When I asked for a go-to serial female entrepreneur who could wow a crowd and provide tangible advice to Millennial women in the workforce, the go-to response was: "Talk to Melinda." She delivered an impressive, genuine, and actionable speech at Google, where her passion for algorithms and data exuded along with her desire to connect and empower young entrepreneurs."
Ashley Wells, Digital Media, Strategy & Operations Senior Manager at Adobe
"It was a great honor to have Melinda participate in Relentless MV. She provided an excellent, unique and thought provoking keynote. Her presentation resonated deeply with the entrepreneurs and executives who attended the conference."
John Cain, Serial Entrepreneur and Founder, Relentless MV
"Melinda's whole entrepreneurial journey has a ton of learning curves. So the rave reviews were no surprise: Melinda was the drop-dead favorite speaker of the group. The class loved hearing your stories – and they are already fast at work implementing your advice. Thanks so much for coming and shedding so much light on what you've experienced."
Jan Schaffer Executive Director, J-Lab: The Institute for Interactive Journalism Entrepreneur in Residence, American University School of Communication Adjunct Professor, CUNY Graduate School of Journalism
"I just heard you speak at the Voice Summit 2018. I so resonate with everything you said. I have a podcast I've had for 4 years and I'm ready to learn how to build my brand and community around it in a tech way. I'd love to learn more about your company and how we can work together."
Keri Roberts, Host, Ordinary People Doing Extraordinary Things