631 Amanda Berlin: DIY Your PR
How to Cultivate Holistic Relationships with the Media to Maximize your Impact, Profitability, and Visibility
Public Relations is one of those fields that we all sort of feel like we know, and all know we need "good PR" for our businesses.  
But do we really know the ins and the outs of what makes a PR specialist, well, special?
Turns out good PR for an entrepreneur comes down to cultivating good relationships – with journalists, podcasters, conference owners, influencers and more, so you can drive free or "earned media" to grow your visibility, profitability, and impact.
Rather than hiring an expensive PR Agency, Amanda Berlin says it's vital you own your own media relationships.  She calls it DIY-ing your PR, and she's created a library of template guides and trainings to help business owners successfully build their own credibility, authority and reach. Amanda also works one-on-one with clients to guide them through strategic storytelling and media relations. 
After a decade writing media pitches for huge companies like Disney, Dove, Baskin Robbins, Campbells, Colgate and more, Amanda now helps entrepreneurs step into their power and presence, creating a story that inspires others, and spreads their message impactfully in the media. 
Amanda has created a library of template guides and trainings for entrepreneurs wanting to amass all-important earned media. She also works one-on-one with her clients to guide them through strategic storytelling and media relations.
Her clients have been featured all over the media from print publications Business Insider to Entrepreneur on Fire, to Bustle.com. She's the host of The Empowered Publicity Podcast and loves arming soul-powered business owners with the ideas and skill set they need to go from hidden industry gem to recognizable trusted expert.
The quickest ways to grow your business and a loyal community
Which strategies work best for what kind of businesses
Why you need to "own" your own relationships with journalists and producers, and how to target the right media outlets for your message
The best timing strategies for getting your messaging out there
And how to achieve maximum visibility authentically
And much more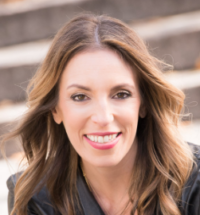 More about Amanda at Amanda Berlin
Amanda Berlin is a visibility and business consultant for entrepreneurs who. She works with entrepreneurs on boosting their holistic visibility to help them grow their business and impact based on tactics employed during her 12 years in the corporate PR world, guiding strategy for major brands.
Check out Amanda's podcast The Empowered Publicity Podcast
Grab the 30-minute video training outlining the definitive framework for holistic visibility.
Our Sponsors and Special Offers
Podopolo – Almost 4 Million Podcasts, Personalized for You
Discover your new favorite podcasts, interact with hosts and each other, and win prizes, freebies, special discounts and more as you share content, put lessons into action in your life, and engage in mission-driven quests to improve the world – all in one mobile app. Get on the waitlist now! And if you're a podcaster – join us! Learn more here.
Grab Your Wings! Don't Miss the Top Retreat for Women Entrepreneurs
#LiftAsWeClimb … is More Than Words. It's Revenue and Profit. When our curated community of women entrepreneurs joined together for the Wings  Retreat in 2019, magic happened. Together we've exchanged more than $500,000 of new business between us. Yes, women succeed when we take meaningful action to support one another: promote each other, buy from each other, mentor each other, invest in each other. So join us at our 5-star luxury retreat destination in Costa Rica this October 20-24 so you can step into a world where women in business genuinely #LiftAsWeClimb. Learn more at wingsexperiences.com/apply – and expect magic.
Launch Your Magnetic and Profitable Podcast
If you've been putting off launching your podcast, now is your time. The world needs to hear your expertise and our message right now. Your voice IS your value, and your passport to engage the world in your true purpose and mission. I'm offering a group Podcast Accelerator at a discount so you can connect deeply with your community and attract and best serve your customers.
Get The 7 Steps to Your Profitable Podcast
Leverage my complimentary 7 Step Guide to engage your tribe with a magnetic podcast that makes you money.
Zero Limits Ventures
How much is your company worth? Want to find out how to boost your valuation? Claim your FREE consult call with Steve Little, who's built and sold 6 of his own companies for 9-figure exits and helps other founders get a 5X to 10X multiple on the sale of their business.
If you liked this episode...
Then you will love these!
Michelle Norris
PODCAST #494 Hard to Kill
Angela Henderson
PODCAST #496 The 7 Profit Pillars
Renée Warren
PODCAST #490 A Place of Giving