494 Michelle Norris: Hard to Kill
Personal Healing, Business Growth and the Power of Plant Medicine
Many of the best businesses … even billionaires … are created in recessions and borne of personal challenge.
Imagine. Losing your house in the 2008 financial meltdown. Then losing your beloved daughter in a car crash just days before her 23rd birthday and college graduation.
Michelle Norris lived through the unthinkable – as so many are right now during the Coronavirus Pandemic and recession. Then she went on a journey of healing and inspiration to grow the largest Paleo Lifestyle platform in the world as the co-founder and CEO of Paleo f(x)™.
Today Michelle shares an important message we all need to hear in the midst of the Coronavirus Pandemic.
Why the Paleo lifestyle is the perfect way to boost your immune system
The healing power of plant medicines like ayahuasca to help us transcend tragedy, setbacks, fears and our own subconscious blocks to success
How the positive impact her daughter had in her short 23-year life inspired Michelle and her husband to embark on a healing journey
How she's pivoted her business, which runs one of the largest events in the world
The power of the sacred feminine and how to embrace it in business and life
How she healed her health through the Paleo lifestyle
And much more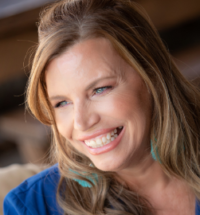 Michelle Norris is the CEO and co-founder of Paleo f(x)™, the largest Paleo platform in the world. Michelle describes herself as a former corporate warrior whose previous health issues, an extended battle with traditional medical advice, and the tragic loss of her daughter inspired her to upend the way the world tackles health, wellness and prosperity. She is also a founding partner of ID Life, a company whose mission is health and lifestyle optimization.
Get the Transcript HERE
Wings of Inspired Business was ranked #8 of Entrepreneur Magazine's Top 20 Business Podcasts for 2020 – and Feedspot's #2 business podcast for women.
Our Sponsors and Special Offers
Podopolo – Dynamic Interactive Podcasting
Discover your new favorite podcasts, interact with hosts and each other, and win prizes, freebies, special discounts and more as you share content, put lessons into action in your life, and engage in mission-driven quests to improve the world – all in one mobile app. Download Podopolo right now in the Apple and Google app stores.  We'd love it if you checked out our beta. And if you're a podcaster – join us! You can learn more here.
Launch Your Magnetic and Profitable Podcast
If you've been putting off launching your podcast, now is your time. The world needs to hear your expertise and our message right now. Your voice IS your value.  I believe your voice is your passport to engage the world in your true purpose and mission, and so during the Coronavirus I am offering a group Podcast Intensive and I'm cutting my rates so you can use this time of "physical distancing" to connect deeply with your community and attract and best serve your customers.
Get The 7 Steps to Your Profitable Podcast
Is this the year you finally launch that podcast of yours? I believe your voice IS your value.  I believe your voice is your passport to engage the world in your true purpose and mission, and that when you do leverage your voice as a podcaster miracles manifest for you and your business and the impact you want to have in the world. That's why I'm sharing with you my complimentary 7 Step Guide to engaging your tribe with a magnetic podcast that makes you money. Sound good? Go to wingspodcast.com/liftoff.
Zero Limits Ventures
How much is your company worth? Want to find out how to boost your valuation? Click here to claim your FREE consult call
If you liked this episode...
Then you will love these!
Michelle Norris
PODCAST #494 Hard to Kill
Angela Henderson
PODCAST #496 The 7 Profit Pillars
Renée Warren
PODCAST #490 A Place of Giving