623 Anne Gannon: The Dreaded Finances
How to Stop Avoiding Your Numbers
Striking out on your own and launching a business so you can do what you love for a living is a dream come true for most of us. 
Yet many entrepreneurs get so caught up in all the creative exhilaration they forget to watch their numbers, putting off financial discipline and systems for another day.  
It's hard to find an entrepreneur who loves nothing more than to watch their numbers. Of course, it's great when the cash is just rolling in – but we all know the devil is in the detail when it comes to knowing your cost of customer acquisition, your churn rates, the lifetime value of a customer, or other financial KPIs that tell the daily, weekly, monthly, and yearly story of how well your business is doing. And I haven't even begun to talk tax.
Today we learn how to stop dreading our finances and let the numbers guide our growth.
Anne Gannon is a Certified Public Accountant and principal at the Largo Group, specializing in providing a monthly accounting and tax service that works for the business owner. You could think of her and her company as a "CFO in a box".
What you need when your business is just starting out
How to stop avoiding your numbers
How to balance how much money you put into the business and how much you're taking for yourself
Why it's important to have a salary as a business owner
Why so many business owners struggle to really look at their numbers
What golf and business have in common
And much more!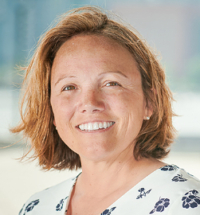 More about Anne Gannon at The Largo Group
Anne Gannon is the Principal at The Largo Group. The Largo Group offers innovative accounting and bookkeeping solutions to businesses and individuals. In 2016 The Largo Group's revenue has grown 75% year-over-year for the last 5 years. The Largo Group has over 500+ customers from Alaska to Maine and a team size of 8.
Get the Transcript HERE
Wings of Inspired Business was ranked #8 of Entrepreneur Magazine's Top 20 Business Podcasts for 2020 – and Feedspot's #2 business podcast for women.
Our Sponsors and Special Offers
Podopolo – Almost 4 Million Podcasts, Personalized for You
Discover your new favorite podcasts, interact with hosts and each other, and win prizes, freebies, special discounts and more as you share content, put lessons into action in your life, and engage in mission-driven quests to improve the world – all in one mobile app. Download Podopolo right now in the Apple and Google app stores. And if you're a podcaster – join us! Learn more here.
Grab Your Wings! Don't Miss the Top Retreat for Women Entrepreneurs
#LiftAsWeClimb … is More Than Words. It's Revenue and Profit. When our curated community of women entrepreneurs joined together for the Wings  Retreat in 2019, magic happened. Together we've exchanged more than $500,000 of new business between us. Yes, women succeed when we take meaningful action to support one another: promote each other, buy from each other, mentor each other, invest in each other. So join us at our 5-star luxury retreat destination in Costa Rica this October 20-24 so you can step into a world where women in business genuinely #LiftAsWeClimb. Learn more at wingsexperiences.com/apply – and expect magic.
Launch Your Magnetic and Profitable Podcast
If you've been putting off launching your podcast, now is your time. The world needs to hear your expertise and our message right now. Your voice IS your value, and your passport to engage the world in your true purpose and mission. As the Coronavirus Pandemic continues, I'm offering a group Podcast Accelerator at a discount so you can connect deeply with your community and attract and best serve your customers.
Get The 7 Steps to Your Profitable Podcast
Leverage my complimentary 7 Step Guide to engage your tribe with a magnetic podcast that makes you money.
Zero Limits Ventures
How much is your company worth? Want to find out how to boost your valuation? Claim your FREE consult call with Steve Little, who's built and sold 6 of his own companies for 9-figure exits and helps other founders get a 5X to 10X multiple on their the sale of their business.
If you liked this episode...
Then you will love these!
Michelle Norris
PODCAST #494 Hard to Kill
Angela Henderson
PODCAST #496 The 7 Profit Pillars
Renée Warren
PODCAST #490 A Place of Giving