720 Betsy Cerulo: Hiring and Firing Secrets
How to Follow Your Intuition and What it Takes to Find and Empower Perfect Team Members
If you've worked in corporate America, chances are you've experienced a toxic work environment of one kind or another.  It's discouraging, debilitating, and increasingly decisive for growing numbers of women who are choosing to leave it behind and jump into entrepreneurship.
One of the joys of starting your own business is the freedom to build a company that lets you work with the people you want to work with – and the company culture you want to build. And along the way, as you build your team, you'll soon come to learn the impact just one problematic team member can have on team morale, productivity, growth, and your odds of success.
So how to hire the best people? How to make sure they are in the right positions aligned with their intrinsic skills, and they have the tools and support they need to drive the results you want? And when to let someone go? Because a poor hiring decision carries a huge cost, and one of the most common mistakes founders can make is ignoring their intuition and waiting too long to say goodbye to anyone who isn't what Steve Jobs called an "A Player". Another mistake is to assume your employees know what you expect of them, without clear guidance, support, and accountability to help them grow and succeed.
The teams and company cultures we build starts within you as the founder, so today we get into the ins and outs of hiring and firing, and how to build and sustain a non-toxic, empowering, diverse, and inclusive team culture.
Betsy Cerulo is the CEO of AdNet/AccountNet, a company she founded in 1990 to provide professional staffing and executive search services for corporations and governments. Along the way, she came out as a lesbian, and advocates for LGTBQ and women's rights and diverse, inclusive cultures as the co-founder of Maryland's LGBT Chamber of Commerce. Betsy specializes in placing professionals and executives in accounting, finance, human resources and legal, and also identifies and manages teams of individuals who provide Equal Employment Opportunity Compliance Services, as well as Reasonable Accommodation assistants who handle administrative tasks for employees who are blind or deaf.
She's also the author of Shake It Off Leadership-Achieving Success Through the Eyes of our Labels and contributing author of two compilations, Women Living Consciously and Keys to Conscious Business Growth.
How to call out inequities you see when interacting with team members, vendors, partners, and customers
Why it's vital you trust your intuition on all hiring and firing decisions
When and why you should fire someone, and how to avoid falling into the trap of taking too long to fire an employee
Ongoing challenges being an LGTBQ woman in business
How to create a diverse and inclusive culture, and why the culture of your business starts within you as the founder
How to address controversial issues going on in the world within your company
And much more!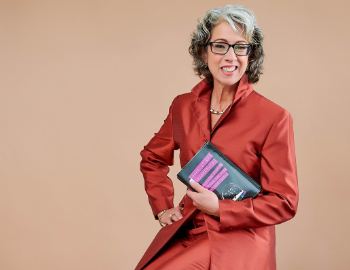 Be sure to join the conversation with Betsy and me over on the interactive podcast app Podopolo, where you can share your perspectives and she'll take your questions. Download Podopolo here, follow Wings of Inspired Business, and invite your friends.
More about Betsy at Betsy Cerulo
Betsy Cerulo is the CEO and founder of AdNet/AccountNet, Inc., a Baltimore based company with a powerful mission of being "Advocates for Workplace Excellence & Equality". Betsy founded the business in 1990, with a mission to provide exemplary human capital management services, including professional staffing and executive search, to government and corporate clients throughout the United States. Along the way she came out and is a leading advocate of LGTBQ rights and diverse and inclusive corporate cultures.
Get her book: Shake It Off Leadership: Achieving Success Through the Eyes Of Our Labels
Get the Transcript HERE
Our Sponsors and Special Offers
Podopolo: The Podcast App Where You Get Prizes – Just for Listening
Discover the perfect podcasts for you and your friends curated automatically to surface what you love from 5 million titles across all genres on the interactive podcasting app that makes listening social and personalized – and profitable for creators. Download now – it's free!  And sign up for our Contest to make a difference in the world and win prizes – just by listening.
Get The 7 Steps to Your Profitable Podcast
Leverage my complimentary 7 Step Guide to engage your tribe with a magnetic podcast that makes you money.
Zero Limits Ventures
How much is your company worth? Want to find out how to boost your valuation? Claim your FREE consult call with Steve Little, who's built and sold 6 of his own companies for 9-figure exits and helps other founders get a 5X to 10X multiple on the sale of their business.
If you liked this episode...
Then you will love these!
Michelle Norris
PODCAST #494 Hard to Kill
Angela Henderson
PODCAST #496 The 7 Profit Pillars
Renée Warren
PODCAST #490 A Place of Giving