590 Carrie Kerpen: Likeable Social Media
Why Social Audio is the Hottest Trend
How much time do you spend on social media, sharing your life's highlight reel or promoting your business?
And how many hours of your time get eaten up by endless scrolling and keeping up with all those likes, comments and shares?
Social media has taken over many of our lives in myriad ways, some good, some bad, so how to use it positively to grow your business and keep a positive mindset?
Carrie Kerpen co-founded first ever social media agency back in 2007, building Likeable Media with her husband after their sponsored wedding on a baseball diamond went viral – and was featured in major media outlets, including The New York Times, ABC World News Tonight, and the CBS Early Show.
Carrie shares how she transformed her company from a husband-and-wife start-up into an award-winning digital content studio. Frustrated with the traditional agency model, she invented a category that generates and distributes fast, custom content for large brands. With the launch of Content Cubed ™, Likeable became the first global content-as-a-service provider. And this week Likeable, whose client roster includes F500 companies like StubHub, Verizon and Airbnb, was sold to the global digital transformation company 10 Pearls.
Why social audio is the hottest trend in social media – from Clubhouse to Podopolo
Hacks for building a great social media presence
How to be authentic in your social media posts and engagement
Why content repurposing is your secret weapon
Lessons learned from pivoting to a remote team during Covid
How to create a great company culture that attracts top 'A Players'
And much more!
More about Carrie Kerpen at likeable.com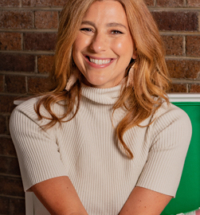 More about Carrie Kerpen at Likeable
Carrie Kerpen is the co-founder and CEO of Likeable Media, the world's first social media agency acquired this week by digital transformation group 10 Pearls. Likeable, named the sixth Best Place to Work in New York City by Crains, grew to serve clients like Airbnb and Stubhub, and Carrie was honored by the inaugural Campaign US Female Frontier Awards. Author of WORK IT: Secrets for Success from the Boldest Women in Business and a columnist for INC and Forbes, Carrie also hosts the podcast All The Social Ladies.
Get the Transcript HERE
Wings of Inspired Business was ranked #8 of Entrepreneur Magazine's Top 20 Business Podcasts for 2020 – and Feedspot's #2 business podcast for women.
Our Sponsors and Special Offers
Podopolo – The #1 Social Podcast App + Player
Discover your new favorite podcasts, interact with hosts and each other, and win prizes, freebies, special discounts and more as you share content, put lessons into action in your life, and engage in mission-driven quests to improve the world – all in one mobile app. Download Podopolo right now in the Apple and Google app stores. And if you're a podcaster – join us! Learn more here.
Launch Your Magnetic and Profitable Podcast
If you've been putting off launching your podcast, now is your time. The world needs to hear your expertise and our message right now. Your voice IS your value, and your passport to engage the world in your true purpose and mission. As the Coronavirus Pandemic continues, I'm offering a group Podcast Accelerator at a discount so you can connect deeply with your community and attract and best serve your customers.
Get The 7 Steps to Your Profitable Podcast
Leverage my complimentary 7 Step Guide to engage your tribe with a magnetic podcast that makes you money.
Zero Limits Ventures
How much is your company worth? Want to find out how to boost your valuation? Claim your FREE consult call with Steve Little, who's built and sold 6 of his own companies for 9-figure exits and helps other founders get a 5X to 10X multiple on their the sale of their business.
If you liked this episode...
Then you will love these!
Michelle Norris
PODCAST #494 Hard to Kill
Angela Henderson
PODCAST #496 The 7 Profit Pillars
Renée Warren
PODCAST #490 A Place of Giving