590 Carrie Kerpen:
How much time do you spend on social media … sharing your life's highlight reel or promoting your …business? And how many hours get eaten up by an endless scroll of consumption, likes and shares? Social media has taken over many of our lives in myriad ways – so how to use it positively?
MELINDA
I'm Melinda Wittstock and today on Wings of Inspired Business we meet an inspiring entrepreneur who created the first ever social media agency back in 2007.
Carrie Kerpen first came on this podcast three years ago to share her story building Likeable Media with her husband after their sponsored wedding on a baseball diamond went viral – and was featured in major media outlets, including The New York Times, ABC World News Tonight, and the CBS Early Show.
As CEO of Likeable, Carrie built it to serve major F500 clients from Airbnb to Stubhub with revenue above $100 million – and it was named by Crain's as the sixth Best Place to Work in NYC.
And just yesterday – after our interview was recorded – Carrie sold Likeable to 10 Pearls, a global digital transformation company with 750 employees, and will continue on as the 10 Pearls CMO. So a big congrats to Carrie on her exit!
Listen on to learn what's hot in social media, how to make your posts stand out from the crowd, what it takes to drive authentic engagement and much more. I can't wait to share this conversation with Carrie! First…
Carrie Kerpen is an award-winning entrepreneur, author, leading podcaster, and keynote speaker who pioneered the content-as-a service industry. In recognition of her work championing change in the advertising industry, Carrie was honored by the inaugural Campaign US Female Frontier Awards. She is the author of WORK IT: Secrets for Success from the Boldest Women in Business, a columnist for INC and Forbes, and host of the podcast All The Social Ladies, a podcast for women to share career advice and insight into how social media impacts their personal and professional lives.  Carrie has been featured in the New York Times, ABC World News Tonight, FOX News, and CNBC. She has keynoted conferences in London, Las Vegas, Mexico City, and New York, among others.
As co-founder and CEO of Likeable Media, Kerpen transformed her company from a husband-and-wife start-up into an award-winning digital content studio. Frustrated with the traditional agency model, she invented a category that generates and distributes fast, custom content for large brands. With the launch of Content Cubed ™, Likeable became the first global content-as-a-service provider. Kerpen's leadership has guided the Likeable team to new heights—landing global clients such as Century 21, StubHub, and Airbnb; achieving Crain's "Best Place To Work in NYC" for four straight years; and being named a Top 50 Ad Agency & Top 50 Fastest-Growing Women-Owned Businesses by WPO and American Express OPEN.
Today we talk about how social media has evolved, the challenges it is facing from trolling to disinformation, how to leverage it best to grow your business – plus what's hot.
And here's what Carrie says about that: "What you're doing Melinda at Podopolo – social audio is hot."
Let's put on our wings with the inspiring Carrie Kerpen.
Melinda Wittstock:         Carrie welcome to Wings.
Carrie Kerpen:                  Thank you so much, Melinda. I'm excited to be here.
Melinda Wittstock:         I am too, to talk to you again, because you were one of the earlier interviewees on this podcast, and it's now, almost 600 episodes in. And there's been a lot of change-
Carrie Kerpen:                  Wow.
Melinda Wittstock:         … in both of our lives. And so, tell me, what's the latest with Likeable Media? And how has it been through the pandemic?
Carrie Kerpen:                  So, first, what an accomplishment over 600 episodes, that's [crosstalk 00:00:37]-
Melinda Wittstock:         It's crazy, right?
Carrie Kerpen:                  … something to celebrate. I mean, Holy cannoli, that's a big deal. Okay, so, Likeable grew during the pandemic. It was really actually quite terrifying. I remember in March of 2020, it was like, the sky is falling, what am I doing? This is going to fall apart and I need to reevaluate my life. It ended up not happening, quite like that. We had a few clients either cancel or pause almost immediately. Because we had a variety of different clients that we worked with, and again, for those of your listeners who don't know, it's a social media marketing agency that's been around since 2007. So we've been doing social media forever. And we had a diversity of client base that allowed us… We had some in the grocery space, some really in the e-com space, and those clients needed more help than ever.
And so we grew in that space. And then we had to navigate through social media, a lot of the difficult conversations that were coming up around the reckoning around race and brands needing to comment on these things. So we found that we were actually needed more than ever during that time, so we were very, very fortunate to grow in this year, which is a weird thing. Because the world is falling apart around you, and then you're trying to deal with a business that's growing, with employees that are stressed and having a really hard time in the world. That was a real challenge.
Melinda Wittstock:         Gosh, well, on that point of employees, because you've got all these people, and… are all your employees in New York?
Carrie Kerpen:                  Well, they were, but we let
Carrie Kerpen:                  a lot of them move, because a lot of people left New York. But yes, we were in New York at the height of all of this. Yes.
Melinda Wittstock:         Oh, my God. And so, how are you helping your employees through this? Because there's you and the business wondering, what on earth is going to happen? Do we have to pivot? Oh my goodness, and we have more demand than ever, but how to look after all your team members.
Carrie Kerpen:                  That was really, really hard, because the team was scared, personally and professionally. Before we ended up growing, we had no idea if we were going to grow. So I had to… People were terrified for their jobs. They were terrified for their health, so some of the things that I did that were interesting was, first, we had a closed Facebook group of employees. So we have about 50 employees, and I did a Facebook Live every single day, at 9:00, to start the day and keep us all calm. And I would talk about anything. Sometimes I would be, like on Fridays, I would bake Halal, I would start baking. On Monday, I would talk about things that happened over the weekend. I would talk about my own life, but I would also talk about what was happening in the company, what was happening in the world, and having conversations and allowing them to talk.
So every day it was like a CEO chat that made them feel like they were in the know, they knew where my head was at, they knew where their jobs were at. I was always very, very honest about where I thought we were going to go, and how I thought we were going to grow and just maintaining communication with them. I also think that keeping balanced for them was really important. So we started… We used to have summer Fridays. We immediately instituted forever Fridays, where every Friday ends a little earlier than the normal workday end. And we also worked really hard to do, in the summer, a lot of outdoor, in-person smaller gatherings, masked of course. But just things where we knew we could connect with anyone who wanted to, in a non-forced capacity, we allowed people to connect with one another. And what I found was that people were hesitant to do that, and once they did that, they were so glad that they did.
Melinda Wittstock:         Ah. So is your team tighter now as a result of that, than it was before? I'm curious what that transformation of just having access to you, even if it was virtual or having access to you every day?
Carrie Kerpen:                  They definitely know me better. That's for sure. I think that, when you work at an agency, the entire reason you work there is because it is this kind of close knit, brainstorm-y, culture, cool environment, and Likeable, especially, is known for its culture. And so, once we went sort of virtual, and our virtual-ish, we're certainly hybrid for the foreseeable future, certainly for account staff and non-production creatives, that was really scary. And thinking about, how would they have that same culture? Would these guys still want to work for us? But what we did find is that our focus on culture remained, it just evolved. And they are closer than ever. It's a little different. It's a little different, but it still has the same level of warmth that you would expect from a company called Likeable. Same amount of connectiveness, just shows up and manifests in a different fashion.
Melinda Wittstock:         It's so hard to do though when have Zoom fatigue, and people were trying Zoom cocktail parties. There's a certain point where it's like, oh my God.
Carrie Kerpen:                  I'm horrible, Melinda. I am horrible on social Zooms, and I'm a very extroverted person and I can sit on Zoom all day for work and do my meetings and fine. But on a social Zoom, I'm like, "Get me off here."
Melinda Wittstock:         Out of here, exactly.
Carrie Kerpen:                  Even if it's my best friends. I'm like, "I just, I want to see you in person. This to me, doesn't do it." And I think there's respecting that. You have to let the culture be guided by those who are a part of it, not from, I want, as the leader, culture to be this, and therefore, it is. Culture is made up of the entire organization, and so if people don't like those things, we don't do them. Sometimes we do… We do game nights, they like game nights, but we're not over Zooming in how we [crosstalk 00:06:45]-
Melinda Wittstock:         Right. I mean, it's fatiguing to most people extroverted or introverted. And so, how do you see this evolving now? As people are getting vaccinated, as things will start to return to normal, do you foresee a time where everyone will be back in the office again? Or will it continue to be hybrid?
Carrie Kerpen:                  I think this has changed the workplace forever. I do think people will want to come back to the office. Remember, in New York City, some of these kids that are a few years out of school are living with multiple roommates in a 400 square foot apartment. I mean, that's how you survive [crosstalk 00:07:21]-
Melinda Wittstock:         Desperate to come to the office.
Carrie Kerpen:                  … New York City. That's the New York City experience of the youth. And so, I do think there are people who will want to come back to the office regularly. There are people who will want to come in once to twice a week. And the way that I… I made a decision pretty early. So we have pretty big space in New York City, and what I decided to do was convert most of it. So it was all open space, exactly like you picture an agency, desks on top of each other, everybody altogether, basically, snuggling through the workday. And what I decided to do was converted to a content studio. So we built a test kitchen, we do a lot of food work. We built a bathroom set. We made this huge living room set out of an old conference room. And our studio team is there, in-person, I think four days a week. And they shoot, safely.
And what there is also is space and offices for people who want to come into work. So if you want to come in, you need to get out of your apartment. You can sign up. If it's COVID friendly, based on the number of people in the studio, you can be assigned a room, you can use it almost like a WeWork of Likeable space. I think that that, for me, will be the future. There will be times when we are all together in the office, for sure, and that will be like for team meetings, but I think it will be a hybrid. I do. And I did allow people who were non-creative, so people who don't work in production, if you want to move across the country, for now, that seems to work for us. And I think it will be fine.
I don't think the expectation that you need to sit in an office from start to finish of the day will ever be the same again. I think people will want to return, and then it will go and evolve to some level of hybrid. Because, if we think about some of the benefits of this, for those of us who are privileged enough to have work, for those of us who have the privilege of still keeping a job and had a desk job in the first place, there are a lot of benefits to the not commuting, to being able to be home earlier, to take a break in the middle of the day, and go take a walk. There's a lot of benefits to this that people will experience and they will still want the socialization of coming in-person, but they will miss this too. And so I think that hybrid approach is going to be important. I don't think you're going to have businesses demanding that you be in every day from 8:30 to 5:30, Monday through Friday.
Melinda Wittstock:         I agree. And I think there are certain things where work is more productive done kind of on your own terms. Women, in particular, have a lot of different things to juggle and men increasingly too. And so people can be more productive, but then it allows you to be more conscious of, why are we getting together? And so those meetings, or just things that we do together-
Carrie Kerpen:                  [crosstalk 00:10:15] and how much they need you.
Melinda Wittstock:         Yeah. Become more conscious and become more productive. There's a reason for it. It's been interesting though, because launching a company in the middle of a pandemic, I've had to do all my hiring on Zoom, basically, and everybody's all over the place. So I think, gosh, so will we ever have an office, or I guess we will need an office at some point. And it's curious because we've managed to create a great culture without even. ..a lot of us haven't even met in person.
Carrie Kerpen:                  Yeah. I think commercial real estate is definitely not having a moment right now. And I think that's very, very, very challenging for the commercial real estate industry, because people are discovering that they really don't need to. Most of the businesses that are being built today, from the ground up, will be built more virtually, I think. And I think that businesses that existed on culture and that kind of stuff, I think will continue to have a desire to do that. Because you realize what you miss from the collaboration, and you do miss the collaboration that's in person in a different way. It's just, we no longer will need to be tied to our seats in a way that our parents were, and the typical history of work had become.
Melinda Wittstock:         Exactly, especially in that creative. Running a social media agency, the creative, those creative collisions, those kind of peanut butter and chocolate moments. It's harder for those to happen on Slack.
Carrie Kerpen:                  Yes, yes.
Melinda Wittstock:         Or Zoom. I mean, they're-
Carrie Kerpen:                  It has happened. It happens, but it's harder. And that's why I'm happy the studio team is in there, because they brainstorm together as they produce. If they shoot something and they're like, "This looks better this way." They're standing with each other and can collaborate and agree. We do have a lot of tools that allow us to art direct remotely, and zoom into those experiences. But I think that the art and the energy of the brainstorm, while virtual is fine, but I think nothing beats being in person together on that.
Melinda Wittstock:         Yeah. So true. So how has social media changed over the past year? I mean, we've had-
Carrie Kerpen:                  Oh, gosh.
Melinda Wittstock:         … things like the social dilemma, where people are waking up to these issues of privacy are being manipulated by algorithms, or you have all this disinformation and trolling, you have all this stuff. So the promise of social media, so amazing, and yet the downsides also, how do you… how are you navigating all of that?
Carrie Kerpen:                  So there is definitely, this year… Social media is a place of great promise and great peril, right?
Melinda Wittstock:         Right.
Carrie Kerpen:                  You have… There's so much good in the world that comes from social media. And of course, we don't talk about that, because it's not really news. What we talk about is some of the horrors of social media, and I think in this year, we've seen a real… Remember everyone's home, everyone's spending more time online, everyone's using social media to connect and figure out what's going on. You have to look at it like sort of this big bang, this year, we had this complete shutdown of our lives, and the only connection we had to other people was through social media. So here we are, and we have an algorithm that allows you to stay in a lane of similar thought. So if most people think like you, that you're friends with or in that space, you see one side of a story. If most people… And that's on either side of the political spectrum.
So you had a very heavily polarized political year, and you had that political year in a time when algorithms feed you what you want to see. And there was a very strong push for accountability as some call cancel culture, where if somebody did differ from you and made it to your feed, you were encouraged to sort of call them out, good and bad. It doesn't matter, if they said something horrible, you called them out, that's accountability. And in some cases, people were called out for things that seemed random. So there was a lot of anger and vitriol going on in social media, politically. That was really hard.
At the same time, there was also what I would refer to as a reckoning on racism, a zero tolerance for racism. And people fought that tooth and nail on social media. So again, you have those polarized political viewpoints, you have a real reckoning and a comeuppance of, we will not tolerate this anymore. And then it became, beyond just the humans, the people, brands needed to comment, and so that became a whole other level. Because if you are going to post something performative, if you're going to post something as a brand, which brands felt compelled to do, well, then your actions need to speak to that. So now you have, not only people screaming at each other, you have businesses getting in on the equation. So there's all of that. So you have the political mess, you have the reckoning on race, which is certainly well do, but extremely difficult to navigate, and then you have the overall loneliness. The loneliness that young people are experiencing as part of this pandemic and the connecting online and using online is the only space to express these feelings. And so you have just a slew of really hard stuff.
At the same time, social media is what kept us, in some ways, from losing our minds, because we were able to connect to other people. We were able to use these phones and these apps and all of these things to connect with one another. In fact, when I watched that episode, there was a recent episode of This is Us that focused on the… somebody who worked on the technology behind… that would later become FaceTime, I was reminded of what situation we would have been in if we didn't have these tools. And so this year was extremely complicated, extremely, for anyone who works in social media, for anyone who's on social media, there's a lot of mixed feelings about it. And there's a lot of good… If you look at what is happening with conversations around race, ultimately, I think that's a great thing, but it's very hard to go through. And it's hard to watch on social media as you're experiencing this in this year. And quite frankly, it's very hard for my employees to navigate. It's hard for brands to navigate too.
Melinda Wittstock:         Yeah. On the brand thing, it is really difficult. I mean, you mentioned that it's one thing to say something, but the minute you say something, you take a stand, well, are your actions in alignment with that? Are you actually authentic? Are you walking your talk? And then you add all the accountability to that equation, it's a minefield. And so how are you helping all your brands through that, particularly on issues of race. And then also things like politicization of masks, all these sorts of things. It can be very, very difficult for a brand to figure out like, oh my God, what to do.
Carrie Kerpen:                  Well, the first thing you want to ask is, do you… are you posting for good will? Or are you posting because you actually stand by and have policies in place that reinforce the message that you want to send? I mean, it's certainly easy for a brand to post the black square, but what does that mean?
Melinda Wittstock:         But what does it mean? Did it-
Carrie Kerpen:                  The first thing that we do [crosstalk 00:18:31]-
Melinda Wittstock:         … force them-
Carrie Kerpen:                  … to actually be-
Melinda Wittstock:         Yeah. Did it force your clients to… If they didn't have a stand, if they didn't know where they were, was the first step really to, okay, if you don't know, you better get clear on it?
Carrie Kerpen:                  Well, I think it's around, what are your policies around D, E, and I? And how many black women do you have in leadership? And what happens if somebody comes into your store and doesn't wear a mask? What is that? What happens if there's an employee who's racist? What happens? What are your policies? Because… And we've had quite a bit, and you need to look at the policies before you look at the preaching. When you post something, you better be prepared that you're going to take action. And we see this time and time again with brands. And what we find is that the brands that we work with, at least, really are committed to doing the right thing. It's a process. It takes time to get where you want to be. But if you look at brands, I find that they generally really want to do the right thing, and that they are willing to put their policies where their tweets are. And I think it's… Long as they have someone guiding them and working through it because otherwise it becomes a performative landmine.
Melinda Wittstock:         Yeah, exactly. But the other thing, too, about marketing and the real truth about marketing is that the more, I suppose, narrow you are in the sense that, when you know your values, you know your mission, you know your vision, you're in authenticity with that, you're not serving everybody and no business really, or brand succeeds, in doing that, if you're a wandering generality. So the best marketing, I think, repels as much as it attracts.
Carrie Kerpen:                  Yes, yes. Often. I mean, and again, when you repel as much as you attract it can be just, firstly, kind of sensationalism. If you look at-
Melinda Wittstock:         No. Yeah. It's got to be real. It's got to be that you stand in this way. Say, when I think of Podopolo, we're a social impact company, and so we walk our talk on that, so 10% of our earnings automatically go to charities, the way we're doing the gamification is all around galvanizing people to take measurable action-
Carrie Kerpen:                  Right, you live your values.
Melinda Wittstock:         We live our values. It's in all our policies. It's in everything that we do. And so, in terms of thinking about our social media strategy, it's got to be the same as what people experience on the app, and the same thing that our team actually lives and breathes every day. It's got to go right through the company. Otherwise, it doesn't work. I mean, do you think, as a result of all of these things that have happened in the past year, is there really a massive transformation going on in corporate culture? There seems to be in startup culture, but is that really… is that percolating through all levels, all sizes of businesses?
Carrie Kerpen:                  Well, I'm an optimist, but I think so. Certainly, in the brands that I've worked with, which are generally mid-sized Fortune 1000 brands. Yes. I think brands are committed to making change. I don't know that they can or will do it fast enough, but I believe that brands most brands are coming from a space of good and wanting to do good in the world. I think that the data shows that consumers want to do business with companies-
Melinda Wittstock:         They do.
Carrie Kerpen:                  … that align with their values.
Melinda Wittstock:         Very much so. Millenials have driven that, Gen Z… I mean, it's just good business.
We talk on this podcast a lot about how entrepreneurs and in particular women entrepreneurs, from startup to scale, have a real opportunity to differentiate, particularly in this area, because women tend to be more purpose-driven when they start businesses. They start businesses more for those kinds of personal reasons or problem they want to solve. But entrepreneurs, really have the potential, and I think are increasingly the engines actually for social impact and positive change.
Carrie Kerpen:                  You bet. It's always the hardest to get a business off the ground. I always say that growing a business from zero to one million in revenue is the hardest trip you'll ever take.
Melinda Wittstock:         Oh, yes it is, and I've done it several times. So I know, I know exactly what you're talking about.
Carrie Kerpen:                  Right. Starting from zero is really hard, but starting from zero at this time in the world, there's never been a better time to do it, because the way we did business before is a little bit broken. It wasn't as value-driven. It wasn't as… there was tons built on in-person, when this is very different. It wasn't as built on technology. These businesses are legacy businesses that have to evolve and when you're starting out as an entrepreneur, you don't have to evolve, you just have to exist, because you're starting from the now. And so, to me, I think it's such an exciting time to start a business. And I look at it… Especially for women, I think there's an incredible opportunity here.
Melinda Wittstock:         I think so too. I see women doing amazing things and increasingly stepping into actually understanding increasingly their value, but it's always a difficulty… We talk about this a lot on the podcast. It comes up for women entrepreneurs stepping into the light, with their own personal brands, as well as their business brands, there's still a lot of work to be done there. How do you find… What's the difference working with a female owned company client, and a male owned company client, when it comes to their personal brand on social media? Is it more difficult to get women to do all the things or is that changing?
Carrie Kerpen:                  So I'll speak to the data and then I'll speak to my personal experience. I think if you look at the data, you'll see that men tend to focus more on confidence while women focus more on competence. So there's a lot of… It's a great book called the Confidence Code by Katty Kay and Claire Shipman.
Melinda Wittstock:         Yeah. I love Katty's book. It's great. I used to work with Katty at the BBC years ago.
Carrie Kerpen:                  Yes.
Melinda Wittstock:         Yeah.
Carrie Kerpen:                  She's fabulous, fabulous. And that the book is great, and it talks all about this. And actually when I look at my own career, my husband and I co-founded Likeable, and he was the CEO. I was the COO. When I jumped into the CEO position, I needed to become the face. He left and he was the face. He was on social media as a big personal brand. And I was really hesitant to do that. And the way I ended up doing that was actually interviewing other women, was I started a podcast, it was called All the Social Ladies, and I figured I'll help tell their stories, and then I'll build this brand for myself. Because, probably, I was, probably, uncomfortable talking about myself too. And also of course I love lifting up other women, but I think that women and their personal brands, first of all, if you look at what we have to do in a day, when you're building a business and often you're raising a family, or you're trying to subscribe to the norms of society, you want to be healthy, you want to look good. You want all of these things.
There's very little time to put towards something you feel self-conscious about. We make time for what we want to do. And so if it's not natural to a woman leader to focus on promoting herself, she won't. And yet time and time again, we see that if you focus on developing a personal brand for yourself, whether or not this particular business or this particular job or anything in your life continues or works, your personal brand is yours, and you take it with you wherever you go. And that is why it is so important to make sure that you have a personal brand. In terms of male versus female and leaders I've seen, I think as entrepreneurs, I think men are more willing to put themselves out there.
But in terms of leadership from an executive standpoint, I don't know that I see a difference other than who they hire. I mean, I think that women leaders tend to be open to hiring more people like them. And that's why you'll see more female leaders or more people of color in a company that's run by a woman than you would by a man. But I think that specifically for entrepreneurs, women are more hesitant, and it's because either they don't feel comfortable or they're too damn busy, but it's really, really important to do.
Melinda Wittstock:         Exactly. It is so important. Yes, and even more busy during the pandemic, I don't know any entrepreneur who has not had the busiest year of their entire careers, it was so much, especially with kids at home and all the things. Yeah. And it's a lot and you're living on Zoom, and then it's like, "Oh God, I've got to go do a live Facebook. Oh my God." You know what I mean? And so-
Carrie Kerpen:                  Yeah. Yeah. [crosstalk 00:28:03]-
Melinda Wittstock:         … it can be a lot to juggle. So where do you see the trends going in social media? Where do you see it going over the next year and beyond? What's hot right now? What should people be doing? Where do you see it moving?
Carrie Kerpen:                  Well, fortunately for you, what's hot right now is social audio, and so I love what you're doing. Social audio is hot. I think social audio is hot… I've been thinking a lot about this, like, why? And there are a few reasons, but I honestly think we're so sick of seeing our faces on Zoom that, like, "Let's do audio. You have to get dressed for that." So that-
Melinda Wittstock:         Right. Clubhouse is so useful in the sense that-
Carrie Kerpen:                  Oh, my God.
Melinda Wittstock:         … you just don't have to get dressed up. You can be in your Coronavirus, yoga pants, and it's okay. I think that's made it easier for women. And I think with Podopolo a lot of the same functionality and that real social connection around shared interests.
Carrie Kerpen:                  Yep.
Melinda Wittstock:         But my challenge is I look at the downside of the filter bubble, and I think I don't really want to replicate that. So we're playing around, algorithmically, with how we can deliver a personalized experience, but at the same time, not put people into those filter bubbles. And-
Carrie Kerpen:                  I know. That's really challenging-
Melinda Wittstock:         It's really challenging.
Carrie Kerpen:                  … because people want to be surrounded by like-minded people. You don't always want to be challenged at every minute of every day. So you have to think that, and maybe there's a way to indicate what you would want there. But I think social audio is really big. I think, influencer stuff will continue and you'll see a lead into ambassadors. People who truly love brands with micro followings, but are highly influential. The mega influencer may change a little bit, but the micro and the focusing on those with a $100,000 or something along those lines, those people are the people who can really influence. I think that's good. And I think you'll continue to see iterations of things like TikToK, and quick, easy to produce social video that is easily able for users to produce. So you'll see less… more low-fi content, is what I would say. Low-fi content-
Melinda Wittstock:         Do you find that most of the social networks are all starting to kind of copy each other though a little bit, they have all the-
Carrie Kerpen:                  They always did. They always did. Yeah. I mean, look at Twitter Spaces and Clubhouse within minutes. They all do. They all will. I just read something interesting on Business Insider about Snap. How Snap exists, and doesn't want to be sort of Facebook or TikToK or any of the behemoths at this point, and they've built a really good sustainable business. I think that's interesting, they all copy each other, but I think having your own POV and not needing to own everything is really cool. I'm into that.
Carrie Kerpen:                  I'll tell you, Melinda, I find that the success of my business has been based on not trying to be everything to everyone. The importance of focus, we were like, we just do social media. No, we don't do PR. No, we don't do web dev. This is what we do, and we do really, really well. We do it well. And these are the customers we serve well, and these are the customers we don't. I think that focus is part of what has kept us, not only alive, but really thriving through the years, because if you can imagine starting a social media agency in 2007, social media is very different now from how it was in 2007. So you have a constant need to evolve. And so the way we've done that is just really staying very focused.
Melinda Wittstock:         And so who are your ideal clients, Carrie? Who is the ideal size of business, type of business that you work with?
Carrie Kerpen:                  Generally, about a $100 million to a Billion in revenue, a strong focus on food and retail and entertainment, those are really our, our strong stronghold areas. And we have serviced those really well. I haven't really gone too far into luxury or beauty or any of those things. Have really focused on companies that serve the sort of every day consumer.
Melinda Wittstock:         Yeah. I mean, that's awesome to be playing at that level. Right?
Carrie Kerpen:                  Yep.
Melinda Wittstock:         When you started Likeable, were your clients that big? Or did you grow into having clients?
Carrie Kerpen:                  Well, it's actually really interesting that you asked that, Melinda, because we were tiny. I mean, our name was The K Buzz when we started, which was for Kerpen, Dave and I started it, just the two of us with some paid interns, and that was it. And we started with a local shopping mall, but when we pivoted to social media, so we were word of mouth agency when we were The K Buzz. We started in 2007, and within a year we pivoted to call ourselves a soc.al media agency, because there were no social media agencies at the time, we started getting calls from everybody. I will never forget when Neutrogena called us. We built their first Facebook page. I'll never forget when Verizon Fios was launching and called us. I mean, it was insane. So we did start working with big companies very quickly. Now, did we service them well? How did we do?
We did well enough, I guess, because it was a new space, but if I knew then what I knew now I could probably grow so much faster. We just didn't have the experience. So we got the clients early, we really did, and we grew really, really, really quickly. So I think we did a good job. It's just hindsight is 20/20, and what we really could have done in that space, if we have any experience, neither of us had ever run an agency before. So it was fascinating that we were in that position suddenly and like, wow. So that's… It was an interesting time. So we did get the clients early.
But the trick is… We don't have… We never had like really… Although Neutrogena is kind of sexy, but we never really had the sexy client. We were not like ones to work with, like Nike or any of those guys. We weren't. We worked in… Verizon was a good example of a client we would work with. A client that was in technology or working in retail or any of those things. Big companies that were profitable and good and could spend money on social, but we never worked with brands that were like at the forefront of the news, if that makes sense.
Melinda Wittstock:         Right. Gotcha. So where do you see the company going, in the next five years? What's your big vision of where you go next from here? Because there's been phenomenal growth since 2007, and just hearing you talk about what you've accomplished in that time, Carrie, it's amazing.
Carrie Kerpen:                  Thank you.
Melinda Wittstock:         Where do you go next?
Carrie Kerpen:                  I think where we go next is to continue to grow. We'll grow organically and probably through acquisition, looking at lots of different companies that we can potentially acquire or partner with, and expansion of services through partnering with those who have greater expertise than we in areas outside of social. So I think we'll probably continue to be the experts in social and layer on services probably through acquisition.
Melinda Wittstock:         That is fantastic. So, if anyone's listening, who is in the $100 million range…
Carrie Kerpen:                  Yeah, yeah. 100 million to one billion, if you're there. But really, it's more like, if you're listening and you have a smaller agency and you're looking at potentially being acquired, you certainly can reach out to me anytime. I'm looking at that, smaller agencies that are listening [crosstalk 00:37:10]-
Melinda Wittstock:         Wonderful. Well, I want to make sure that everybody can find your books, can find you, interact with you obviously on social and whatnot. I remember when you were last on the podcast Work It had just come out, which is a great book.
Carrie Kerpen:                  Yeah. I love Work It. Thank you.
Melinda Wittstock:         So we'll make sure that all of that is in the show notes and-
Carrie Kerpen:                  Yeah. You can follow me anywhere. It's Carrie Kerpen pretty much everywhere. I'm kind of boring. Keep the same name everywhere; keep that brand consistency. Work It: Secrets for Success from the Boldest Women in Business is a very fun book that you can read, that I wrote, based on my interviews with hundreds of women on the lessons I've learned through the years. And of course, if you're interested in Likeable in any capacity, you can visit likeable.com. It's L-I-K-E-A-B-L-E.
Melinda Wittstock:         Fantastic. Carrie, thank you so much for putting on your wings and flying with us.
Carrie Kerpen:                  Thank you. Thanks, Melinda. What a pleasure and congratulations on all your success and very, very excited for the new network. And can't wait to see how far you go.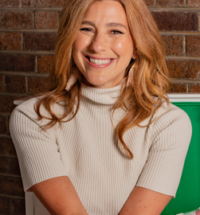 If you liked this episode...
Then you will love these!
Michelle Norris
PODCAST #494 Hard to Kill
Angela Henderson
PODCAST #496 The 7 Profit Pillars
Renée Warren
PODCAST #490 A Place of Giving