576 Clarissa Burt: Super Model to Media Maven
Secrets of Personal Branding & Why Entrepreneurship is All About Your Customer
What can being a contestant on the reality show Survivor or teach us about thriving as an entrepreneur?
Turns out, a lot – because to win you have to overcome your fears, persevere, embrace constant change, keep your eyes on your competition as you advance to your goals.
Being a Super Model also provides valuable lessons about overcoming rejection and learning that "its not about you – it's about the customer".
Clarissa Burt is founder and CEO of In The Limelight Media, the winner of Celebrity Survivor, and an internationally acclaimed, award-winning media personality, producer, director, writer, author, and public speaker.  Clarissa is also a former super model who has graced 250 magazine covers including Vogue and Harper's Bazaar, as well as the catwalks of Versace and Ferre. You might know her from the movie The Never-ending Story II where she played the mean queen, Xayide, or "The Face" for Orlane Cosmetics for 10 years.
She's busy at Limelight creating a multi-media platform, comprised of video, podcast and a quarterly digital magazine, to showcase entrepreneurs globally to create brand awareness, share insights and exchange ideas.
What winning Celebrity Survivor can teach you about surviving entrepreneurship
How to get around big problems, like accidently finding a kilo of cocaine on a Caribbean Island
How to overcome rejection, overcome fear, and cope with constant change
What being a supermodel teaches you about being a great sales person
Why your company is not about you – it's about your customer
Secrets of successful personal branding
And much more!
Join the conversation on Podopolo https://podopolo.com – available in for free in both the Google and Apple app stores – and unlock special perks including a chance to have a complimentary 15-minute business growth or podcast consult with me.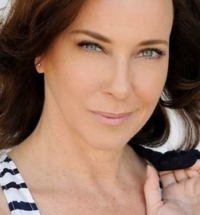 More about Clarissa Burt
Clarissa Burt is the CEO and Founder of In the Limelight, a multi-media platform with video, podcast and a quarterly digital magazine to showcase entrepreneurs globally to create brand awareness, share insights and exchange ideas. She's also an internationally acclaimed media personality, producer, director, writer, author, public speaker, former supermodel and winner of the Celebrity Survivor show. Clarissa has graced the cover of over 250 fashion and beauty magazine covers including Vogue and has walked the runway for many major international clothing designers like Versace.
Listen to Clarissa's podcast at In the Limelight with Clarissa Burt
Get the Transcript HERE
Wings of Inspired Business was ranked #8 of Entrepreneur Magazine's Top 20 Business Podcasts for 2020 – and Feedspot's #2 business podcast for women.
Our Sponsors and Special Offers
Podopolo – The #1 Social Podcast App + Player
Discover your new favorite podcasts, interact with hosts and each other, and win prizes, freebies, special discounts and more as you share content, put lessons into action in your life, and engage in mission-driven quests to improve the world – all in one mobile app. Download Podopolo right now in the Apple and Google app stores. And if you're a podcaster – join us! Learn more here.
Launch Your Magnetic and Profitable Podcast
If you've been putting off launching your podcast, now is your time. The world needs to hear your expertise and our message right now. Your voice IS your value, and your passport to engage the world in your true purpose and mission. As the Coronavirus Pandemic continues, I'm offering a group Podcast Accelerator at a discount so you can connect deeply with your community and attract and best serve your customers.
Get The 7 Steps to Your Profitable Podcast
Leverage my complimentary 7 Step Guide to engage your tribe with a magnetic podcast that makes you money.
Zero Limits Ventures
How much is your company worth? Want to find out how to boost your valuation? Claim your FREE consult call with Steve Little, who's built and sold 6 of his own companies for 9-figure exits and helps other founders get a 5X to 10X multiple on their the sale of their business.
If you liked this episode...
Then you will love these!
Michelle Norris
PODCAST #494 Hard to Kill
Angela Henderson
PODCAST #496 The 7 Profit Pillars
Renée Warren
PODCAST #490 A Place of Giving