448 Elisabeth Cordiello: Courage for the Unknown
How to Trust Your Intuition – And Your Tribe
Entrepreneurship is not for the faint hearted.
It requires us to get comfortable being uncomfortable because every leap on the growth curve requires us to do something unknown to us.
It requires us to be brave.
Sometimes that means having the courage to trust your own intuition.
Sometimes it means trusting your team to get the job done without you becoming the bottleneck.
Sometimes it requires you to take a risk.
Elisabeth Cardiello is the CEO and Founder of a coffee company called Caffè Unimatic, and the creator of Brave Conversations Over Coffee®. She believes coffee as a ritual is an agent of change, and she facilitates coffee meetings within companies and schools in the belief that it leads to innovation, creativity and change.
Today she talks about how to be brave in entrepreneurship, and if you've seen the Netflix documentary, "Coffee For All", you'll know she was primed for business innovation from the tender age of 6 when her entrepreneur father printed her first business cards and taught her how to get out of her comfort zone.
Elisabeth also co-founded Legacy Out Loud, an education company that's designed a methodology to help young women get an entrepreneurial spirit, figure out "who they want to be, what they want to give and what they want to leave behind in the world."
Get an Unimatic at Caffe Unimatic, and you will get one of each of their coffees to try for free! Using the code "listenerlove"
Our Sponsors and Special Offers
Get The 7 Steps to Your Profitable Podcast
Hands down a podcast is THE way to truly connect with your customers and if you do it right, engage a growing community of loyal fans hanging on your every word. Learn how to find your voice with a profitable podcast with this complimentary download.  You can also qualify for a complimentary call with me on how to get your podcast launched in 12 short weeks – with a blueprint for community engagement and monetization as well. I'll share my 3 proven strategies that changed the game for me – plus some secrets I've learned about how to engage and monetize a growing following.
Wings of The Empowered Woman Mastermind & Retreat
Burned out? In overwhelm? Getting stressed trying to "do it all" to "have it all? Want to get more done in 4 days than you normally do in 4 months? Join other successful women entrepreneurs in Costa Rica for a 5-star experience in the pristine jungle location by a beautiful Pacific beach for a unique, immersive and intimate Retreat and 4 days of collaboration, co-creation, and connection for transformational outcomes. Get up-to-the-minute business hacks, connect with other powerful women, discover time freedom, and leave energized, empowered and ready to step fully into the light. Our curated community of heart-centered women entrepreneurs is committed to #LiftAsWeClimb. We're already filling up and taking applications right now. Hurry to lock in your place.
Zero Limits Ventures
How much is your company worth? Want to find out how to boost your valuation? Click here to claim your FREE consult call
with ZLV Founder Steve Little for your valuation enhancement and capital acquisition strategy.  You can also book your complimentary "office hours"  with Steve.
How to build your bravery muscle by doing one brave thing every day
The power of transformation that can happen over a cup of joe
Why visualization is necessary for success
Why women must stop comparing ourselves to each other
Trust your own intuition
How to teach young women the entrepreneurial spirit
And much more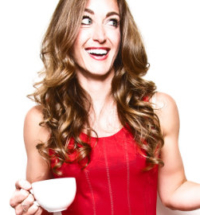 Get the Transcript HERE
If you liked this episode...
Then you will love these!
Michelle Norris
PODCAST #494 Hard to Kill
Angela Henderson
PODCAST #496 The 7 Profit Pillars
Renée Warren
PODCAST #490 A Place of Giving