537 Elle Russ: Confident as Fu*k
How to Leverage Vulnerability as a Strength
We all take a lot of things for granted: Our gifts, our talents, our health, and anything and everything that comes easy to us.
Often, it's only when something is taken away that we realize in our loss how much we valued what we no longer have.
Over time we also come to realize our challenges and traumas are our best teachers – guiding us to heal ourselves and others.
Elle Russ is on a mission to help people find their true confidence – and it's a journey of self-acceptance. We all have things we don't like about ourselves – things we try to hide from others in shame and for fear we won't be liked or accepted "if they really knew".
Elle found success super early managing hundreds of people as a hyper-charged tech exec by age 22. Then one day she lost the use of her hands, permanently.
Imagine for a moment not being able to … use your hands.
Today Elle shares her painful journey overcoming her shame, self-judgment and hypo-thyroidism along the way, and how it led her to write the books Confident As Fu*k and the best-selling Paleo Thyroid Solution, which has helped thousands of people around the world reclaim their health.
Why the things we lack and the challenges we face are often our greatest teachers
Why vulnerability is a strength and a pathway to true confidence and self-acceptance
The courage to get out of judgment, particularly self-judgment
How to overcome shame and imposter syndrome
How to break the addiction to struggle
Why what others' think of you is none of your business
How to go from foggy, fat and fatigued to fit, focused and full of life using Paleo and ancestral diets
And much more!
Join the conversation on Podopolo – available in for free in both the Google and Apple app stores – and unlock special perks including a chance to have a complimentary 15-minute consult with Wings host and serial entrepreneur Melinda Wittstock.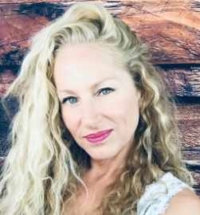 More at Elle Russ
Elle Russ is the author of Confident As Fu*k and the best-selling The Paleo Thyroid Solution, helping thousands of people around the world reclaim their health. Elle is also a TV/Film writer, a former improv pro, and the host of two podcasts: The Primal Blueprint Podcast and Kick Ass Life.
Get Elle's Primal Blueprint: Healthy Sauces, Dressings, & Toppings
Listen to Elle's podcast Primal Blueprint
Listen to Elle's podcast Kick Ass Life
Get her book: Confident As Fu*k
Get her book: The Paleo Thyroid Solution
Get the Transcript HERE
Wings of Inspired Business was ranked #8 of Entrepreneur Magazine's Top 20 Business Podcasts for 2020 – and Feedspot's #2 business podcast for women.
Our Sponsors and Special Offers
Podopolo – Dynamic Interactive Podcasting
Discover your new favorite podcasts, interact with hosts and each other, and win prizes, freebies, special discounts and more as you share content, put lessons into action in your life, and engage in mission-driven quests to improve the world – all in one mobile app. Download Podopolo right now in the Apple and Google app stores.  We'd love it if you checked out our beta. And if you're a podcaster – join us! You can learn more here.
Launch Your Magnetic and Profitable Podcast
If you've been putting off launching your podcast, now is your time. The world needs to hear your expertise and our message right now. Your voice IS your value.  I believe your voice is your passport to engage the world in your true purpose and mission, and so during the Coronavirus I am offering a group Podcast Intensive and I'm cutting my rates so you can use this time of "physical distancing" to connect deeply with your community and attract and best serve your customers.
Get The 7 Steps to Your Profitable Podcast
Is this the year you finally launch that podcast of yours? I believe your voice IS your value.  I believe your voice is your passport to engage the world in your true purpose and mission, and that when you do leverage your voice as a podcaster miracles manifest for you and your business and the impact you want to have in the world. That's why I'm sharing with you my complimentary 7 Step Guide to engaging your tribe with a magnetic podcast that makes you money. Sound good? Go to wingspodcast.com/liftoff.
Zero Limits Ventures
How much is your company worth? Want to find out how to boost your valuation? Click here to claim your FREE consult call
If you liked this episode...
Then you will love these!
Michelle Norris
PODCAST #494 Hard to Kill
Angela Henderson
PODCAST #496 The 7 Profit Pillars
Renée Warren
PODCAST #490 A Place of Giving