615 Finka Jerkovic:
What is it about the word "sales" that triggers so much fear and dread for so many female founders? We may fear rejection, we may think sales is pushy or icky – and whatever the mindset block, it's impossible to grow your business without being comfortable selling our own products and services. After all, you're solving a problem for your customers and meeting a need. So what if we sold not from a place of fear, but from love?
MELINDA
I'm Melinda Wittstock and today on Wings of Inspired Business we meet an inspiring entrepreneur who is teaching business owners how love and sales go hand in hand. The clue of course is in learning to love ourselves. Sometimes easier said than done, right?
Finka Jerkovic (Yer-ko-vik) is the author of Sell From Love: Love Yourself, Love your Client, Love your Offer – and as President of FINKA Communications, she's coached thousands of entrepreneurs and business owners to value themselves in alignment with their true selves with a mission-aligned approach to business. Her approach translates into sales and profits – and an inner fulfilment with that outer success.
Finka will be here in a moment, first…
There's nothing quite like launching and growing a business to trigger all our deep-seated subconscious fear. Business IS personal, especially when it is your own, and the ups and downs of the roller coaster test us daily. That inner bully voice is always on hand, and you know how it goes: Am I good enough? Will people buy my products? What if I fail?
Problem is, it is next to impossible to succeed if you come at your business with a mindset of fear.
My guest on Wings today says that LOVE is the only antidote to the fear holding you back in your business. And today we get right into how to transform your mindset from fear to love – so you can sell with confidence, attract clients magnetically, and build a business you LOVE – because when you align what you LOVE to do with what is most valuable to your client, magic happens.
Finka Jerkovic (Yer-ko-vik) is a bestselling author, international speaker, workshop leader and business coach. A long time corporate executive in Canada's financial services industry, Finka took the entrepreneurial leap and has coached more than 10,000 business leaders in leadership, sales, customer experience, employee engagement and personal branding as President of FINKA Communications Inc. Author of the #1 Amazon bestseller Sell From Love: Love Yourself, Love your Client, Love your Offer Finka helps her clients discover their "Brilliant Difference", so that they get 100% clear on their unique talents, skills and expertise and use their personal strengths to grow their business. Finka is also the Program Director and Master Coach for How to Fascinate® and the creator of the Certified Fascinate® Advisor program.
Finka has created a life she loves, on an 85-acre nature oasis, living a farm-to-table, brewing up essential oil blends from her lavender field, riding horses, and beekeeping.
Today we talk about what it means to "Sell from Love" and how it can revolutionize your business!
Let's put on our wings with the inspiring Finka Jerkovic.
Melinda Wittstock:
Finka, welcome to Wings.
Finka Jerkovic:
Thank you so much, Melinda for having me. I'm super excited about our conversation.
Melinda Wittstock:
Me too. I love the concept of selling from love. When we do that our sales are infinitely better and I want to break that down with you. What really makes the difference when you're coming from a place of love in your business?
Finka Jerkovic:
The principles of selling from love when we approach selling, there are two ways in which we can sell. The first way, either we're selling from love or we're selling from fear. And so you can even just sense into what that feels like. When we're selling from fear, we might be afraid to put ourselves out there. We might be afraid that if I invite a client to work with me, that they might say no. There also can be a lot of fear involved and then we don't actually put ourselves, our work, or our businesses out into the marketplace because of that fear.
But when we approached it from a place of love, all of a sudden, it's just like… it depersonalizes the relationship. So we're not identifying ourselves with the outcome of our sales, which all of a sudden just opens the flood gates to more sales and better growth and more revenue, and ultimately more impact, which is what we are seeking to do when we sell from love.
And the core of selling from love is really to approach our selling, often the people that gravitate to a model or an approach that even has the word love in it, they are heart-centric. They are people who are here to serve first. They're looking to help and solve problems and help people achieve their goals. But the traditional and older ways of how we were taught how to sell don't feel congruent. They feel like they're doing something that they shouldn't be doing, or that they're…
It almost feels like I'm giving to get versus I'm giving to make an impact, and the side effect of that or the result and the impact of that is guess what? You get to make that impact. You get to love the work that you're doing. You get to make money doing it and you get rewarded. And part of all of that also is when we're selling from love, we learn how to receive more because there's only a certain amount of happiness that we allow ourselves at a certain place.
But what's selling from love is really here to teach us is how do you love yourself even more that you're willing to accept more happiness, more success, and more fulfillment.
Melinda Wittstock:
I love that:  receiving. Women tend to be, I don't know, not so great at asking for things, but even worse at receiving them.
Finka Jerkovic:
I know.
Melinda Wittstock:
What's the root of that? We really have a hard time. Like say if someone gives you a compliment, so often, and I found myself saying this more in the past.  I'm a lot more conscious of it now, but like, "Oh, like this will thing?" Or minimizing, and in a way almost rejecting-
Finka Jerkovic:
Exactly.
Melinda Wittstock:
… the gift of the compliment. Right?
Finka Jerkovic:
Exactly.
Melinda Wittstock:
Which is actually kind of insulting to the other person who just gave you that compliment or gift.
Finka Jerkovic:
It is. Because even for them… And so if we were going to approach it in a different way, because we are natural givers and nurturers, and we think of others first. If we think of the person giving us the compliment, it's like, okay, learn how to receive it, so they feel good. If that's enough motivation for you to learn how to receive the compliment, that's a good place to start.
I think there's been a certain school and methodology knowledge, just how we were raised and grown up, you just learned to make other people happy first at the cost or sacrifice of limiting your happiness. And I too, Melinda, same thing, struggled with accepting compliments, even when… I spent two decades in corporate in financial services specifically. There was this, I don't know if it's even specific to women, but highly ambitious, a high, go getter achievers.
There's this moment that we don't even allow ourselves, like you're striving for that goal, you hit it, or you get your numbers or you get that client. You don't even give… I know for me, I struggled and continue to learn how to do this better, is to even take a moment to like, "Let me receive that goodness of feeling that achievement." Because what has happened to me and where I've often fallen down is I keep striving, striving, getting to that thing.
And because I don't take the moment to celebrate it, receive it and experience it, I'm off to the next thing. And guess what? Again, that next thing, I get that thing and it fulfills me, but I don't experience the fulfillment because I'm so busy going off to the next thing. And eventually I know my experience, my personal and professional experience led me to places of burning out, overextending myself up things that you just said like not asking for help- all those things.
Which again, limits how much success, how much impact and the results that we get to achieve, because we don't learn these skills in our personal life and in our business lives.
Melinda Wittstock:
There's one thing I've learned from entrepreneurship and onto fifth business now is you have to enjoy the journey. If you're not really enjoying it, not only what is the pleasure in that, but you're not as effective. You can't have the same sort of impact. It's just so, so important to do that. But you're right, there's so much pressure to be on this kind of task treadmill- often always of our own making.
Melinda Wittstock:
As entrepreneurs, nobody's telling us what the timeline is, we're inventing it ourselves.
Finka Jerkovic:
No. You know what happened to me a couple of weeks ago? I had a client reach out to me. I've worked with them for a number of years on a couple of different projects and training and speaking events. And they reached out to me and said, "We'd love for you to come in and give us something around the sell from love concept, where one of our values is love. We really believe in this approach. And can you tell us what you offer?"
So Melinda, I got so excited. I'm like, "I can't wait. I really want to show my stars and exactly what you can get out of this, and the impact," and the over-zealous excitement. So then he further says, "But I'm going on vacation on Wednesday, so whenever you can." I'm like, "All right, I'll have it to you on Tuesday." So it's like he didn't put any expectations.
He told me he's going on vacation, but there was something in me that was like, "I've got to impress, I've got to top customer experience." It was just like, oh. And so the patterns are so deep that after I got off the Zoom call, I'm like, "Why did I do that? I didn't have…" So then, I worked my butt off creating the nine-page proposal that went off on Tuesday.
So, what I want to point to is that, even though I'm conscious and aware and I'm doing the work to unshackle myself from these behaviors and these dysfunctional… they're functional and then they become dysfunctional because they're not serving my future self and who I see myself becoming. It's in those moments, catching myself, "All right. So what I'm going to do next time?"
So then the week after which, I get another client and I literally in my mind, all right, I have this other opportunity. I'm going to give myself time. And I knew what I had happening in that week, and so we're on the phone and they're telling me- again, I'm getting all excited about all the things, but I paced myself and I paused and I said, "Okay, what else do you need? When do you need this by? When are you expecting the proposal?"
And so literally asking them to tell me when they want this. And they're like, "We're really busy over the next two weeks, so even if you get it to us, we won't have a chance to take a look at it." And that was perfect. "All right, I'll get it to you two weeks from that Monday and I'll get it over to you." And all it was, was just being more aware of catching myself in those moments when it happens. And sometimes we catch ourselves after, which was what happened in that first scenario.
And when I caught myself in that first scenario, it wasn't… and this is a first principle of selling from love, you got to love yourself. And so I did not berate myself and say, "How the heck could you have done that? You know better, you should have done better. You teach this stuff and how did you…" All that kind of… and it's just like, "No, you got excited and that's great. You want to do this wonderful work."
Yeah, it's going to put a wrench in your weekend and all the plans you had, but that's okay. You're excited about the work and what can you do next time?" And that was the learning. And so I think that's the important part. We're going to make mistakes. We're going to stumble and fall. And the first principle selling from love is how do you love yourself even when you are catching yourself in those moments of, oh, crap, I should have did it differently?
Melinda Wittstock:
We need more compassion for ourselves, especially entrepreneurs. It's not an easy road, right? If you want therapy actually, become an entrepreneur-
Finka Jerkovic:
Exactly. It is the best.
Melinda Wittstock:
It's a mind game, but it's also a heart game. And when you do actually figure out two things, I think, one is just that the consciousness or awareness in the present moment of how you're actually feeling, and what's actually giving you joy, what is lighting you up?
Melinda Wittstock:
That you're in alignment with the work, you're actually enjoying what you do. That's magical. There's so much that manifests from that, that conscious presence. And the other piece of it, of course, beyond that is understanding that all kinds of stuff is going to go wrong, but that's okay. It's showing us things, it's teaching us. And so figuring out how to be grateful, it's hard to be grateful when things are going wrong.
Finka Jerkovic:
Absolutely. Can I just share a quick personal story on that?
Melinda Wittstock:
Oh yeah, please.
Finka Jerkovic:
Yesterday my husband, I had just finished my day and he comes and he says, "Fi, come out." And I see him and he's like, "I hurt myself." He was building a cabin for us and he lifted something way too heavy, and this is going to be kind of gory, but his bicep tore. So it literally, from his elbow up, it's almost like that Popeye really puffed up bicep thing happened because it wasn't attached to his elbow.
And in that moment it was like, "Oh crap. We had all these plans for our summer, we had all…" And I quickly Googled what a bicep injury is going to be like. And it's three to four months of recovery, surgeries involved, all this stuff. And it's like we had all these plans. He's building the cabin, which is my office, and it's like, now I'm not going to get my office, my outside office, my creative cave, where I get to go make stuff without interruption and do some deep work. It's gone. And it's like, oh.
And in that moment, it was just like all these plans we had just got… they're going to be shifted in some way and what we had to do- and was really awesome just to see between yesterday to today, how we're just like, "All right, we don't know what's going to happen. We don't know the surgery, how long your recovery, and being okay with that even though we are on a certain journey on a particular road, those roads are going to have detours.
They're going to have maybe some pause moments, they're going to… stop and get some water, whatever that is. The symbolism of that for me, just experiencing it right now is like, "Yeah, it's all right." And so our brain, I know for me, it goes right to the future of all the, what's this going to cause? What impact is this going to have? It's like, I don't have those problems or those scenarios right now. Just come back and be conscious of the present moment.
What's happening right now? All right, get my husband to the hospital this morning, get them into an ultrasound, and then we'll figure it out. And for me just being here, doing this work and what I need to do in the moment, that's all that's necessary. And then we show up for the next moment more consciously, more present and more aware of what's needed of us to show up. When we fast forward and go to a future that has yet to be created or a problem that we have yet to have, it takes us away from the journey because we're so focused on… I was going to say manifesting, but manipulating a destination that actually might limit our potential and possibilities.
Melinda Wittstock:
Sometimes what we want isn't necessarily the best thing for us or what we want is actually limited. There's actually something better, but our left brain can't find them.
Finka Jerkovic:
No, it's not in its paradigm. So yeah, I don't know. I'm excited for what the summer holds, who knows. Maybe with him not working, we're going to have other things to do that we wouldn't have thought of. But we'll see. And again, I think that's also part of what you said earlier around becoming and being an entrepreneur is the best therapy, the best personal growth, and I'm going to say, elevation of human consciousness we have possible for us because it got me to look at this differently today because of that.
I can definitely attribute to the fact that I'm doing this type of work and I'm an entrepreneur, that it makes me more conscious and aware about everything else that's happening in my life.
Melinda Wittstock:
Absolutely. It's so easy to, I don't know, fall into a fear and scarcity thinking. And that constrains us as, it's kind of like, "Oh my God, if this particular deal doesn't work out," or, "If this client doesn't sign right now on the dotted line," or, "If this investment doesn't come through," or whatever. Oh my God. And so we put so much into that specific thing and get very attached to the outcome.
And if it doesn't work, these are the sorts of things that happen almost every day in business.
Finka Jerkovic:
Absolutely. And it's hard to, I feel I'm on like a teeter-totter almost, going on one of those scales where you're trying to balance it out. Because often what can happen is intellectually, Melinda as, you're saying that, it's like, "Yeah, I totally get. I don't need to be attached to the outcome. Because if I'm attached to the outcome, I might limit what might happen or I might actually make it go away." I can hear you, I get it, but then somewhere in our body and our bones, we're like, "Yeah, scared."
Melinda Wittstock:
Exactly.
Finka Jerkovic:
I need to make this happen. Right? It's such a fascinating-
Melinda Wittstock:
Oh God.
Finka Jerkovic:
And especially if-
Melinda Wittstock:
I know.
Finka Jerkovic:
Right?
Melinda Wittstock:
I live that one too, because when you go on a conscious journey, because you become increasingly aware, and yes, you can intellectualize it, and it's a journey though, like an issue that you resolve or a fear you overcome. It's not like it just necessarily goes away. My experience is the universe tests you like, "Are you sure?"
Finka Jerkovic:
I so agree.
Melinda Wittstock:
That's why people have so many patterns. If you get old enough and you look back in your life and you see repeating patterns, that's the clue to what your subconscious mind is actually doing with you.
Finka Jerkovic:
Did you ever have those moments where you make a big decision or just a defining decision and then the next day or a couple of days after the opposite thing shows up? Right? It's like, are you tempting me not to choose this thing? Or am I not supposed to choose this thing and I was actually supposed to choose that other thing that you're presenting now? And I agree, it's that testing. For me, it's almost like the universe is coming back and saying, "How committed are you to this? Are you ready for this? Are you ready for this commitment and this decision you made?"
Because then all of a sudden, it'll present other options to really help. Yes, it's a test and it's a way to say, "Are you this committed? Is this the real..it's a validation point that we get a couple of days after those big decisions. I know like a simple one is like, even if you go to the ice cream shop and I'm like, "All right, I'm going to get strawberry yogurt." As soon as I'm eating the strawberry yogurt, I'm like, "Oh, I should have got lemon strawberry."
It's like this in between like, "I should've got that." And that should have stuff, I know for my experience and what I know of is like, I just need to observe that it's there, acknowledge it and go back to my original intent. And there obviously can be changes along the way, but no, I got strawberry yogurt or I chose this client or this program to offer, or this niche to go down and stay committed to that.
Because often what happens is you choose a niche, you choose a problem to solve or a program to launch. And then, three weeks later, a squirrel catches you or shiny object and you're off to a new thing and we never actually get to fulfill the original intent of what we wanted to do.
Melinda Wittstock:
The funny thing, Finka is that in business, there's so much, I don't know, this whole idea around entrepreneurship, around the hustle, and the grind, and persevering, and pushing forward, and not letting anything get in your way. Overcoming nos, all the sort of stuff.
Melinda Wittstock:
On one hand, I get that, that you do need real perseverance as an entrepreneur. If on the other hand, you're persevering and you're doing all the things, but you're hitting a brick wall over and over and over again. Is the universe telling you like, "Actually this is not the right business for you, or this is not the right way to go about it?" In other words, the question in here is, how do you know really, if you're just out of alignment or when you are in alignment and entrepreneurship is tough, you just got to keep going. How do you balance that?
Finka Jerkovic:
I think with entrepreneurship, there's a certain level of effort. And so when I look at hustle, grind, perseverance, grit, all those wonderful words, resilience, all those wonderful words that come with, it's effort. It's the effort that… It is not always like, I don't know, unicorns and rainbows. There are moments where it feels like, oh, this is why I'm doing it and it feels so fulfilling and it's so worth it.
But there's so much of that in the journey of being and becoming an entrepreneur. When it comes to out of alignment, I read this really powerful book that I continue to remember. And I think this is for those of us that are so overzealous on our goals, high-driving, ambition. We can exhaust ourselves with our own ambition, and that's where the wall we hit. And what I found for me, and I'll tell you about the book in a second that helps me remember this.
But what I found for me was that if I'm forcing something to happen that I'm overly, and I say it's coming from a place of fear versus love. So that's that anchor like is this desire, this action, this outcome that I'm looking to create, is it coming from fear or love? Now, love is going to want to create an outcome. Fear is going to want to orchestrate the outcome. And so when we are having those two models with us, one from fear, one from love and really stepping back and saying, "Okay, is this action? Is this thought? Is this feeling as this behavior?
Is it coming from a place of fear, scarcity, uncertainty, doubt, guilt, or meeting certain expectations?" That's often when the heart hustle feels like the grind hustle. But if it's coming from a place of love and who you will become as a result of it, the impact you're going to create, the expansion in your own consciousness or your own receiving of what's available to you, it's a different type of effort that is taking place.
I read this really awesome book and I literally, I continue to read it because it continues to remind me. Because I think what happens, I'll notice when I get on the wheel again, like on that fear wheel, like the achieving, the striving, the driving, and when it's coming from that place of fear, because I'll end up being way too tired, take on way too much-not have time for my personal practices like meditating and going out for my run or spending time in the garden, all those things.
So when you notice you can't take care of yourself, that's a telltale sign, the hustle's costing you too much. It's an author by the name of Michael Singer and he has this book called The Surrender Experiment.
Melinda Wittstock:
I love that book. Oh my goodness.
Finka Jerkovic:
Awesome. Isn't it great?
Melinda Wittstock:
That and The Untethered Soul.
Finka Jerkovic:
Yes.
Melinda Wittstock:
I read those books years ago and they profoundly changed my life.
Finka Jerkovic:
Same here. And so when I find I'm putting my hands in like fists, like knickers in a knot, just clenching, so when the grip feels too hard, that's when I might be hitting that wall, that entrepreneurship. The way I'm gearing towards the thing that I want to do is I'm not surrendering them to what's also available. And that letting go is where love can permeate in and what Michael talks about.
Because when you even hear about his story and his journey, he just wanted to meditate and build a cabin in the woods and be all by himself. But that didn't happen for him because part of his journey was creating this multimillion dollar software company. He ended up becoming… Also, he had a construction company. Those weren't also in his paradigm, but we have to be open to there's you, but there's universal intelligence also supporting you to become who you are going to be, here to be.
And I love his story because it also reminds me, all right, Finka, you think you're going to do this. You're going to build a cabin in the woods, but no, no, no, no, life is also inviting you to do this. And so how can we be that open to do the thing, be committed to your mission and your goal or your intentions, and at the same time, be open and allowing and practice that receivership of what else is around here? What other intelligence on where maybe the journey is shifting you to different roads as well?
Melinda Wittstock:
Oh yes. It's so, so profound. You're saying so many things that I think are so important for people to hear at whatever stage of the journey. Because you can start out in that position of love, but then as you grow your business, as you scale your business, you get new things that you're doing and you can easily slip back into the old ways. I know that for sure, say in my company, we've gone from two people to 25 people in four months.
Finka Jerkovic:
Wow. Wow.
Melinda Wittstock:
And so as a CEO of that and with so many different things and with fundraising and all that stuff, suddenly there are a lot of other people that you're looking after in a way, right? As a leader, you're setting the vision, you're doing all of these things, but there's a lot of other stuff, incoming stuff coming at you. And the trick of course is to stay in that zone of flow and love no matter what.
Melinda Wittstock:
That requires you to really have, oh gosh, a tremendous compassion for yourself, value yourself, and listen and feel what's going on. And one of our highest company values at Podopolo is it's not just about what you're doing, it's who you're being.
Finka Jerkovic:
Exactly. Oh, I love that. I love that.
Melinda Wittstock:
And so, with the tech team who are on impossible deadlines, or with marketing and watching the numbers, it's just trying to remind my team, okay, so who you're being? How are you feeling right now? So it can permeate the whole organization, not just me. That's something that I've really set an intention to do. But if I'm out of whack, then the team's going to be out of whack. You know what I mean?
Finka Jerkovic:
Exactly, and I think that's the other thing. When we create a vision for our businesses, we're doing it from point A. And then you get to point B, the vision and even the skills, the competencies, the capabilities, and the knowledge, and the expertise you bring, what you brought from point A, yes, you've grown and now you're at point B, but what you need to get to point C is going to be different. So managing a team of two and leading a business of two is going to look very different than what managing and leading a team of 25 is.
That's a completely different business model. Also, your leadership and your leadership style, your communication, it's going to be, I'm going to say, you're taking what you have with you and you're going to continue to build on it. Coming from a posture of love means, all right, I'm open and willing to learn. I'm open and willing to figure out what's the next level of the next best version of Melinda that's going to be created as a result of this bigger mission and vision you have and what you're creating with this business that you're making, which is amazing, amazing.
Melinda Wittstock:
It's a really interesting journey, because it's who you're being at these different phases of scale. There's so many different types of businesses and different types of entrepreneurs, and different intentions around it. Whether it's a lifestyle business or you're like a coach and you have clients that you deal with on a daily basis, or whether you're building a scalable technology company, it's like it's different.
Finka Jerkovic:
And you know what, Melinda? The other part of this is, it's also courageous of making the decision of what kind of business model you're going to have, but also elevating it from where you were to where you are. Because what you've done is like, I'm just going to go, so I'm just thinking about it. It's so big, it's so huge and you've said yes to that. Earlier in our conversation, we talked about receiving and learning to receive.
You are like an epitomized model of what it is like to receive the next level of impact. What is it like to receive the next level of leadership, the next level of business impact and modeling and results. You're actually walking us through that by saying yes to this next adventure that you're on, which is amazing. I don't know if you sense it in for you or not, but me sitting here on the other side, just hearing the story and it's a huge that so many of us… and it's not like we're all chosen for that either.
And so I'm happy and excited for you because the invitation was sent and you said yes. So I'm excited about what's next. Here is the invitation, Melinda, what do you want to do? Here, do you want? Here, go for it.
Melinda Wittstock:
Right.
Finka Jerkovic:
And you said yes. It's such a courageous move. My God.
Melinda Wittstock:
So there's a certain thing on, because when you decide you're going to play big, it's a different sort of thing and I wish more women did that. Right?
Finka Jerkovic:
Mm-hmm (affirmative).
Melinda Wittstock:
Just said, "Okay, I'm going to go and I'm going to go do this. Go big."
Finka Jerkovic:
This is what was going on for me every time I decide that next move and my next move is not yet, I can sense it. But there's this part of you, and I don't know if you had this experience, but for me, what happened was, oh my God, that's going to be so much more work. Oh my God, it might take me away from my family more. I think we start looking at our current life and comparing this future version or future business model or future self to a current mindset and a current paradigm, which is the wrong thing.
Because the resources and the time, all that's going to be created, because you're going to be at a different place. Two years from now, that business model is going to need support and your leadership is going to be at a different level, so the time to spend with your family won't actually be sacrificed. You might actually have more of it because the business model allows for it. But it's so hard to see it. Does that make sense?
Melinda Wittstock:
Exactly. It's like trying to imagine who you're being at different stages of this journey. Obviously with a larger team, so the vision and the leadership and all of those things become more important, but you're not in the doing as much.
Finka Jerkovic:
Exactly.
Melinda Wittstock:
You're more in the working on your business, not in it. And there is that transition and a lot of women do come up against that scaling issue, get really blocked. Most women get blocked at just under a million dollars. It's somewhere in the six figures, mid-six figures and it's a big leap to get to the million. In fact, only 3% of female business owners make it above a million dollars in annual revenue.
Melinda Wittstock:
But then when you say, "Yeah, now I'm going to build a $100 million business or like a billion dollar business." It's hard to imagine in a way, right? Because-
Finka Jerkovic:
Yes.
Melinda Wittstock:
… who are you being? And so it's really interesting, like all these things, it's always like an inner journey that's going to get you there. Yeah?
Finka Jerkovic:
Exactly. And then the outer reflection of that journey starts to unfold as you embark on that inner journey because-
Melinda Wittstock:
This is a great segue into all the great work you do with my friend, Sally Hogshead with How to Fascinate and the certification program and whatnot, because she has such an interesting, a way of actually really helping understand themselves and work their marketing and their business and whatnot around that. Even who to hire in the right positions, all of that. Sally was one of my first guests on this podcast, like way back. I think she was like episode 10 or 11-
Finka Jerkovic:
Wow.
Melinda Wittstock:
… or whatever. So I am fascinated with How to Fascinate and how you came to do that. Because I know you do a lot of work with a lot of entrepreneurs, helping them with their branding and so much more, selling from love. Tell me a little bit about that, How to Fascinate and how that all works, so everybody understands it.
Finka Jerkovic:
How to Fascinate is an assessment that you embark on, so you take it and basically the outcome of the assessment tells you how the world sees you at your best. And oftentimes, as we've talked about earlier, we all dismiss, deny, devalue those qualities that you bring to the table. And what I love about how powerful this assessment is, you'll get a result and it'll give you an archetype in your top two advantages, meaning these are the two ways that the world sees you at your best.
For me, I took the test back in 2012. I was in a moment of transition, I was still in my back in my corporate career, and I was in that last moment, what am I going to do? Where's my career going? And what am I going to create after here? And I took the test and it was like one of those moments where the clouds opened up the sunshine through and it's like, oh, this is me. This is my value. This is everything that I've known.
Because what was going on for me in my career, and I don't know if you've ever had this experience, but I was in a very structured, traditional corporate environment. I was in financial services and so big, bold, new ideas, challenging status quo, brand new things. Maybe-
Melinda Wittstock:
I keep laughing because that's so hard to do within an environment like that.
Finka Jerkovic:
Exactly. Having a not so perfect version of yourself, show up, everything was always on the line and you're trying to always contort yourself into their expectations. So I had a good training in that. And obviously, you get to a certain point in your career, it's like, okay, either this is going to like kill me because it's not only killing my soul is going to eventually kill my body or I'm going to have to figure out a new way.
Literally, this assessment, which is so crazy that five minutes after doing a test that it changes your life. It literally changed my life because I know these are my qualities, this is what I bring to the table. I am an out-of-the box thinker, I challenge the status quo, I'm always three steps ahead seeing what the possible next thing will be before people get there. And the test allowed me to accept those things.
And as soon as I accepted who I was and who I was not, because that's the important thing, who you are. There are things that are who you are, but there's also things that you're not ever going to be good at. Things you don't love to do and things that aren't naturally in your wheelhouse. And we have to come to terms with that because if we don't, we'll be stuck in that mediocracy trap, always an average and never really finding our zone and I call it the brilliant difference.
You won't find your brilliant difference, which is the thing that makes you so brilliant and so amazing and so awesome. And the difference is the impact and the value that we get to experience because you've got to bring it. And so, we need that from everyone. And the tool fascinates a powerful way of uncovering it and getting that revealed to you. Then our work is like… We've all taken a task. I've taken MBTI, StrengthsFinders, but we can't just take that test and put it away.
You have to take that test and you have to take the results. You got to look at your life, your business, the transformations of the impact you have on your clients. And you have to start collecting data to prove that this is you. So you get that evidence and then you got to start telling the story to people. And that's where you know that building a brand that is aligned to who you are, because you might be selling coaching services, or training services, or certain products.
Other people also provide those, but what's going to differentiate it, what's going to make it different and why people are going to want to choose you is you. And it's important to get clear on that.
Melinda Wittstock:
Yeah, it really is. The difference in a lot of assessments, this one is different because it's how the world sees you.
Finka Jerkovic:
Exactly. When we take other assessments, they take the perspective of how you see yourself and how you see yourself and they're based on psychology. So the intellectual side where the How to Fascinate assessment, it's built on how the world sees you. So every day you are communicating, you are solving problems, you're having certain actions and behaviors happen. And what the test is actually measuring is how people respond to those signals you're sending out.
And what it's then telling you is, "Hey, based on the signals you're sending out, these are the top two ways in which the world is going to," so the world being your clients, the people that you're looking to influence, or you're looking to buy from you, are going to most likely respond to you.
The other cool thing is there are seven ways in which we communicate. And so there's innovation, which is the language of creativity, passion, the language of relationships, so those might be your top two. Melinda what's you?
Melinda Wittstock:
I'm a catalyst, so-
Finka Jerkovic:
That's right. So you're passion and innovation. So, Melinda is all about relationships. She's intuitive. You're someone who's emotionally connected and invested in your relationship. You will wear your heart on your sleeve. And so we will know how you feel and you connect through your heart. Then your innovation is your secondary, which is all about challenging the status quo. You're going to try new things. You're out of the box.
Melinda Wittstock:
It's so true. Oh my God. Of course, every business I've ever done has been like a hard one. They've all been really outside the box innovations, every single one of them. And some of them have been hard because those innovations, if you don't get the timing of the innovation right with where the market is to receive it, that's pretty tricky. I remember a startup of mine years ago, NewsiT.
We'd innovated all these algorithms to be able to parse crowdsource content for relevance, but also reliability. And this is back, a really hard thing to do. And it was successful, but it was really hard to find a market for it, and I realize now we were solving  the 'fake news' problem.
Finka Jerkovic:
Yes, you would have.
Melinda Wittstock:
But a decade before-
Finka Jerkovic:
You were so ahead of your time.
Finka Jerkovic:
I'm a trendsetter and that's where I often live. It's like, oh my God, you're just so ahead of the time that you're right, to build a sustainable viable business, it also needs relevance in the current time. And so, yeah, it's super important, especially for those of you listening that are like, "Yeah," but you're off to the next thing or the next big idea.
And it's great, but you have to get that idea and say, "Okay, who's it serving now? Is it relevant? Are people willing to pay for it? And can you build a sustainable financially viable business on it?" It becomes also a really important question.
Melinda Wittstock:
Exactly. Exactly. Just to go back to the topic of selling from love. Let's break that down practically in terms of what that actually means. And when you work with your clients, how do you actually change that I guess, inner mindset to allow people to step into that? Because for women, so many women have this real fear or a lack of comfort with sales because they think it's icky.
Finka Jerkovic:
Yes.
Melinda Wittstock:
Right? So this whole paradigm shift will help a lot of women really to grow their businesses. So take us through that in a little bit more detail.
Finka Jerkovic:
The three pillars to selling from love is number one, you have to love yourself. And that means what we just talked about, is owning your brilliance, really discovering what are the unique gifts that you bring to the table and how they're here to serve the good of all and your clients. Just that one practice of learning to love yourself, appreciate yourself for your gifts and the other is taking care of yourself.
We know that in order to show up as a leader, have sustained energy and be conscious and emotionally intelligent, and make those decisions that you need to make, it becomes even more important that you have certain self care practices. So when it comes to taking the ick out of selling, having more confidence, it is really about stepping into the wholeness and the greatness and the brilliance of who you are, and making sure you mind your energy and you take care of those things. Because that's going to influence how you show up. It will decrease the ick factor exponentially.
Melinda Wittstock:
Absolutely.
Finka Jerkovic:
Right. And then part two, so the second piece is you have to love your client. And this is what I find, especially for us women, we have no problem loving our client. The challenge is we can catch ourselves in a couple of places. Number one is we love them too much. We love them so much that we overextend our boundaries and that's where we stop loving ourselves and we give more too much versus having clear boundaries on how we work with our clients, and what are we willing to do? What's theirs and what's ours?
And so, if you find you're loving your client too much, there might be an opportunity for loving yourself a little bit more before we love our client. But the other part of loving our client is we love our client and it's understanding and having that ability to put yourself in your client's shoes, see the world through their eyes, understand the real struggles that they're experiencing, but also being able to convey.
And this is where we get stuck in our selling or selling feels icky is when we talk way too much about our product or about our service, the features, the benefits, the price, the ticks, or the process, we need to do this and then this is going to happen and that's… When we talk, that's where icky selling happens. Where you sell from love is when you're talking about this is the transformation years in experience.
This is what life is going to be like for you after you use this product, use this service. This is the impact and the result you're going to experience as a result. And so again, when we talk too much about the transaction, we're caught in selling from fear and that's why it feels icky. But when we're talking about our clients, trying to stop, be quiet and listen to what they're saying, not having to be a know-it-all on those calls and trying to feel like you have to have all the answers.
Actually be naive, be open, be like you don't know what they need to do. That posture has you become a better listener. And that's one of the things that our clients need. They need us to listen better and be more attentive to what they're seeking versus what we want to sell them.
Then the third pillar is you have to love your offer. You've got to love the thing that you're selling, and so much so that you're willing to put your reputation and your name on the line for it. In my research, what we've discovered is that often, there is a gap in loving yourself. Often, there's not that much of a gap in loving their client. We love our client, but where there is that opportunity for us to not sell from fear, but sell from love is loving the offer.
And what happens is, and how do we know that is, I asked this question and two questions, particularly. One is, how do you consistently put out offers? So you're consistently inviting clients to work with you. And the other is, do you have some form of follow-up system in place? And 86% of people do not. These are service-based professionals, do not put themselves out there, consistently inviting people into their services, their business to work with them in some way.
I knew it and at the same time, it's like, oh, what's standing in the way? And it's this thing called fear, we have fear of rejection, fear of failure, fear of, yeah, I'm good to go outside my comfort zone, but when it comes to actually asking someone to work with me, I'm really scared. And I will make a reason why I don't have time, or why not now is the right time, or I got way too much busy work to get done. And we don't actually ask people to work with us.
Melinda Wittstock:
Yeah, it's true. I've seen women do things like even land the business and not send the invoice or.
Finka Jerkovic:
Yes, I will say, I remember my early days. I don't know what it was… It's the strangest thing, yeah. I remember my early days, even learning the process. And so, because I had come from a corporate world, when I started my business, one of the things that, and I don't know if you have ever experienced this, but the skills that I had in my corporate career, I was a sales leader, a sales coach. I built sales strategy, communications, training, all sorts of that kind of stuff. And then I started my business and I got amnesia and I forgot all about those skills. And so, it's funny-
Melinda Wittstock:
Because when you're selling your own thing, it's so much harder.
Finka Jerkovic:
It's so different, yeah, which is probably a whole other conversation. But yeah [crosstalk 00:45:09]. And then those early days, yeah, it's like I forgot to send invoices, or… It's so interesting how all of these things show up in different ways and they're just… All they're really telling us, these are opportunities for us to figure out how to love ourselves more, opportunity to love our client more, and love the thing that we're selling.
Melinda Wittstock:
So beautiful. I want to make sure that everybody can find your book and how they can work with you, Finka as well. What's the best way?
Finka Jerkovic:
You can find everything about the book at sellfromlove.com. If you're interested, there is a Sell From Love test. And that assessment is there to help you identify, where's that opportunity? Do you have a gap in loving yourself? Is the gap in loving your client? Is the gap in loving your offer? So then you'll get a report back that gives you a couple of tips on ways to overcome those gaps.
Finka Jerkovic:
And that will hopefully get you moving away from fear and selling from love, so it doesn't feel icky and you have that confidence to put yourself out there and do that amazing work. And if you want to learn more also, the Sell From love podcast. That's basically it.
Melinda Wittstock:
The Sell From Love podcast. Everybody check that out as well. Finka, thank you so much for putting on your wings and flying with us.
Finka Jerkovic:
Thank you, Melinda, for having me and letting me do so.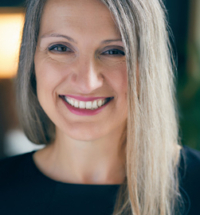 If you liked this episode...
Then you will love these!
Michelle Norris
PODCAST #494 Hard to Kill
Angela Henderson
PODCAST #496 The 7 Profit Pillars
Renée Warren
PODCAST #490 A Place of Giving