615 Finka Jerkovic: Selling From Love
How to Eliminate Mindset Blocks in the Sales Process & Love The Business You're Growing
What is it about the word "sales" that triggers so much fear and dread for so many female founders?
We may fear rejection, we may think sales is pushy, that inner bully voice may tell us we're not enough. Whatever the mindset block, it's impossible to grow your business without being comfortable selling our own products and services.
After all, you're solving a problem for your customers and meeting a need.
So what if we sold not from a place of fear, but from love?
Today we learn all about the magic that manifests when we transform your mindset from fear to love. It's the secret that enables you to sell with confidence, attract clients magnetically, and build a business you LOVE – because when you align what you LOVE to do with what is most valuable to your client, magic happens.
Finka Jerkovic is the bestselling author of Sell From Love: Love Yourself, Love your Client, Love your Offer who has coached more than 10,000 business leaders in leadership, sales, customer experience, employee engagement and personal branding as President of FINKA Communications Inc. – helping them to value themselves in alignment with their true selves with a mission-aligned approach to business. It's an approach that translates into sales and profits – and an inner fulfilment with that outer success.
Finka lives in Canada with her husband and daughter on their 85-acre nature oasis, where you'll find them living a farm-to-table lifestyle, brewing up essential oil blends from their lavender field, riding horses, and beekeeping.
What it means to "sell from love"
How to eliminate fear in the sales process
How to know when you are out of alignment in your business
Why it's difficult for us as entrepreneurs to celebrate our achievements
Why having compassion for yourself is necessary as an entrepreneur
What it looks like to lead from love
How "Playing Big" can impact your business and your life
What "How to Fascinate" is and how it can revolutionize your life
And much more!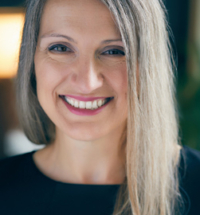 More about Finka Jerkovic at FINKA Communications Inc.
 Finka Jerkovic is a bestselling author, international speaker, workshop leader and coach. As President of FINKA Communications Inc., she consults with clients in areas of personal branding, leadership, sales, client experience and employee engagement. She brings over two decades of experience in corporate Canada in the financial services industry.
Listen to Finka's podcast at Sell From Love
Check out Finka's Book Sell From Love
Get the Transcript HERE
Wings of Inspired Business was ranked #8 of Entrepreneur Magazine's Top 20 Business Podcasts for 2020 – and Feedspot's #2 business podcast for women.
Our Sponsors and Special Offers
Podopolo – The #1 Social Podcast App + Player
Discover your new favorite podcasts, interact with hosts and each other, and win prizes, freebies, special discounts and more as you share content, put lessons into action in your life, and engage in mission-driven quests to improve the world – all in one mobile app. Download Podopolo right now in the Apple and Google app stores. And if you're a podcaster – join us! Learn more here.
Launch Your Magnetic and Profitable Podcast
If you've been putting off launching your podcast, now is your time. The world needs to hear your expertise and our message right now. Your voice IS your value, and your passport to engage the world in your true purpose and mission. As the Coronavirus Pandemic continues, I'm offering a group Podcast Accelerator at a discount so you can connect deeply with your community and attract and best serve your customers.
Get The 7 Steps to Your Profitable Podcast
Leverage my complimentary 7 Step Guide to engage your tribe with a magnetic podcast that makes you money.
Zero Limits Ventures
How much is your company worth? Want to find out how to boost your valuation? Claim your FREE consult call with Steve Little, who's built and sold 6 of his own companies for 9-figure exits and helps other founders get a 5X to 10X multiple on their the sale of their business.
If you liked this episode...
Then you will love these!
Michelle Norris
PODCAST #494 Hard to Kill
Angela Henderson
PODCAST #496 The 7 Profit Pillars
Renée Warren
PODCAST #490 A Place of Giving