626 Dr. Gayle Carson: 626 ICYMI Gayle Carson (In Memoriam): Been There, Built That
Balancing Entrepreneurship, Motherhood and Marriage
No one ever said scaling a business to 8 or 9 figures is exactly easy for anyone – women or men. 
Think how hard it must have been for a woman in the 1950s and 1960s.
Today we go back into our Wings vault to share this inspiring interview with a female founder who was well ahead of her time – she had already "been there, built that" when most of us were infants or still a twinkle in our parent's eyes.
Dr Gayle Carson called herself the Chief SOB – SOB standing for "spunky old broad". It was the name of her website and her SOB Radio Network. She always seemed unstoppable – battling cancer multiple times before succumbing this past month.
As a young woman, Gayle bought the model training agency she started working within a year of her employment and then scaled it to 350 employees, graduating more than a million students from her training programs, and diversifying its sales base from one to seven divisions and it eventually her company became the largest independent organization in the industry.  Somehow, she also found time to be a wife, a mother, and a TV spokesperson for Clairol.
I am running her episode again in her honor because she shares how she did it, and you'll see why she was an inspiration to so many.  
May she rest in peace knowing that her work inspired so many to greatness.
Gayle was also a 5-time bestselling author, international speaker, winner of countless honors and awards, and a host of several radio shows. Later as President of the Carson Research Center, she was a consultant to 50 industries on six continents, advising on current business trends and cutting-edge opportunities to stay ahead of their competition. 
How she got started on her entrepreneurial career
Why mindset is crucial in business and in life
Media training and why it is critical for any entrepreneur
How to juggle entrepreneurship, podcasting, writing, speaking, family life and so much more
Why women need men in their lives that support them unconditionally 
And much more!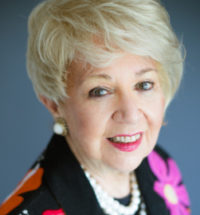 More about the late Dr. Gayle Carson here
The late Dr. Gayle Carson built and scaled a 350-person business as a woman in the 1950s and 1960s, buying the company she worked for in under a year, and balancing entrepreneurship, marriage, motherhood, and a gig as the TV spokeswoman for Clairol. Then she got busy with her first love as a podcaster and owner of SOB Radio Network, and yes, SOB stands for "spunky old broad". After surviving 4 bouts with breast cancer, Gayle passed away last month. 
Podopolo – Almost 4 Million Podcasts, Personalized for You
Discover your new favorite podcasts, interact with hosts and each other, and win prizes, freebies, special discounts and more as you share content, put lessons into action in your life, and engage in mission-driven quests to improve the world – all in one mobile app. Download now! And if you're a podcaster – join us! Learn more here.
Grab Your Wings! Don't Miss the Top Retreat for Women Entrepreneurs
#LiftAsWeClimb … is More Than Words. It's Revenue and Profit. When our curated community of women entrepreneurs joined together for the Wings  Retreat in 2019, magic happened. Together we've exchanged more than $500,000 of new business between us. Yes, women succeed when we take meaningful action to support one another: promote each other, buy from each other, mentor each other, invest in each other. So join us at our 5-star luxury retreat destination in Costa Rica this October 20-24 so you can step into a world where women in business genuinely #LiftAsWeClimb. Learn more at wingsexperiences.com/apply – and expect magic.
Launch Your Magnetic and Profitable Podcast
If you've been putting off launching your podcast, now is your time. The world needs to hear your expertise and our message right now. Your voice IS your value, and your passport to engage the world in your true purpose and mission. I'm offering a group Podcast Accelerator at a discount so you can connect deeply with your community and attract and best serve your customers.
Get The 7 Steps to Your Profitable Podcast
Leverage my complimentary 7 Step Guide to engage your tribe with a magnetic podcast that makes you money.
Zero Limits Ventures
How much is your company worth? Want to find out how to boost your valuation? Claim your FREE consult call with Steve Little, who's built and sold 6 of his own companies for 9-figure exits and helps other founders get a 5X to 10X multiple on the sale of their business.
If you liked this episode...
Then you will love these!
Michelle Norris
PODCAST #494 Hard to Kill
Angela Henderson
PODCAST #496 The 7 Profit Pillars
Renée Warren
PODCAST #490 A Place of Giving