587 Gitte Pedersen: Covid Pivot
How to Innovate Speedily Against All Odds
2020 was the penultimate year of the business pivot as a global pandemic proliferated and companies had to think on their feet – running from problems or towards opportunities.
A year ago, as the world locked down to prevent the rapid spread of the Coronavirus, it was next to impossible to get a Covid test.
So Gitte Pedersen saw an opportunity to leverage the groundbreaking RNA sequencing technology she and her brother are using to create personalized cancer cures … to innovate a rapid test for Covid-19.
Gitte is the co-founder and CEO of Genomic Expression, a company she founded with her brother Morten after their parents were diagnosed with cancer.
She says her parents raised her to believe she could do anything, Gitte and her brother Morten took the lesson to heart.
Morten developed a way to sequence RNA in tumor tissue and connect alterations to already approved drugs and clinical studies while Gitte raised almost $15M in grants, to clinically validate their technology for 4 types of cancer. The OneRNA™ platform enables a paradigm shift from ONE disease, ONE marker, and ONE drug to ONE patient, MANY markers, and MULTIPLE treatment options that go beyond drugs.
The promise of Genomic Expression's personalized solution is staggering, and that's how Gitte ended up presenting it to Sir Richard Branson on his beautiful Necker Island, won the Lyfebulb and the EU Top50 awards, became a semi-Finalist for the XPRIZE and presented at the European Parliament.
Gitte is also passionate about investing in other female founders, recently joining Pipeline Angels to make her first angel investment and co-founding Female Equity, a network organization for female founders and investors.
How to pivot fast in fast-changing circumstances
The promise of RNA sequencing technologies to personalize medicine at scale – from curing cancer to Covid tests and vaccines
How to raise money for a startup as a female founder
How to overcome adversity and innovate despite hurdles thrown your way
Why every female founder needs a supportive partner and a community of women willing to provide genuine help
And much more!
Join the conversation on Podopolo https://podopolo.com – available in for free in both the Google and Apple app stores – and unlock special perks including a chance to have a complimentary 15-minute podcasting or business growth consult with me.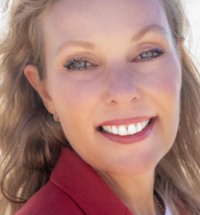 More about Gitte Pedersen at Genomic Expression
Gitte Pedersen is a scientist and CEO on a mission to cure cancer. Gitte started Genomic Expression together with her brother, Morten Pedersen, after her parents were diagnosed with cancer understanding that if they did standard of care none of them would survive.
Female Funders and Founders get 10% off for COVID19 testing. Set up a call Here and mention Melinda
Get the Transcript HERE
Wings of Inspired Business was ranked #8 of Entrepreneur Magazine's Top 20 Business Podcasts for 2020 – and Feedspot's #2 business podcast for women.
Our Sponsors and Special Offers
Podopolo – The #1 Social Podcast App + Player
Discover your new favorite podcasts, interact with hosts and each other, and win prizes, freebies, special discounts and more as you share content, put lessons into action in your life, and engage in mission-driven quests to improve the world – all in one mobile app. Download Podopolo right now in the Apple and Google app stores. And if you're a podcaster – join us! Learn more here.
Launch Your Magnetic and Profitable Podcast
If you've been putting off launching your podcast, now is your time. The world needs to hear your expertise and our message right now. Your voice IS your value, and your passport to engage the world in your true purpose and mission. As the Coronavirus Pandemic continues, I'm offering a group Podcast Accelerator at a discount so you can connect deeply with your community and attract and best serve your customers.
Get The 7 Steps to Your Profitable Podcast
Leverage my complimentary 7 Step Guide to engage your tribe with a magnetic podcast that makes you money.
Zero Limits Ventures
How much is your company worth? Want to find out how to boost your valuation? Claim your FREE consult call with Steve Little, who's built and sold 6 of his own companies for 9-figure exits and helps other founders get a 5X to 10X multiple on their the sale of their business.
If you liked this episode...
Then you will love these!
Michelle Norris
PODCAST #494 Hard to Kill
Angela Henderson
PODCAST #496 The 7 Profit Pillars
Renée Warren
PODCAST #490 A Place of Giving