453 Jessica Wright and Tracy Hornik: Women on Top
Why Together as Women We Are Stronger
No one can succeed in business alone.
We all need mentors, coaches and a supportive community around us – a "business family" to help us soar and shine our light.
Yet many women founders tend to toil in isolation, trapped in perfectionism, and burning out trying to "do it all" to "have it all".
Jessica Wright and Tracy Hornik want to change all of that.
They got together to found She's on Top – a digital platform by women for women acclaiming the entrepreneurial journey of female founders and connecting us with content and conversation.
Jessica and Tracy are both award-winning content producers and directors, as well as entrepreneurs. Jessica's credits include The Lab, Till Debt Do Us Part, Disaster DIY with Bryan Baeumler, and HGTV's Family Renovation, while Tracy built one of Canada's most successful wholesale gift companies before translating a childhood passion o build a successful photography business and making documentary films.
Sign up for their newsletter in the next 5 days for a chance to write a guest blog promoting you and your business.
Sign up to their YouTube channel
Our Sponsors and Special Offers
Get The 7 Steps to Your Profitable Podcast
Is this the year you finally launch that podcast of yours? I believe your voice IS your value.  I believe your voice is your passport to engage the world in your true purpose and mission, and that when you do leverage your voice as a podcaster miracles manifest for you and your business and the impact you want to have in the world. That's why I'm sharing with you my complimentary 7 Step Guide to engaging your tribe with a magnetic podcast that makes you money. Sound good? Go to wingspodcast.com/liftoff. You can also qualify for a complimentary call with me on how to get your podcast launched in 12 short weeks – with a blueprint for community engagement and monetization as well. I'll share my 3 proven strategies that changed the game for me – plus some secrets I've learned about how to engage and monetize a growing following.
Wings of the Empowered Woman Retreat & Mastermind
If your vision is to make 2020 your game-changing year … then join us at Wings of the Empowered Woman – a unique, immersive and intimate retreat for women in business who want to step into abundance in all areas of their lives and contribute to a community that is dedicated to #liftasweclimb. This year we're in Costa Rica at the beautiful 5-star Imiloa in the pristine jungle on the edge of the most beautiful Pacific beach you've ever seen. Our dates are Nov 4-8 and we're already filling up – so hurry and apply here right now for a transformational experience that will leave you refreshed, rejuvenated, empowered and ready to manifest all your dreams.
Wings of Success Summit and Inner Circle
Grab your WINGS! Learn from 60+ women entrepreneurs who've "been there, built that" to create and sustain 6, 7, 8, 9 and even 10 figure businesses, grow their influence and overcome many challenges along the way. We share our success habits, give practical advice you can implement right away to transform your business and your life. Free for live streaming and early bird discounts now for lifetime access, instant downloads of video and audio lessons, bonus content plus access to an exclusive private Mastermind and a private VIP invitation to join the Wings Inner Circle for mentoring and more. It's your "entrepreneurial MBA"! Join the Inner Circle for group coaching, mentoring from Melinda Wittstock and her growing network of top performing entrepreneurs and investors, and mastermind with your "business family".
https://www.bingechannels.com/?ref=melindawittstock
Zero Limits Ventures
How much is your company worth? Want to find out how to boost your valuation? Click here to claim your FREE consult call
with ZLV Founder Steve Little for your valuation enhancement and capital acquisition strategy.  You can also book your complimentary "office hours" with Steve.
Why you need to ask for help and how to do it
Why so many female entrepreneurs are lonely and succeed when we collaborate
How to avoid the trap of perfectionism
How success can sometimes amplify our weaknesses and imposter syndrome
Why it's never too late and you're never too old to change
Why women sometimes fear success more than failure
And more…
More about Jessica Wright and Tracy Hornik at shesontop.com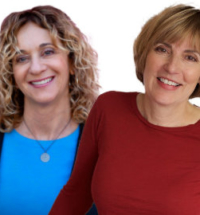 Get the Transcript HERE
If you liked this episode...
Then you will love these!
Michelle Norris
PODCAST #494 Hard to Kill
Angela Henderson
PODCAST #496 The 7 Profit Pillars
Renée Warren
PODCAST #490 A Place of Giving