574 Jyotsna Ramachandran: Write to Sell
How to Create a Super Profitable Author Funnel to Grow Your Business
Is writing a book on your "some day" list? Something you know you need to do to help grow your business … and you just don't know where to start or how you'll find the time in your busy schedule to write your book let alone promote it?
You're not alone.
So today we're talking about how to write without overwhelm and stress – plus the inside skinny on self-publishing an Amazon bestseller, and using your book to grow your business.
Jyotsna Ramachandran quit her job when her first child was born, and Googling how to make money online, she noticed a lot of people talking about self-publishing. So she started taking a lot of online courses, and before long she was choosing in-demand trending topics, hiring ghostwriters, and publishing under pen names. Then she wrote her first book, Job Escape Plan, which became a bestseller and was listed on Inc.com as one of the top 10 books of the year.
It wasn't long before people were asking her for her advice and that's how Happy Self Publishing was born 5 years ago. So far, Jyotsna, also a TedX speaker, has helped over 400 authors from 35 different countries through her global publishing agency, Happy Self Publishing.
She also founded Author Success Academy to help aspiring authors finally finish their book, get it professionally published, market it into a bestseller, and use that position to grow their business.
How to choose the perfect topic for your first book
How the Amazon bestseller list works and how to hack it
How to self-publish without overwhelm or stress
The biggest mistakes authors make while trying to self-publish
How to leverage a book to build your business
Daily habits that help you finish your book
How to write when you are not a gifted writer – and how to overcome lack of confidence
Pros and cons of self-publishing vs. getting a publishing deal
Plus how to build a business as a young mom
And much more!
Join the conversation on Podopolo https://podopolo.com – available in for free in both the Google and Apple app stores – and unlock special perks including a chance to have a complimentary 15-minute business growth or podcast consult with me.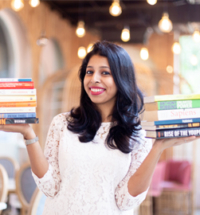 More about Jyotsna at Happy Self Publishing
Jyotsna Ramachandran, founder of the Author Success Academy, is a bestselling author, book publisher, TEDx speaker, and an international Author Success Coach who helps coaches, trainers, speakers, and experts to get their books written without overwhelm and build a super-profitable author funnel with the help of their book.
Want to know the probability of becoming a successful author? Get a free assessment
Get a free 30-minute book strategy call for those who take the assessment.
Get Jyotsna's Book Publishing Guide for Free
Get her book: Job Escape Plan
Get the Transcript HERE
Wings of Inspired Business was ranked #8 of Entrepreneur Magazine's Top 20 Business Podcasts for 2020 – and Feedspot's #2 business podcast for women.
Our Sponsors and Special Offers
Podopolo – The #1 Social Podcast App + Player
Discover your new favorite podcasts, interact with hosts and each other, and win prizes, freebies, special discounts and more as you share content, put lessons into action in your life, and engage in mission-driven quests to improve the world – all in one mobile app. Download Podopolo right now in the Apple and Google app stores. And if you're a podcaster – join us! Learn more here.
Launch Your Magnetic and Profitable Podcast
If you've been putting off launching your podcast, now is your time. The world needs to hear your expertise and our message right now. Your voice IS your value, and your passport to engage the world in your true purpose and mission. As the Coronavirus Pandemic continues, I'm offering a group Podcast Accelerator at a discount so you can connect deeply with your community and attract and best serve your customers.
Get The 7 Steps to Your Profitable Podcast
Leverage my complimentary 7 Step Guide to engage your tribe with a magnetic podcast that makes you money.
Zero Limits Ventures
How much is your company worth? Want to find out how to boost your valuation? Claim your FREE consult call with Steve Little, who's built and sold 6 of his own companies for 9-figure exits and helps other founders get a 5X to 10X multiple on their the sale of their business.
If you liked this episode...
Then you will love these!
Michelle Norris
PODCAST #494 Hard to Kill
Angela Henderson
PODCAST #496 The 7 Profit Pillars
Renée Warren
PODCAST #490 A Place of Giving