625 Kara Goldin: Undaunted
Overcoming Your Fears an Why There's Nothing To Lose
People often talk about entrepreneurs as fearless, tenacious risk-takers, yet it's hard to find anyone who's built a successful, fast-growing business who has not struggled with fears or doubts.
Building a business from untested idea to $2 billion behemoth doesn't come without many setbacks, challenges, and sometimes, excruciating self-doubt along the way.
To succeed in each stage of growth, an entrepreneur must continually be willing to live outside their comfort zone.
Kara Goldin is the Founder and CEO of Hint, Inc., the $2bn company best known for its award-winning Hint® water, the pioneering unsweetened flavored water. She's also the Wall St Journal bestselling author of Undaunted: Overcoming Doubts & Doubters. Her journey to Unicorn status wasn't easy and today she shares what it took to overcome myriad setbacks to innovate in myriad ways.
Says Kara, "If I can do it, you can do it."
How to overcome your fears, doubts and uncertainties on the entrepreneurial journey
Why the only way you can know whether or not you can achieve something is simply to "go a little bit further"
When in doubt, ask yourself: "What's the worst thing that could happen?"
Why its vital to celebrate wins along the way, even small ones
How to welcome failures or adverse conditions beyond your control as opportunities to learn, or spot new even bigger opportunities
Why quick decisions are often vital, particularly knowing when to pivot and how to take advantage of market opportunities
And much more!
Join the conversation on Podopolo https://podopolo.com – available in for free in both the Google and Apple app stores – and unlock special perks including a chance to have a complimentary 15-minute consult with Wings host and serial entrepreneur Melinda Wittstock.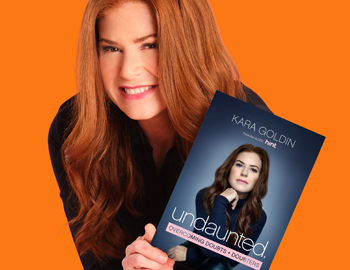 More about Kara Goldin
Kara Goldin is the Founder and CEO of Hint, Inc., best known for its award-winning Hint® water, the leading unsweetened flavored water, and the author of Undaunted. She is an active speaker & writer and hosts the podcast The Kara Goldin Show where she interviews founders, entrepreneurs and other disruptors across various industries.
Listen to The Kara Goldin Show
Get her book: Undaunted
Get the Transcript HERE
Wings of Inspired Business was ranked #8 of Entrepreneur Magazine's Top 20 Business Podcasts for 2020 – and Feedspot's #2 business podcast for women.
Our Sponsors and Special Offers
Podopolo – Almost 4 Million Podcasts, Personalized for You
Discover your new favorite podcasts, interact with hosts and each other, and win prizes, freebies, special discounts and more as you share content, put lessons into action in your life, and engage in mission-driven quests to improve the world – all in one mobile app. Download now! And if you're a podcaster – join us! Learn more here.
Grab Your Wings! Don't Miss the Top Retreat for Women Entrepreneurs
#LiftAsWeClimb … is More Than Words. It's Revenue and Profit. When our curated community of women entrepreneurs joined together for the Wings  Retreat in 2019, magic happened. Together we've exchanged more than $500,000 of new business between us. Yes, women succeed when we take meaningful action to support one another: promote each other, buy from each other, mentor each other, invest in each other. So join us at our 5-star luxury retreat destination in Costa Rica this October 20-24 so you can step into a world where women in business genuinely #LiftAsWeClimb. Learn more at wingsexperiences.com/apply – and expect magic.
Launch Your Magnetic and Profitable Podcast
If you've been putting off launching your podcast, now is your time. The world needs to hear your expertise and our message right now. Your voice IS your value, and your passport to engage the world in your true purpose and mission. I'm offering a group Podcast Accelerator at a discount so you can connect deeply with your community and attract and best serve your customers.
Get The 7 Steps to Your Profitable Podcast
Leverage my complimentary 7 Step Guide to engage your tribe with a magnetic podcast that makes you money.
Zero Limits Ventures
How much is your company worth? Want to find out how to boost your valuation? Claim your FREE consult call with Steve Little, who's built and sold 6 of his own companies for 9-figure exits and helps other founders get a 5X to 10X multiple on the sale of their business.
If you liked this episode...
Then you will love these!
Michelle Norris
PODCAST #494 Hard to Kill
Angela Henderson
PODCAST #496 The 7 Profit Pillars
Renée Warren
PODCAST #490 A Place of Giving