606 Kathy Goughenour: Virtual Growth
Finding the Right VAs for Your Business
The world of work is increasingly virtual, and I don't just mean working-from-home during the Pandemic.
Remote gig work was a fast-growing trend long before Coronavirus hit, and as more and more businesses move online, it's hard to imagine growing a business without a Virtual Assistant.
It's not just that a good VA can help out with all the busy work: Many have specific expertise that becomes an indispensable tool in creating real momentum for your business.
Today we talk with  Kathy Goughenour, founder and CEO of Expert VA® and Virtual Expert® Training, where she trains and coaches women who want to build their own Virtual Assistant home-based businesses.
After finding the courage to say "bye-bye" to her corporate marketing career, Kathy Goughenour built a 6-figure virtual assistant business from her tiny house in the middle of a forest. Kathy not only teaches professional women how to create their own work-at-home VA businesses, she also offers VA Matchmaking sessions to business owners interested in working with Expert VAs® and Virtual Experts®. Kathy and her Expert VA® and Virtual Expert® Training program have been featured in Forbes, The Huffington Post, Good Housekeeping, All You, and The Wealthy Freelancer.
Three ps to a great virtual assistant
Which VA's are the most in demand right now
How Covid has affected the VA world
When you should hire a VA
What you should look for when hiring a VA
How much can you make as a VA
The differences between a VA and an employee
What is a VA Agency
And much more!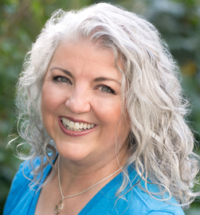 More about Kathy Goughenour at Virtual Expert Training
Kathy Goughenour (pronounced: GOO-gen-hour), is the founder of Expert VA® and Virtual Expert® Training where she trains and coaches women who want to build their own Virtual Assistant home-based businesses. Kathy runs her virtual empire from her dream home — which is a tiny home in the middle of a Missouri national forest. She can be found sporting a tiara 98% of the time. And she wears PJs (not gowns). Yes, you got it. PJs and tiaras because that's the type of kingdom she's ruling. And why not? She knows that when you become a powerful woman, you can make your own rules.
Listen to Kathy Goughenour on her podcast at Dare to Leap
Get the Transcript HERE
Wings of Inspired Business was ranked #8 of Entrepreneur Magazine's Top 20 Business Podcasts for 2020 – and Feedspot's #2 business podcast for women.
Our Sponsors and Special Offers
Podopolo – The #1 Social Podcast App + Player
Discover your new favorite podcasts, interact with hosts and each other, and win prizes, freebies, special discounts and more as you share content, put lessons into action in your life, and engage in mission-driven quests to improve the world – all in one mobile app. Download Podopolo right now in the Apple and Google app stores. And if you're a podcaster – join us! Learn more here.
Launch Your Magnetic and Profitable Podcast
If you've been putting off launching your podcast, now is your time. The world needs to hear your expertise and our message right now. Your voice IS your value, and your passport to engage the world in your true purpose and mission. As the Coronavirus Pandemic continues, I'm offering a group Podcast Accelerator at a discount so you can connect deeply with your community and attract and best serve your customers.
Get The 7 Steps to Your Profitable Podcast
Leverage my complimentary 7 Step Guide to engage your tribe with a magnetic podcast that makes you money.
Zero Limits Ventures
How much is your company worth? Want to find out how to boost your valuation? Claim your FREE consult call with Steve Little, who's built and sold 6 of his own companies for 9-figure exits and helps other founders get a 5X to 10X multiple on their the sale of their business.
If you liked this episode...
Then you will love these!
Michelle Norris
PODCAST #494 Hard to Kill
Angela Henderson
PODCAST #496 The 7 Profit Pillars
Renée Warren
PODCAST #490 A Place of Giving