491 Kristi Holt: What's Your Vibe
How to Leverage Your Intuition, Heal Old Wounds and Be Proactive During Coronavirus
The Coronavirus crisis is having a big impact on many people's mental and emotional health triggering fears, anxieties and in many cases unresolved traumas and subconsciously driven behaviors.
If you find yourself crawling the walls or slipping back into old unhelpful ways, remember you have a choice right now during Coronavirus.
You can use this time to break down to break through.
Every one of us has the potential for greatness.  We all have unlimited abilities, when we can release the blocks, limiting beliefs, and emotional triggers that hold us back.
Today we talk about an innovative new technology – a platform called Vibeonix we can use to become aware of our underlying emotions and shift them.
Kristi Holt is an emotional healer and a 10-time serial entrepreneur with 6 exits who says she sees people in their true essence, their highest vibration.
Now, in the middle of the Coronavirus Pandemic, Kristi is taking her groundbreaking technology to market. Vibeonix uses the vibration of your voice to give biofeedback on your emotional and mental wellbeing.
Today we're going to talk about the mental health crisis Coronavirus is triggering, what it means now for entrepreneurs, and what it takes to launch a business in the middle of an economic crisis.
Why self-awareness gives us the powerful decision of choice. And through choice we can have our power and through choice that is where we have our internal power and peace
How the Pandemic can help us really understand and begin to learn to break down old belief systems that keep us victimized and instead choose proactively how to show up
Why when we suppress our feelings, we harm our immune systems
How to learn to be an interested observer of your own feelings
How to build the "business intuition" muscle
How to build a business in true harmony with the real you
How to be proactive, not reactive, in business so you can see and realize new opportunities instead of staying stuck in the past
Sensing when to say "yes" or "no" to opportunities
How to be clear in your own vision for your business
And much more!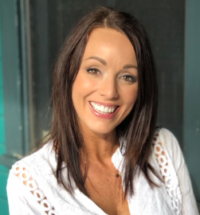 Kristi Holt began her personal practice over 10 years ago, connecting body, mind, and spirit through her understanding of vibration, frequency, and energy. She's started over 10 companies over the years, had 6 successful exits and maintains ownership in a variety of companies including CBD Manufacturing, Finance, and Social Impact.
She also hosts and teaches a variety of webinars, progressive workshops, retreats, licensing/certifications, and more, and says, apart from entrepreneurship, her greatest reward and passion is her husband of 13 years and 4 beautiful children. She is also the co-founder of Nugent Magazine, an up and coming magazine telling "good news" in the community growing nationally.
Get a free voice assessment that gives biofeedback of your emotional and mental state of being here
Get the Transcript HERE
Wings of Inspired Business was ranked #8 of Entrepreneur Magazine's Top 20 Business Podcasts for 2020 – and Feedspot's #2 business podcast for women.
Our Sponsors and Special Offers
Launch Your Magnetic and Profitable Podcast
If you've been putting off launching your podcast, now is your time. The world needs to hear your expertise and our message right now. Your voice IS your value.  I believe your voice is your passport to engage the world in your true purpose and mission, and so during the Coronavirus I am offering a group Podcast Intensive and I'm cutting my rates so you can use this time of "physical distancing" to connect deeply with your community and attract and best serve your customers.
Get The 7 Steps to Your Profitable Podcast
Is this the year you finally launch that podcast of yours? I believe your voice IS your value.  I believe your voice is your passport to engage the world in your true purpose and mission, and that when you do leverage your voice as a podcaster miracles manifest for you and your business and the impact you want to have in the world. That's why I'm sharing with you my complimentary 7 Step Guide to engaging your tribe with a magnetic podcast that makes you money. Sound good? Go to wingspodcast.com/liftoff.
Zero Limits Ventures
How much is your company worth? Want to find out how to boost your valuation? Click here to claim your FREE consult call
If you liked this episode...
Then you will love these!
Michelle Norris
PODCAST #494 Hard to Kill
Angela Henderson
PODCAST #496 The 7 Profit Pillars
Renée Warren
PODCAST #490 A Place of Giving