586 Lauren Renee: Spiritual Entrepreneurship
Shifting from Scarcity to Abundance
Many people go through life wearing masks. We have different masks for different situations, different people, or different circumstances.
The ups and downs along the entrepreneurial journey can spark – or necessitate – a heart-centered journey within, looking deep at every single part of us we've been hiding away.
Often the prompt is a block, crisis, plateau or challenge because the masks we've chosen, often unconsciously, no longer serve us.
When we let go, drop the masks, and step into our true selves, align our personal growth with our business growth, the true miracles of abundance, flow and creativity often abound.
Lauren Renee describes herself as a Spiritual Mentor for visionary entrepreneurs and Divine Orchestrator of New Earth empires.
Recognized for her vibrant energy and transformational presence as founder of Lauren Renee Intimacy, Lauren facilitates empowerment, healing and connection to help activate people into heightened states of aliveness, creativity, confidence, clarity of purpose and pleasure. She's also the Creative Director of Unified Vitality, the Dean and Facilitator of the Institute of New Paradigm Intimacy, and Co-Host of the New Paradigm Intimacy Podcast.
Why entrepreneurship as the ultimate spiritual journey
How to let go of your inner control freak, learn to surrender, and enjoy the journey
Codes for creating conscious empires
How and why to weave sexuality and entrepreneurship
How to ground visions into reality
How to shift from scarcity thinking to an abundance mindset
What integrated leadership looks like
And much more
Join the conversation on Podopolo https://podopolo.com – available in for free in both the Google and Apple app stores – and unlock special perks including a chance to have a complimentary 15-minute business growth or podcasting consult with me.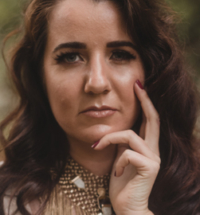 More at Lauren Renee Intimacy
Lauren Renee is a spiritual mentor for visionary entrepreneurs, conscious sexuality leader and divine orchestrator of New Earth Empires.
Lauren inspires leaders to harness the power of their life force, break through scarcity-based conditioning and create change by becoming the embodiment of their visions, now.
Get $100 AUD off for the first 5 sign ups, special coupon WINGS Here
Listen to Lauren Renee on her podcast at New Paradigm Intimacy
Get the Transcript HERE
Wings of Inspired Business was ranked #8 of Entrepreneur Magazine's Top 20 Business Podcasts for 2020 – and Feedspot's #2 business podcast for women.
Our Sponsors and Special Offers
Podopolo – The #1 Social Podcast App + Player
Discover your new favorite podcasts, interact with hosts and each other, and win prizes, freebies, special discounts and more as you share content, put lessons into action in your life, and engage in mission-driven quests to improve the world – all in one mobile app. Download Podopolo right now in the Apple and Google app stores. And if you're a podcaster – join us! Learn more here.
Launch Your Magnetic and Profitable Podcast
If you've been putting off launching your podcast, now is your time. The world needs to hear your expertise and our message right now. Your voice IS your value, and your passport to engage the world in your true purpose and mission. As the Coronavirus Pandemic continues, I'm offering a group Podcast Accelerator at a discount so you can connect deeply with your community and attract and best serve your customers.
Get The 7 Steps to Your Profitable Podcast
Leverage my complimentary 7 Step Guide to engage your tribe with a magnetic podcast that makes you money.
Zero Limits Ventures
How much is your company worth? Want to find out how to boost your valuation? Claim your FREE consult call with Steve Little, who's built and sold 6 of his own companies for 9-figure exits and helps other founders get a 5X to 10X multiple on their the sale of their business.
If you liked this episode...
Then you will love these!
Michelle Norris
PODCAST #494 Hard to Kill
Angela Henderson
PODCAST #496 The 7 Profit Pillars
Renée Warren
PODCAST #490 A Place of Giving