480 Madeline Jhawar: Pivoting with the Coronavirus Crisis
Why Now Is the Time to Deepen Relationships with Customers and Focus on Marketing
Imagine. You run a profitable travel agency you built around your passion for finding "off the beaten path" and epic custom-crafted experiences in Italy.
Then, the Coronavirus Pandemic strikes down one of your favorite places in the world… and puts your business in a tailspin.
Countless business owners are grappling with the biggest challenges they have ever faced as they try to keep the lights on … try to keep their team members safe, motivated … and paid … and try to find creative ways to stay in business.
Enterprising entrepreneurs have a lot going for them in times of crisis.
We get used to adapting to things we cannot control, and finding opportunities to solve new problems and create value no matter what we face.
Madeline Jhawar is such an entrepreneur.
Madeline founded the travel agency Italy Beyond the Obvious, 11 years ago, after living and working in Italy for 5 years.  It was expanding with many loyal and returning customers and a new online business model helping others replicate her innovative fee-based model for custom-crafted experiences.
Today she shares what she is doing to keep her team members in Italy and here in the U.S. safe and motivated, how she's working with vendors and customers to handle cancellations and refunds  – and how she's adapted her online travel business course to help people through the crisis – all while keeping a smile on her face and learning new skills many moms in business now face: homeschooling.
More about Madeline Jhawar at Italy Beyond The Obvious
Listen to Madeline Jhawar on her podcast at Italy Beyond The Obvious
How to find new opportunities to serve your customers – and deepen relationships with them – during Coronavirus
How to keep your team members safe and motivated…even if you can't pay them for a time
Advice on handling vendor relationships, cancellations and refunds while keeping your eye on cash flow
How to spin up a fast course online or via Zoom to solve new problems within your industry
Why now is the time to double down on your marketing and develop trusted relationships with new customers
Why gratitude is a necessity in these times
How to juggle homeschooling for the first time as you pivot your business
And more…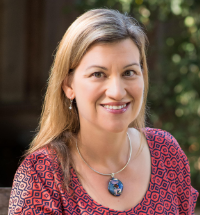 Madeline Jhawar founded Italy Beyond the Obvious, 11 years ago, after living and working in Italy for 5 years.
CEO and founder of Italy Beyond the Obvious, a company creating customized Italian vacations for curious travelers – and unlike traditional travel agencies with commissions-based fee structures, Madeline has a fee-for-service business model – serving high-end clients who want to connect deeply to the culture with customized and magical experiences. Before Coronavirus … back in, uh, B.C. Madeline says many people told her: "you have my dream job! Please teach me how to do what you do!" So late last year she launched her online course on how create an online business creating custom vacations.
Madeline has lived in 11 cities and now resides in the heart of Silicon Valley with her entrepreneur husband and teenaged children – and we talk a lot about how to juggle fast-pivoting businesses with the new challenges of home schooling and much more.
Get the Transcript HERE
Our Sponsors and Special Offers
Launch Your Magnetic and Profitable Podcast
If you've been putting off launching your podcast, now is your time. The world needs to hear your expertise and our message right now. Your voice IS your value.  I believe your voice is your passport to engage the world in your true purpose and mission, and so during the Coronavirus I am offering a group Podcast Intensive and I'm cutting my rates so you can use this time of "physical distancing" to connect deeply with your community and attract and best serve your customers.
Get The 7 Steps to Your Profitable Podcast
Is this the year you finally launch that podcast of yours? I believe your voice IS your value.  I believe your voice is your passport to engage the world in your true purpose and mission, and that when you do leverage your voice as a podcaster miracles manifest for you and your business and the impact you want to have in the world. That's why I'm sharing with you my complimentary 7 Step Guide to engaging your tribe with a magnetic podcast that makes you money. Sound good? Go to wingspodcast.com/liftoff.
Zero Limits Ventures
How much is your company worth? Want to find out how to boost your valuation? Click here to claim your FREE consult call
If you liked this episode...
Then you will love these!
Michelle Norris
PODCAST #494 Hard to Kill
Angela Henderson
PODCAST #496 The 7 Profit Pillars
Renée Warren
PODCAST #490 A Place of Giving