502 Manijeh Goldberg: Resilience and Recovery
Innovation in Biotech, Resilience in a Crisis, and What It's Like to Sell Your Company for $475 Million
Entrepreneurs understand obstacles.
We live with them every day, and somehow find it within ourselves to step up, step around, step through, any obstacle in our way.
Coronavirus presents many new challenges – and opportunities for reinvention and innovation.
Today on Wings we meet an inspiring entrepreneur who has developed five biotech startups, selling one of them for $475 million.
Manijeh Goldberg is now the founder and CEO of the innovative oncology company Privo Technologies – transforming the future of oral cancer therapy.
Today she talks about how Coronavirus is impacting her company – what lessons all entrepreneurs can learn from it, including using this time to develop a strong team and deeper customer relationships.
How To overcome any obstacle as a CEO, even Coronavirus and the economic
The Mindset Secrets Behind Highly Influential Female Entrepreneurs and Leaders
Manijeh's bullet-proof approach to building an unstoppable, dedicated and passionate team
Lessons learned from a $475 million exit, and how to raise millions in angel, venture, and non-dilutive award-based capital
How to become a leading female voice in a male-dominated industry
How her patient-first cancer approach is transforming the industry
And much more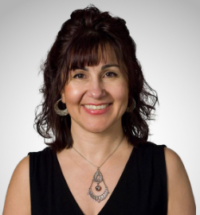 More about Manijeh Goldberg at Privo Technologies
She's only 5'0" and at first glance, you wouldn't assume Manijeh Goldberg holds 5 high-level degrees and is the founder and CEO of one of the most trailblazing biotech companies, Privo Technologies, with a half-billion-dollar exit in her resume. Looks can be, and often are, deceiving. Manijeh moved to the United States at age 17, all alone, from Iran, with nothing but a dream to study nuclear engineering. She spoke little English, and went on to receive multiple degrees from Harvard and MIT, raise 2 successful children, build 5 startups. Supported by the National Cancer Institute, the FDA and several other prestigious organizations, Privo has received over $11M in funding.
Get the Transcript HERE
Wings of Inspired Business was ranked #8 of Entrepreneur Magazine's Top 20 Business Podcasts for 2020 – and Feedspot's #2 business podcast for women.
Our Sponsors and Special Offers
Podopolo – Dynamic Interactive Podcasting
Discover your new favorite podcasts, interact with hosts and each other, and win prizes, freebies, special discounts and more as you share content, put lessons into action in your life, and engage in mission-driven quests to improve the world – all in one mobile app. Download Podopolo right now in the Apple and Google app stores.  We'd love it if you checked out our beta. And if you're a podcaster – join us! You can learn more here.
Launch Your Magnetic and Profitable Podcast
If you've been putting off launching your podcast, now is your time. The world needs to hear your expertise and our message right now. Your voice IS your value.  I believe your voice is your passport to engage the world in your true purpose and mission, and so during the Coronavirus I am offering a group Podcast Intensive and I'm cutting my rates so you can use this time of "physical distancing" to connect deeply with your community and attract and best serve your customers.
Get The 7 Steps to Your Profitable Podcast
Is this the year you finally launch that podcast of yours? I believe your voice IS your value.  I believe your voice is your passport to engage the world in your true purpose and mission, and that when you do leverage your voice as a podcaster miracles manifest for you and your business and the impact you want to have in the world. That's why I'm sharing with you my complimentary 7 Step Guide to engaging your tribe with a magnetic podcast that makes you money. Sound good? Go to wingspodcast.com/liftoff.
Zero Limits Ventures
How much is your company worth? Want to find out how to boost your valuation? Click here to claim your FREE consult call
If you liked this episode...
Then you will love these!
Michelle Norris
PODCAST #494 Hard to Kill
Angela Henderson
PODCAST #496 The 7 Profit Pillars
Renée Warren
PODCAST #490 A Place of Giving