473 Mia Hewett: Inspiration in Adversity
Overcome Fear, Slow Down and Deepen Relationships
A crisis always presents us with a choice.
We can choose to let fear overtake us, immobilize us, and fail us – or we can look for opportunity and inspiration for personal and business growth.
Many of the best businesses were built in a recession – and the ones that survived and prospered through previous pandemics, wars, natural disasters or depressions were those willing to be adaptable and flexible.
"A Slowdown Doesn't Have to Be a Meltdown", says Mia Hewett, who built a multi-million-dollar company in her 30s before going on to found Aligned Intelligence™, a methodology that helps entrepreneurs remove all blind spots, fear, anxiety, and self-doubt.
Mia says that right now, as the coronavirus crisis worsens, is a great time to learn how to self-govern our emotional state and let go of emotions and fears that don't serve. Also the author of "Meant For More" on how to stop secretly struggling and awaken your full potential, Mia today shares important advise on how to weather the coronavirus pandemic as an entrepreneur.
Where and how to look for inspiration and opportunity during Coronavirus
Why it's a great time to slow down and work on deepening your relationships with team members, customers, family and friends
How to "self-govern" your emotions and learn how to let go of fears and other emotions that do not best serve you
Why your beliefs are habits of thought that keep you believing
Why crises demand counter-intuitive actions – such as investing in your business and life
How to become curious about your emotions, embrace what you are feeling, accept it, and let it go
Plus how to overcome our "money stories" and mor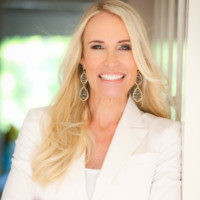 Mia is a serial entrepreneur helps purpose-driven entrepreneurs stop secretly struggling and live in alignment with their dreams so that they can scale to 6 and 7-figures … the fast way.
Mia is the founder of Aligned Intelligence™, a methodology that removes all blind spots, fear, anxiety, and self-doubt. And if ever there was a time in the midst of the coronavirus pandemic and all the very real fears many of us are feeling … Mia shares specific advice on how to best not only to cope… but to prosper in times of adversity.
She says her Aligned Intelligence method allows her clients to make accurate decisions, work smarter, not harder, so they maximize their results in less time, feeling "free to be Me" living the life they've always known they were meant for! Mia is a 7-figure entrepreneur running businesses in the brick and mortar and online sectors; she's also an international speaker, and a world-class business coach.
When Mia was in her 30s, she had built a multi-million dollar company, her kids were happy, she had a gorgeous house, and still, she didn't feel like she was good enough. So, she did what many entrepreneurs do in that moment: She devoured personal development books, took courses, hired some of the best coaches in the world. Yet she says no one could help her figure out what she was missing. She realized that the answer wasn't outside of herself at all, but within her. In healing her emotions. Since then she's helped hundreds of entrepreneurs and she is sharing all her secrets in her new book, "Meant For More." The book explains how to stop secretly struggling, awaken your full potential, and discover the Truth about who you really are.
Get her book: Meant for More
Take advantage of a COMPLIMENTARY copy here by using the password FreeBook
Get the Transcript HERE
Our Sponsors and Special Offers
Get The 7 Steps to Your Profitable Podcast
Is this the year you finally launch that podcast of yours? I believe your voice IS your value.  I believe your voice is your passport to engage the world in your true purpose and mission, and that when you do leverage your voice as a podcaster miracles manifest for you and your business and the impact you want to have in the world. That's why I'm sharing with you my complimentary 7 Step Guide to engaging your tribe with a magnetic podcast that makes you money. Sound good? Go to wingspodcast.com/liftoff.
Wings of the Empowered Woman Retreat & Mastermind
If your vision is to make 2020 your game-changing year … then join us at Wings of the Empowered Woman – a unique, immersive and intimate retreat and peer community for women in business dedicated to #liftasweclimb. This year we're in Costa Rica at the beautiful 5-star Imiloa in the pristine jungle on the edge of the most beautiful Pacific beach you've ever seen. Our dates are Nov 4-8 and we're already filling up – so hurry and apply here right now for a transformational experience that will leave you refreshed, rejuvenated, empowered and ready to manifest all your dreams.
Zero Limits Ventures
How much is your company worth? Want to find out how to boost your valuation? Click here to claim your FREE consult call
If you liked this episode...
Then you will love these!
Michelle Norris
PODCAST #494 Hard to Kill
Angela Henderson
PODCAST #496 The 7 Profit Pillars
Renée Warren
PODCAST #490 A Place of Giving