483 Michelle Norris: Divine Inspiration Amid Coronavirus
Plant Medicine, Meditation and the Necessity for Self-Care and Self-Development
As the Coronavirus forces us to change our daily routines, it is an opportunity to slow down and open ourselves up to divine inspiration.
It's a time to let the fear and anxiety pass through us, acknowledge it, and move beyond it.
Entrepreneurs face obstacles and challenges often beyond their control, and many of the most successful have learned to leverage spirituality and divine inspiration to guide their path and manifest positive outcomes in alignment with their true purpose.
Michelle Norris is one of those inspiring leaders, sharing today how her growing spirituality has led her to success beyond what she ever imagined, and is guiding her now as she pivots her business in the Coronavirus Pandemic.
Michelle is the owner, co-founder and CEO of Paleo f(x)™ the largest Paleo platform and event in the world – attended by tens of thousands of people in normal times. All that has had to change, and she shares today how she is finding inspiration, why spirituality is key to business success, and why women in their authentic feminine power will be the ones to "save the world".
How to "be aware" of the Coronavirus, and avoid living in the fear and anxiety
How her morning routine of 57 affirmations and meditation has changed her life, manifesting success beyond her wildest dreams, even throughout a massive pivot during Coronavirus
Why good decisions never get made from a place of fear
Why women are "not good at being dudes" and why we must lead from the feminine energy
How to put your own self-care first in order to help others and create a strong business
And much more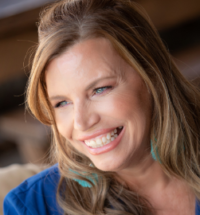 Michelle describes herself as a recovering "corporate warrior" who now leverages divine inspiration to help people heal themselves with the Paleo Lifestyle. She's the co-founder and CEO of Paleo f(x)™ the largest Paleo platform and event in the world featured in the New York Times, The Huffington Post, The Telegraph, and Men's Health. She's a featured chef on The Paleo Kitchen TV Show, and a regular speaker at SXSW Health Expo, Ancestral Health Symposium, Conscious Media Festival, Society of Women Entrepreneurs, and many more.
Michelle says she upended the way she tackles health, wellness and prosperity after traditional medical advice failed her and she healed herself with the Paleo lifestyle. She soon became one of the most outspoken Paleo evangelists, co-founding and leading Paleo f(x)™ as its CEO. She is also a founding partner of ID Life, a company whose mission is health and lifestyle optimization. Michelle is also a tireless firebrand for advancing purposeful entrepreneurs and the Paleo movement; a cultural rejuvenation of self-empowerment for the 21st century.
Get the Transcript HERE
Our Sponsors and Special Offers
Launch Your Magnetic and Profitable Podcast
If you've been putting off launching your podcast, now is your time. The world needs to hear your expertise and our message right now. Your voice IS your value.  I believe your voice is your passport to engage the world in your true purpose and mission, and so during the Coronavirus I am offering a group Podcast Intensive and I'm cutting my rates so you can use this time of "physical distancing" to connect deeply with your community and attract and best serve your customers.
Get The 7 Steps to Your Profitable Podcast
Is this the year you finally launch that podcast of yours? I believe your voice IS your value.  I believe your voice is your passport to engage the world in your true purpose and mission, and that when you do leverage your voice as a podcaster miracles manifest for you and your business and the impact you want to have in the world. That's why I'm sharing with you my complimentary 7 Step Guide to engaging your tribe with a magnetic podcast that makes you money. Sound good? Go to wingspodcast.com/liftoff.
Zero Limits Ventures
How much is your company worth? Want to find out how to boost your valuation? Click here to claim your FREE consult call
If you liked this episode...
Then you will love these!
Michelle Norris
PODCAST #494 Hard to Kill
Angela Henderson
PODCAST #496 The 7 Profit Pillars
Renée Warren
PODCAST #490 A Place of Giving