633 Myoshia Boykin - Anderson: Imperfect Action
Why Doubt is Just a Trick, and How to Grow Your Self-Belief
There are silver linings in any cloud, big or small, and the best entrepreneurs instinctively know that when we're in the middle of a storm, sunshine is on the way. 
That is, as long as we're prepared to be persistent in taking "imperfect action" and learning along the way.
Many successful entrepreneurs experience adverse circumstances and challenges along the way because the journey of innovation itself is one of constant change, roadblocks to traverse, and iterative learning.
Myoshia Boykin-Anderson started her first business as a single mom of a 6-year-old with no savings and no college degree after losing her job when the company she worked for closed the division she served. In that moment she saw an opportunity: Why not serve the clients left behind by the closure that cost her job?
After 9 months of "no's" and what Myoshia calls her persistent and "imperfect action", she launched her first business and never looked back. 
She went on to build a multi-seven-figure IT consulting firm named by Inc Magazine as one of the fastest growing companies in the U.S. She's the CEO and founder of AndTech Solutions, providing custom application development and other technology services to some of the top U.S. companies and organizations.
Today on Wings we talk about persistence, faith, the power of imperfect action, and why entrepreneurs succeed when we embrace failure as our friend and guidance counsellor.
What does it mean to take "imperfect action" and why overcoming perfectionism it is critical to your entrepreneurial success
How to learn to love the "no" as guidance and feedback to grow a successful company 
How African American women and all minorities can overcome barriers in the tech industry
How to build self-belief and leverage faith in yourself, and why "doubt is just a trick"
Why it's important to teach yourself something new every day
Why it's vital you bring on team members as early as possible, hire people smarter than you, and learn to delegate if you want to reach 7-figure success
And much more!
More about Myoshia Boykin - Anderson at www.andtechllc.com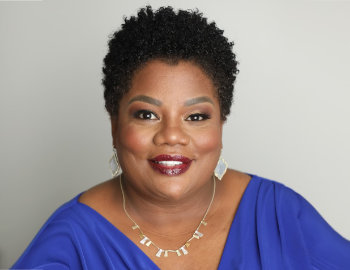 More about Myoshia Boykin-Anderson at And Tech Solutions
Join her Facebook group here
Our Sponsors and Special Offers
Podopolo – Almost 4 Million Podcasts, Personalized for You
Discover your new favorite podcasts, interact with hosts and each other, and win prizes, freebies, special discounts and more as you share content, put lessons into action in your life, and engage in mission-driven quests to improve the world – all in one mobile app. Get on the waitlist now! And if you're a podcaster – join us! Learn more here.
Grab Your Wings! Don't Miss the Top Retreat for Women Entrepreneurs
#LiftAsWeClimb … is More Than Words. It's Revenue and Profit. When our curated community of women entrepreneurs joined together for the Wings  Retreat in 2019, magic happened. Together we've exchanged more than $500,000 of new business between us. Yes, women succeed when we take meaningful action to support one another: promote each other, buy from each other, mentor each other, invest in each other. So join us at our 5-star luxury retreat destination in Costa Rica this October 20-24 so you can step into a world where women in business genuinely #LiftAsWeClimb. Learn more at wingsexperiences.com/apply – and expect magic.
Launch Your Magnetic and Profitable Podcast
If you've been putting off launching your podcast, now is your time. The world needs to hear your expertise and our message right now. Your voice IS your value, and your passport to engage the world in your true purpose and mission. I'm offering a group Podcast Accelerator at a discount so you can connect deeply with your community and attract and best serve your customers.
Get The 7 Steps to Your Profitable Podcast
Leverage my complimentary 7 Step Guide to engage your tribe with a magnetic podcast that makes you money.
Zero Limits Ventures
How much is your company worth? Want to find out how to boost your valuation? Claim your FREE consult call with Steve Little, who's built and sold 6 of his own companies for 9-figure exits and helps other founders get a 5X to 10X multiple on the sale of their business.
If you liked this episode...
Then you will love these!
Michelle Norris
PODCAST #494 Hard to Kill
Angela Henderson
PODCAST #496 The 7 Profit Pillars
Renée Warren
PODCAST #490 A Place of Giving