589 Patricia Gagic: Karmic Creativity
Money Karma, Creative Growth and Social Impact
Entrepreneurship is an art, its very essence the art of creation and innovation.
So when a financial whiz, banker, and entrepreneur transforms into an internationally acclaimed and award-winning artist, should we be surprised?
Today we talk about the artistry of transformation, and what it takes to play full out to fully realize all the many facets of our talents.
Patricia Gagic, whose art is regularly showcased in prestigious galleries and shows around the world, even Time Square's NASDAQ Jumbotron, is also a serial entrepreneur in finance, a bestselling author, visionary, philanthropist, and the Co-founder of Help Heal Humanity and the Karmic Art Experience.
How to be open to receiving inspiration to guide you to your true purpose
Why our growth happens when we dare step out of our comfort zones
How to overcome fear and unworthiness – and leverage misfortune or challenge as an opportunity for learning and reinvention
The karma of money
Why conscious entrepreneurs are best placed to solve the world's most pressing challenges
How women can overcome remnants of scarcity, jealousy and other emotions that prevent women from lifting each other
The connection between creation and the spiritual realm
And much more!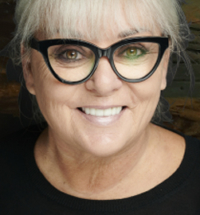 More about Patricia Karen Gagic
Patricia Gagic is an acclaimed international contemporary artist, serial entrepreneur in finance, and award-winning author. She is President of Patricia Karen Gagic Art Enterprise Inc., Co-founder of Help Heal Humanity and the Karmic Art Experience. Named Artist of the Year 2020 by Art Tour International Magazine, Patricia is represented by the Paul Fisher Gallery in West Palm Beach and Miami, 13th Street Gallery in St. Catharines and Gallery on the Bay in Hamilton, Ontario, Canada, Artworld Fine Art in Toronto and FACEC In France.
Get the Transcript HERE
Wings of Inspired Business was ranked #8 of Entrepreneur Magazine's Top 20 Business Podcasts for 2020 – and Feedspot's #2 business podcast for women.
Our Sponsors and Special Offers
Podopolo – The #1 Social Podcast App + Player
Discover your new favorite podcasts, interact with hosts and each other, and win prizes, freebies, special discounts and more as you share content, put lessons into action in your life, and engage in mission-driven quests to improve the world – all in one mobile app. Download Podopolo right now in the Apple and Google app stores. And if you're a podcaster – join us! Learn more here.
Launch Your Magnetic and Profitable Podcast
If you've been putting off launching your podcast, now is your time. The world needs to hear your expertise and our message right now. Your voice IS your value, and your passport to engage the world in your true purpose and mission. As the Coronavirus Pandemic continues, I'm offering a group Podcast Accelerator at a discount so you can connect deeply with your community and attract and best serve your customers.
Get The 7 Steps to Your Profitable Podcast
Leverage my complimentary 7 Step Guide to engage your tribe with a magnetic podcast that makes you money.
Zero Limits Ventures
How much is your company worth? Want to find out how to boost your valuation? Claim your FREE consult call with Steve Little, who's built and sold 6 of his own companies for 9-figure exits and helps other founders get a 5X to 10X multiple on their the sale of their business.
If you liked this episode...
Then you will love these!
Michelle Norris
PODCAST #494 Hard to Kill
Angela Henderson
PODCAST #496 The 7 Profit Pillars
Renée Warren
PODCAST #490 A Place of Giving