447 Rachel Ngom: Food Stamps to High 6 Figures
Learn Cutting Edge Hacks to Build Your Social Following, Email List and SEO
What's it like to be flat broke… in the red… on food stamps…
… And then somehow turn it all around from there to launch and grow a profitable high-six-figure business? All while traveling to exotic locations around the world?
Rachel Ngom shows that we can manifest whatever we choose with a powerful lesson on how NOT to let current circumstances dictate your future.
Rachel is an online lead generation expert helping purpose-driven entrepreneurs drive more traffic, leads, and sales through Pinterest, blogging, and strategic use of automation. Host of the She's Making an Impact podcast, Rachel also has signature courses and programs to share her secrets.
More about Rachel Ngom at Rachel Ngom
Learn Rachel's 10 smart strategies to get more leads with Pinterest: Register Here
Listen to Rachel's podcast: She's Making an Impact
Our Sponsors and Special Offers
Get The 7 Steps to Your Profitable Podcast
Hands down a podcast is THE way to truly connect with your customers and if you do it right, engage a growing community of loyal fans hanging on your every word. Learn how to find your voice with a profitable podcast with this complimentary download.  You can also qualify for a complimentary call with me on how to get your podcast launched in 12 short weeks – with a blueprint for community engagement and monetization as well. I'll share my 3 proven strategies that changed the game for me – plus some secrets I've learned about how to engage and monetize a growing following.
Wings of The Empowered Woman Mastermind & Retreat
Burned out? In overwhelm? Getting stressed trying to "do it all" to "have it all? Want to get more done in 4 days than you normally do in 4 months? Join other successful women entrepreneurs in Costa Rica for a 5-star experience in the pristine jungle location by a beautiful Pacific beach for a unique, immersive and intimate Retreat and 4 days of collaboration, co-creation, and connection for transformational outcomes. Get up-to-the-minute business hacks, connect with other powerful women, discover time freedom, and leave energized, empowered and ready to step fully into the light. Our curated community of heart-centered women entrepreneurs is committed to #LiftAsWeClimb. We're already filling up and taking applications right now. Hurry to lock in your place.
Zero Limits Ventures
How much is your company worth? Want to find out how to boost your valuation? Click here to claim your FREE consult call
with ZLV Founder Steve Little for your valuation enhancement and capital acquisition strategy.  You can also book your complimentary "office hours"  with Steve.
How to leverage Pinterest, one of the biggest search engines in the world to grow leads and conversions
How Rachel increased her traffic by 34,000 per month for free – using Pinterest.
The secrets of content repurposing and how to make every post or video stretch
The latest SEO Strategies
Plus … how to engage loyal fans … Rachel has a following of 100,000 women on her social media accounts
And the mindset we need to manifest the outcomes we want rather than letting present circumstances dictate our future aspirations.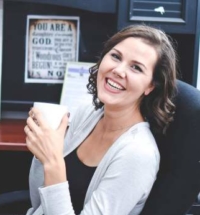 Get the Transcript HERE
If you liked this episode...
Then you will love these!
Michelle Norris
PODCAST #494 Hard to Kill
Angela Henderson
PODCAST #496 The 7 Profit Pillars
Renée Warren
PODCAST #490 A Place of Giving