507 Sarah Olivieri: Profiting from Non-Profits
How Best to Leverage a Social Impact Mission.
Many women are drawn into business because they have a heart-centered mission to change lives and improve the world.
The mission focus compels many women to create non-profits, assuming that social impact is somehow contrary to building a successful for-profit – and when they do, they miss out on the opportunity to create true wealth.
Today we talk about how limiting beliefs about money, lack of self-deservedness, and a feeling that its somehow wrong or inconsistent with mission to build wealth, motivate women who would otherwise build profitable enterprises gravitate to non-profits.
So, what are the upsides and downsides of organizing as a non-profit?
And if you run a non-profit, how to optimize operations, align a team, and garner the resources you need without burnout.
Sarah Olivieri began her business career in the nonprofit world, learning first-hand as an executive director, all the pitfalls and challenges that come with running a nonprofit. She was the co-founder of the Open Center for Autism, the Executive Director of the Helping of War Foundation, and the co-author of Lesson Plan a la Carte: Integrated Planning for Students with Special Needs.
Then she started a for-profit to help nonprofits simplify operations, build aligned teams, and get diversified funding and revenue sources called PivotGround.
The common mistakes most non-profit Executive Directors make
What types of businesses work best as non-profits
Why impact mission is not incompatible for for-profit status
Money mindset, and why limiting beliefs about money and self-worth can attract women to the non-profit world where they miss the opportunity to build true wealth and ownership
How to streamline operations and build an aligned team
And much more!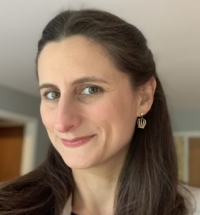 More about Sarah Olivieri at PivotGround
Sarah Olivieri is a nonprofit business strategist, #1 International Bestselling author, former Executive Director and the CEO and Founder of PivotGround. She has been featured on over 30 podcasts and is the creator of the Impact Method™ – a framework that helps nonprofits simplify their operations, build aligned teams, and make a bigger impact without getting overwhelmed or burning out.
Join Sarah Olivieri's Mastermind on Managing Change. Register Here
Get one of her books here
Get the Transcript HERE
Wings of Inspired Business was ranked #8 of Entrepreneur Magazine's Top 20 Business Podcasts for 2020 – and Feedspot's #2 business podcast for women.
Our Sponsors and Special Offers
Podopolo – Dynamic Interactive Podcasting
Discover your new favorite podcasts, interact with hosts and each other, and win prizes, freebies, special discounts and more as you share content, put lessons into action in your life, and engage in mission-driven quests to improve the world – all in one mobile app. Download Podopolo right now in the Apple and Google app stores.  We'd love it if you checked out our beta. And if you're a podcaster – join us! You can learn more here.
Launch Your Magnetic and Profitable Podcast
If you've been putting off launching your podcast, now is your time. The world needs to hear your expertise and our message right now. Your voice IS your value.  I believe your voice is your passport to engage the world in your true purpose and mission, and so during the Coronavirus I am offering a group Podcast Intensive and I'm cutting my rates so you can use this time of "physical distancing" to connect deeply with your community and attract and best serve your customers.
Get The 7 Steps to Your Profitable Podcast
Is this the year you finally launch that podcast of yours? I believe your voice IS your value.  I believe your voice is your passport to engage the world in your true purpose and mission, and that when you do leverage your voice as a podcaster miracles manifest for you and your business and the impact you want to have in the world. That's why I'm sharing with you my complimentary 7 Step Guide to engaging your tribe with a magnetic podcast that makes you money. Sound good? Go to wingspodcast.com/liftoff.
Zero Limits Ventures
How much is your company worth? Want to find out how to boost your valuation? Click here to claim your FREE consult call
If you liked this episode...
Then you will love these!
Michelle Norris
PODCAST #494 Hard to Kill
Angela Henderson
PODCAST #496 The 7 Profit Pillars
Renée Warren
PODCAST #490 A Place of Giving