547 Shani Godwin: Chief Joy Officer
"Joy Economics" and Why It's All About the Journey Not the Destination
What if work, didn't need to feel like work?  What if the way you earn your living brought you true joy and happiness? What if you could inspire a workplace culture that measured happiness along with revenue and earnings?
Studies show that happy team members outperform unhappy ones by just about any metric, so today we talk about "Joy Economics".
Shani Godwin is the founder and Chief Joy Officer of Communiqué USA, a high-growth marketing agency where her focus is all about ensuring her team members enjoy their work.
Today we're going to learn from this accomplished entrepreneur, author blogger, speaker and host of the Joy Economics podcast why workplace happiness translates into higher productivity and success.
What it means to inspire joy in your work culture, and how to do it
Why "workaholism" is often self-destructive and a cover for depression
Why success is not a destination, and how we can sometimes be shocked to reach a milestone only to feel empty inside
Why team members are more productive when the are having fun
How an email ban in the evenings and weekends increased productivity at Shani's company
How to be a better team leader and manager if you focus on the results not how people get to the results
How Covid "work at home" is changing company culture, and how Shani's reoriented her team during the pandemic to help 5,000 small businesses
And much more!
Join the conversation on Podopolo https://podopolo.com/download – available in for free in both the Google and Apple app stores – and unlock special perks including a chance to have a complimentary 15-minute consult with Wings host and serial entrepreneur Melinda Wittstock.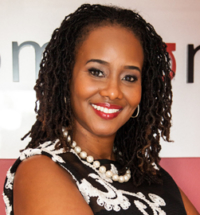 More about Shani Godwin at Communique USA
Shani Godwin is an accomplished entrepreneur, author, blogger, podcaster and speaker.  She is also known as Chief Joy Officer and has over 17 years of experience leading her high-growth marketing firm, Communiqué USA. She is also an expert at helping small businesses take the guesswork out of marketing, telling their story and growing their businesses the right way.
Get a FREE 30-minute coaching session
Listen to Shani's podcast Joy Economics
Get her book: The Love Project
Get the Transcript HERE
Wings of Inspired Business was ranked #8 of Entrepreneur Magazine's Top 20 Business Podcasts for 2020 – and Feedspot's #2 business podcast for women.
Our Sponsors and Special Offers
Podopolo – Dynamic Interactive Podcasting
Discover your new favorite podcasts, interact with hosts and each other, and win prizes, freebies, special discounts and more as you share content, put lessons into action in your life, and engage in mission-driven quests to improve the world – all in one mobile app. Download Podopolo right now in the Apple and Google app stores.  We'd love it if you checked out our beta. And if you're a podcaster – join us! You can learn more here.
Launch Your Magnetic and Profitable Podcast
If you've been putting off launching your podcast, now is your time. The world needs to hear your expertise and our message right now. Your voice IS your value.  I believe your voice is your passport to engage the world in your true purpose and mission, and so during the Coronavirus I am offering a group Podcast Intensive and I'm cutting my rates so you can use this time of "physical distancing" to connect deeply with your community and attract and best serve your customers.
Get The 7 Steps to Your Profitable Podcast
Is this the year you finally launch that podcast of yours? I believe your voice IS your value.  I believe your voice is your passport to engage the world in your true purpose and mission, and that when you do leverage your voice as a podcaster miracles manifest for you and your business and the impact you want to have in the world. That's why I'm sharing with you my complimentary 7 Step Guide to engaging your tribe with a magnetic podcast that makes you money. Sound good? Go to wingspodcast.com/liftoff.
Zero Limits Ventures
How much is your company worth? Want to find out how to boost your valuation? Click here to claim your FREE consult call
If you liked this episode...
Then you will love these!
Michelle Norris
PODCAST #494 Hard to Kill
Angela Henderson
PODCAST #496 The 7 Profit Pillars
Renée Warren
PODCAST #490 A Place of Giving