484 Sloane: A Higher Calling
What Coronavirus is Showing Women About Our True Power of Transformation
What message does the Coronavirus have for all of us?
You know those nudges we get when we're on the wrong path? If we ignore those nudges, they get louder and louder until we finally wake up and change course. Sometimes it has to get really bad for us before we make the leap into true alignment to manifest the lives we want.
Could the Coronavirus be a massive wakeup call showing us the possibility of new, evolved, equitable, innovative and collaborative path forward for business and society as a whole?
Today we talk about the opportunity for women in business to step into a new, evolved level of greatness in all aspects of business, lifestyle and pleasure.
Sloane is the founder and CEO of the Warriors of the Heart Society, and today she shares how Coronavirus is speeding us to a higher calling to care for other people, notice others' and their needs, and help bigger way. There is a new energy of collaboration she says is here to stay once the emergency lifts.
How to use this time to shift out of what is not truly serving you
How to receive with grace
How to be guided by inspiration and let go of the fear and anxiety
Why women in our authentic feminine power are ideally suited to prosper in the "new normal" ushered in by Coronavirus
How to make sure you give from a full cup and practice self-care
And much more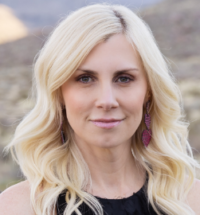 Sloane is the CEO and founder of Warriors of the Heart. A former Santa Monica lawyer building her own mergers & acquisitions and corporate law firm to help thousands of businesses, Sloane transformed her life to accept her new calling guiding women into and through the discomfort of change while up-leveling their pleasure and business profitability.
Sing up to Sloane's Warrior of the Heart Morning Ritual Here
Join Sloane's Facebook group Here
Join Sloane's Free workshop Here
Get the Transcript HERE
Our Sponsors and Special Offers
Launch Your Magnetic and Profitable Podcast
If you've been putting off launching your podcast, now is your time. The world needs to hear your expertise and our message right now. Your voice IS your value.  I believe your voice is your passport to engage the world in your true purpose and mission, and so during the Coronavirus I am offering a group Podcast Intensive and I'm cutting my rates so you can use this time of "physical distancing" to connect deeply with your community and attract and best serve your customers.
Get The 7 Steps to Your Profitable Podcast
Is this the year you finally launch that podcast of yours? I believe your voice IS your value.  I believe your voice is your passport to engage the world in your true purpose and mission, and that when you do leverage your voice as a podcaster miracles manifest for you and your business and the impact you want to have in the world. That's why I'm sharing with you my complimentary 7 Step Guide to engaging your tribe with a magnetic podcast that makes you money. Sound good? Go to wingspodcast.com/liftoff.
Zero Limits Ventures
How much is your company worth? Want to find out how to boost your valuation? Click here to claim your FREE consult call
If you liked this episode...
Then you will love these!
Michelle Norris
PODCAST #494 Hard to Kill
Angela Henderson
PODCAST #496 The 7 Profit Pillars
Renée Warren
PODCAST #490 A Place of Giving