495 Steffani LeFevour: Creating a New Reality
Why Success Always Comes from Within
Talk to any successful entrepreneur and they will tell you that all success in business begins with a "miracle morning".
Meditation. Journaling. Gratitude. Exercise. Really anything that helps you get into an optimal state of being so you can handle any challenges life throws your way … especially now in the midst of Coronavirus.
If you start your day with email, you're starting with other people's agendas. If you start your day with social media, you're likely to be stuck in some sort of "comparisonitis". If you start your day honoring yourself with a morning practice that lifts your soul, you will find everything runs smoother, miracles manifest, and you needn't be hustling all the time.
Steffani LeFevour is a Happiness coach, a bestselling author, and a personal growth junkie. She's passionate about coaching people to live an optimum life, and she's helped thousands of people master their mindset and transform their relationships so they can live happier on a daily basis.
The formula for creating a new reality
Why your morning routine is vital to set yourself up for a successful day
Why strategy should never be first; instead practice S plus S plus SR – your state plus your story, plus your strategy, equals your reality,
How to build a strong foundation upon which to build your business
Why you need to surround with the right people – people who inspire you and truly want you to succeed
Outsource everything outside your zone of genius – outsource what drains you
And more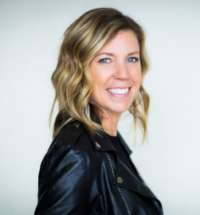 As a happiness coach, Steffani LeFevour has been in the business of self-improvement for over 25 years.  After becoming a mom to Jack and Zoe she had a major life shift.  She realized she needed to massively transform what happiness looked like through this new lens of being a parent and create a new custom designed road map to success. his new journey has led her to work on projects with many transformational leaders like, Oprah Winfrey, Dr. Shefali, and Neale Donald Walsh all while never missing one of her sons' hockey games.
Take her quiz to find out what's holding you back from your best life.
Get her book: You Are A Bad Ass Mom
Get the Transcript HERE
Wings of Inspired Business was ranked #8 of Entrepreneur Magazine's Top 20 Business Podcasts for 2020 – and Feedspot's #2 business podcast for women.
Our Sponsors and Special Offers
Podopolo – Dynamic Interactive Podcasting
Discover your new favorite podcasts, interact with hosts and each other, and win prizes, freebies, special discounts and more as you share content, put lessons into action in your life, and engage in mission-driven quests to improve the world – all in one mobile app. Download Podopolo right now in the Apple and Google app stores.  We'd love it if you checked out our beta. And if you're a podcaster – join us! You can learn more here.
Launch Your Magnetic and Profitable Podcast
If you've been putting off launching your podcast, now is your time. The world needs to hear your expertise and our message right now. Your voice IS your value.  I believe your voice is your passport to engage the world in your true purpose and mission, and so during the Coronavirus I am offering a group Podcast Intensive and I'm cutting my rates so you can use this time of "physical distancing" to connect deeply with your community and attract and best serve your customers.
Get The 7 Steps to Your Profitable Podcast
Is this the year you finally launch that podcast of yours? I believe your voice IS your value.  I believe your voice is your passport to engage the world in your true purpose and mission, and that when you do leverage your voice as a podcaster miracles manifest for you and your business and the impact you want to have in the world. That's why I'm sharing with you my complimentary 7 Step Guide to engaging your tribe with a magnetic podcast that makes you money. Sound good? Go to wingspodcast.com/liftoff.
Zero Limits Ventures
How much is your company worth? Want to find out how to boost your valuation? Click here to claim your FREE consult call
If you liked this episode...
Then you will love these!
Michelle Norris
PODCAST #494 Hard to Kill
Angela Henderson
PODCAST #496 The 7 Profit Pillars
Renée Warren
PODCAST #490 A Place of Giving