556 Melinda Wittstock: Melinda Wittstock: The Gift of Gratitude
The Message from the Coronavirus
Thanksgiving is a day of gratitude, a day of giving thanks for our accomplishments, our family, our friends.
This year Thanksgiving is different for thousands of people who've lost loved ones, lost their jobs or businesses, and maybe have lost their capacity for gratitude in all the suffering, fear, and uncertainty.
Today we talk about how to find thanks and blessings in these challenging times.
Because truth be told, even in good times, most people spend most of their time thinking about what they lack, what they want, what they envy …  rather than what they have, what they can give, or the value they can create.
During these times of fear and uncertainty, Melinda shares the gratitude practice that changed the game for her in her business and life when she was at her lowest ebb, helping her manifest with relative ease the joy and success she didn't know was possible before.
And she asks you take an hour of quiet time today to kick-start your own gratitude practice:
Grab a pen and paper and write free flow nonstop for a whole hour
List every last little thing you can think of that you are grateful for
When you think you can't write any more, keep going. Small things. Big things. Past things. Present things. Future things. People. Pets. Passions. And as you write, feel your feelings, and truly feel the joy of gratitude.
Do this before the Thanksgiving festivities begin, however limited those will necessarily be this year during the pandemic. Your practice today will make it less likely you'll get triggered by relatives, social media posts, past hurts, family arguments, and all the old subconscious beliefs that come with all of that. You'll be more likely to stay above the fray with a smile on your face, because you'll know you're manifesting your future – and all the joy, abundance, wealth and impact you envision.
So use this day – and all days – to begin or enhance your gratitude practice, so you can:
To step into the light.
To dare to dream.
To play bigger.
Melinda also gives a shout-out of thanks to her listeners, guests, and team members who have enabled Wings – and her social podcast platform Podopolo – to truly take flight.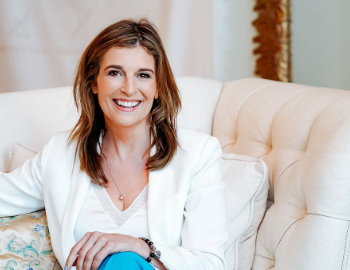 Join the conversation on Podopolo – available in for free in both the Google and Apple app stores – and unlock special perks including a chance to have a complimentary 15-minute consult with Wings host and serial entrepreneur Melinda Wittstock.
More about Podopolo
Melinda Wittstock is a 5-time serial entrepreneur, building several businesses to 7- and 8-figures success. She is the CEO and Founder of Podopolo, the world's first socially interactive podcasting app and player.  Melinda is a conscious leader, advocate for women in business, and leveraging entrepreneurship for social impact.
Get the Transcript HERE
Wings of Inspired Business was ranked #8 of Entrepreneur Magazine's Top 20 Business Podcasts for 2020 – and Feedspot's #2 business podcast for women.
Our Sponsors and Special Offers
Podopolo – The #1 Social Podcast App + Player
Discover your new favorite podcasts, interact with hosts and each other, and win prizes, freebies, special discounts and more as you share content, put lessons into action in your life, and engage in mission-driven quests to improve the world – all in one mobile app. Download Podopolo right now in the Apple and Google app stores. And if you're a podcaster – join us! Learn more here.
Launch Your Magnetic and Profitable Podcast
If you've been putting off launching your podcast, now is your time. The world needs to hear your expertise and our message right now. Your voice IS your value.  I believe your voice is your passport to engage the world in your true purpose and mission, and so during the Coronavirus I am offering a group Podcast Intensive and I'm cutting my rates so you can use this time of "physical distancing" to connect deeply with your community and attract and best serve your customers.
Get The 7 Steps to Your Profitable Podcast
Is this the year you finally launch that podcast of yours? I believe your voice IS your value.  I believe your voice is your passport to engage the world in your true purpose and mission, and that when you do leverage your voice as a podcaster miracles manifest for you and your business and the impact you want to have in the world. That's why I'm sharing with you my complimentary 7 Step Guide to engaging your tribe with a magnetic podcast that makes you money. Sound good? Go to wingspodcast.com/liftoff.
Zero Limits Ventures
How much is your company worth? Want to find out how to boost your valuation? Click here to claim your FREE consult call
If you liked this episode...
Then you will love these!
Michelle Norris
PODCAST #494 Hard to Kill
Angela Henderson
PODCAST #496 The 7 Profit Pillars
Renée Warren
PODCAST #490 A Place of Giving