627 Tisha Thompson: Love Yourself
How She Landed a Big Deal at Sephora
The beauty industry is being revolutionized by the growing demand for clean, non-chemical ingredients that are both healthy and effective – for all skin-types. 
So, it's a lucrative space for innovators like the newcomer African American entrepreneur we meet today.
Tisha Thompson is the first woman of color to land a deal with Sephora for a clean makeup line. 
A successful makeup artist turned beauty business maven, Tisha is the Founder and CEO of LYS™ Beauty with more than 15 years' industry experience in clean beauty product development, brand management, marketing, finance, and operations. Today she shares her journey and what it took to get LYS launched in during the pandemic with a groundbreaking deal with Sephora.
What it takes to innovate clean beauty products that are effective for all skin types
How she became the first African American woman to land a deal at Sephora for her clean beauty line
What it took to build her business during Covid, and how she pivoted her makeup line to make it relevant to mask-wearing, hint: It's about the eyes
Why turmeric and ashwagandha are two of her secret powerful ingredients
And much more!
More about Tisha Thompson at lysbeauty.com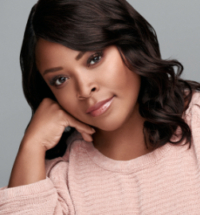 More about Tisha Thompson at LYS Beauty
Tisha Thompson is a makeup artist turned beauty business maven, the Founder and CEO of LYS™ Beauty, the first black-owned clean beauty line to be sold at Sephora. Tisha has more than 15 years' industry experience in clean beauty product development, brand management, marketing, finance, and operations, and she shares how she built LYS™ to offer makeup and skincare solutions uniquely catered to various skin types, textures, and tones, while addressing common skin concerns, like hyperpigmentation, dark spots and sensitive skin. 
Get the Transcript HERE
Our Sponsors and Special Offers
Podopolo – Almost 4 Million Podcasts, Personalized for You
Discover your new favorite podcasts, interact with hosts and each other, and win prizes, freebies, special discounts and more as you share content, put lessons into action in your life, and engage in mission-driven quests to improve the world – all in one mobile app. Get on the waitlist now! And if you're a podcaster – join us! Learn more here.
Grab Your Wings! Don't Miss the Top Retreat for Women Entrepreneurs
#LiftAsWeClimb … is More Than Words. It's Revenue and Profit. When our curated community of women entrepreneurs joined together for the Wings  Retreat in 2019, magic happened. Together we've exchanged more than $500,000 of new business between us. Yes, women succeed when we take meaningful action to support one another: promote each other, buy from each other, mentor each other, invest in each other. So join us at our 5-star luxury retreat destination in Costa Rica this October 20-24 so you can step into a world where women in business genuinely #LiftAsWeClimb. Learn more at wingsexperiences.com/apply – and expect magic.
Launch Your Magnetic and Profitable Podcast
If you've been putting off launching your podcast, now is your time. The world needs to hear your expertise and our message right now. Your voice IS your value, and your passport to engage the world in your true purpose and mission. I'm offering a group Podcast Accelerator at a discount so you can connect deeply with your community and attract and best serve your customers.
Get The 7 Steps to Your Profitable Podcast
Leverage my complimentary 7 Step Guide to engage your tribe with a magnetic podcast that makes you money.
Zero Limits Ventures
How much is your company worth? Want to find out how to boost your valuation? Claim your FREE consult call with Steve Little, who's built and sold 6 of his own companies for 9-figure exits and helps other founders get a 5X to 10X multiple on the sale of their business.
If you liked this episode...
Then you will love these!
Michelle Norris
PODCAST #494 Hard to Kill
Angela Henderson
PODCAST #496 The 7 Profit Pillars
Renée Warren
PODCAST #490 A Place of Giving