509 Trudi Lebron: Diversity Mindset
Overcoming Adversity to Transform Lives, Business, and Society
We are living in transformational times, many of us awakening to much that is unjust in our society including systemic and institutionalized racism here in the United States.
And it's presenting an opportunity for all entrepreneurs to address this injustice in how we run our companies – who we hire, how we train, how we navigate differences, and how we market our products and services to serve diverse customers and clients.
Trudi Lebron learned from her own struggles and challenges as a teenage mom with much stacked against her how to leverage business for social good – and help businesses attract, hire and inspire racially diverse teams and clientele and co-create inclusive, impactful communities.
Now a business coach and impact strategist specializing in supporting entrepreneurs and multi-million-dollar executives in the personal development and transformation industry, Trudi shares her story and what it takes for white business owners to create and lead a truly diverse team. Trudi says it starts with inner work, much like overcoming money mindset issues.
How to create a diverse and inclusive team
Why white business owners need to release subconscious mindset issues about race to attract non-white team members
How Trudi helped transform Hay House publishing to support black authors
How to create a social impact model as a for-profit business
How to overcome adversity in your life and leverage it to help others
And more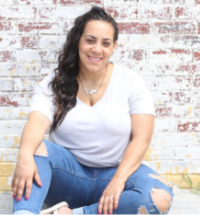 Trudi is a sought-after coach for entrepreneurs, nonprofits, and corporate institutions helping them create social impact initiatives, and train leaders to lead with a lens for equity, diversity, inclusion, and impact. Her time is more in demand now than ever before. Her experience of being a bi-racial teen mom on welfare who worked her way up in the non-profit sector while building her own business gives her a unique perspective on using our businesses for social good.
More about Trudi Lebron here.
Get Trudi Lebron's "Business is More Than" video training  
Join her Facebook group
Listen to Trudi's podcast That's Not How That Works, a show about race, diversity, equity, and inclusion in the coaching industry.
Get the Transcript HERE
Wings of Inspired Business was ranked #8 of Entrepreneur Magazine's Top 20 Business Podcasts for 2020 – and Feedspot's #2 business podcast for women.
Our Sponsors and Special Offers
Podopolo – Dynamic Interactive Podcasting
Discover your new favorite podcasts, interact with hosts and each other, and win prizes, freebies, special discounts and more as you share content, put lessons into action in your life, and engage in mission-driven quests to improve the world – all in one mobile app. Download Podopolo right now in the Apple and Google app stores.  We'd love it if you checked out our beta. And if you're a podcaster – join us! You can learn more here.
Launch Your Magnetic and Profitable Podcast
If you've been putting off launching your podcast, now is your time. The world needs to hear your expertise and our message right now. Your voice IS your value.  I believe your voice is your passport to engage the world in your true purpose and mission, and so during the Coronavirus I am offering a group Podcast Intensive and I'm cutting my rates so you can use this time of "physical distancing" to connect deeply with your community and attract and best serve your customers.
Get The 7 Steps to Your Profitable Podcast
Is this the year you finally launch that podcast of yours? I believe your voice IS your value.  I believe your voice is your passport to engage the world in your true purpose and mission, and that when you do leverage your voice as a podcaster miracles manifest for you and your business and the impact you want to have in the world. That's why I'm sharing with you my complimentary 7 Step Guide to engaging your tribe with a magnetic podcast that makes you money. Sound good? Go to wingspodcast.com/liftoff.
Zero Limits Ventures
How much is your company worth? Want to find out how to boost your valuation? Click here to claim your FREE consult call
If you liked this episode...
Then you will love these!
Michelle Norris
PODCAST #494 Hard to Kill
Angela Henderson
PODCAST #496 The 7 Profit Pillars
Renée Warren
PODCAST #490 A Place of Giving