607 Vanessa Marin: Business and the Bedroom
How to Stop Feeling Embarrassed About Sex and Have More Fun in the Bedroom
As children, we're told that sex is something we aren't supposed to talk about, and when our parents have "the talk" with us it's usually very awkward and rushed.  Add to all that the pressure to suppress our sexuality, lest we not be  taken seriously in business.
Is it any wonder so many women entrepreneurs struggle to balance sexual fulfilment with business success?
Maybe it's a generational thing, back when I was most often the only woman in the room, because I remember consciously suppressing any hint of my sexuality – in my struggle to be taken seriously for my brains. There was a deep fear there somewhere triggered by talk of women "sleeping their way to success", even when they hadn't, and that was not going to be me.
Years later I came to realize just how much I'd cut off a big part of myself, especially as an entrepreneur when your business is almost always on your mind. Was that compromise with myself now creeping into my romantic life? Maybe more than I'd like to admit.
Then I started to meet other female entrepreneurs who were standing firm in their full power, and when one told me her sales had grown, her business started thriving with fast scaling – once she committed to at least one orgasm a day, I had to rethink things.
Vanessa Marin has made it her mission to help women in business embrace their sexuality. Vanessa is is a licensed psychotherapist specializing in sex therapy, with a host of online courses for the busy female entrepreneur. You can find Vanessa's articles in The New York Times, Allure, and Lifehacker, and she has been featured over 1,000 times in major publications like O, The Oprah Magazine, Harper's Bazaar, Refinery29, and Real Simple.
With her courses like 'The Passion Project: A Couples' Blueprint To Rediscovering Desire And Reigniting The Spark' and 'Finishing School: Learn How To Orgasm and Orgasm With A Partner,' Vanessa says she finds immense joy in spreading the message that we all deserve more from our sex lives.
Listen today to learn about an inspiring entrepreneur who is here to help you stop feeling embarrassed about sex and start having way more fun in the bedroom.
What stops female founders from having great sex lives
Learn about sex therapy, and how it works How age affects your sexual confidence.
How your sex life affects your business
Why orgasms help your sales and leadership
How to be present, both in your business and in the bedroom
And much more!
More about Vanessa Marin at vmtherapy.com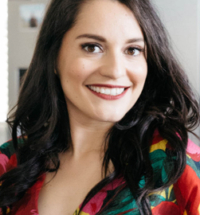 More about Vanessa at VM Therapy
Vanessa Marin specializes in online programs that help you transform your sex life from ordinary to extraordinary, all from the comfort and privacy of your own home. Her online courses 'The Passion Project: A Couples' Blueprint To Rediscovering Desire And Reigniting The Spark' and 'Finishing School: Learn How To Orgasm and Orgasm With A Partner', help women in business thrive in the bedroom AND in business.
Get the Transcript HERE
Wings of Inspired Business was ranked #8 of Entrepreneur Magazine's Top 20 Business Podcasts for 2020 – and Feedspot's #2 business podcast for women.
Our Sponsors and Special Offers
Podopolo – The #1 Social Podcast App + Player
Discover your new favorite podcasts, interact with hosts and each other, and win prizes, freebies, special discounts and more as you share content, put lessons into action in your life, and engage in mission-driven quests to improve the world – all in one mobile app. Download Podopolo right now in the Apple and Google app stores. And if you're a podcaster – join us! Learn more here.
Launch Your Magnetic and Profitable Podcast
If you've been putting off launching your podcast, now is your time. The world needs to hear your expertise and our message right now. Your voice IS your value, and your passport to engage the world in your true purpose and mission. As the Coronavirus Pandemic continues, I'm offering a group Podcast Accelerator at a discount so you can connect deeply with your community and attract and best serve your customers.
Get The 7 Steps to Your Profitable Podcast
Leverage my complimentary 7 Step Guide to engage your tribe with a magnetic podcast that makes you money.
Zero Limits Ventures
How much is your company worth? Want to find out how to boost your valuation? Claim your FREE consult call with Steve Little, who's built and sold 6 of his own companies for 9-figure exits and helps other founders get a 5X to 10X multiple on their the sale of their business.
If you liked this episode...
Then you will love these!
Michelle Norris
PODCAST #494 Hard to Kill
Angela Henderson
PODCAST #496 The 7 Profit Pillars
Renée Warren
PODCAST #490 A Place of Giving