601 Yael Joffe: Pioneering Nutrigenomics
How to Navigate the Ups & Downs of the Entrepreneurial Roller Coaster
Many of us start out with the best laid plans for our future, an intention to do something, be something.
And then life throws us curve balls and corrections if the plans we laid are not in alignment with our true purpose.
So how does an aspiring architect become an entrepreneurial leader in the field of nutrigenomics?
All too often for women entrepreneurs, the "startup spark" comes in the form of a personal problem – in this case, watching her beloved grandmother die of cancer.
Yael Joffe is the co-founder and Chief Science Officer of 3X4 Genetics, a genetics-based foundational health company that combines advanced genetic testing, nutrigenomic education and a global network of accredited practitioners to help people listen to their bodies and make sound, daily choices to live longer, healthier and better lives.
Yael describes herself as a "reluctant entrepreneur".  Listen to find out what she means. We also talk about what makes her company 3X4 so different from other companies in the space, what keeps her motivated on the entrepreneurial roller coaster, how she has overcome challenges along the way, and of course, how to hack your health!
What makes 3X4 so different from other genetics companies
Why Yael describes herself as a "reluctant entrepreneur"
How to stay motivated on the entrepreneurial roller coaster ride
The connection between nutrition and genetics, and how our dietary choices can turn on or off gene expressions
How gamification plays a big role in helping people understand the science of nutrigenomics
How nutrigenomics could have eased the Coronavirus pandemic
The inside skinny on "gene editing"
And much more!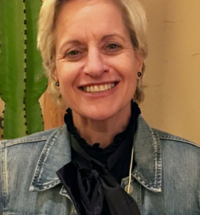 More about Yael at 3x4Genetics
Yael Joffe is a leading expert in the rapidly-evolving discipline of nutrigenomics, the science of using genetic testing to determine the interplay between genes, nutrition and health.  Co-founder and Chief Science Officer of 3X4 Genetics, Yael is also the co-author of two books, 'It's Not Just Your Genes' and 'Genes To Plate', and has been published in multiple peer-reviewed scientific journals.
Get her book: It's Not Just Your Genes
Get her book: Genes to Plate here
Get the Transcript HERE
Wings of Inspired Business was ranked #8 of Entrepreneur Magazine's Top 20 Business Podcasts for 2020 – and Feedspot's #2 business podcast for women.
Our Sponsors and Special Offers
Podopolo – The #1 Social Podcast App + Player
Discover your new favorite podcasts, interact with hosts and each other, and win prizes, freebies, special discounts and more as you share content, put lessons into action in your life, and engage in mission-driven quests to improve the world – all in one mobile app. Download Podopolo right now in the Apple and Google app stores. And if you're a podcaster – join us! Learn more here.
Launch Your Magnetic and Profitable Podcast
If you've been putting off launching your podcast, now is your time. The world needs to hear your expertise and our message right now. Your voice IS your value, and your passport to engage the world in your true purpose and mission. As the Coronavirus Pandemic continues, I'm offering a group Podcast Accelerator at a discount so you can connect deeply with your community and attract and best serve your customers.
Get The 7 Steps to Your Profitable Podcast
Leverage my complimentary 7 Step Guide to engage your tribe with a magnetic podcast that makes you money.
Zero Limits Ventures
How much is your company worth? Want to find out how to boost your valuation? Claim your FREE consult call with Steve Little, who's built and sold 6 of his own companies for 9-figure exits and helps other founders get a 5X to 10X multiple on their the sale of their business.
If you liked this episode...
Then you will love these!
Michelle Norris
PODCAST #494 Hard to Kill
Angela Henderson
PODCAST #496 The 7 Profit Pillars
Renée Warren
PODCAST #490 A Place of Giving