736 Kamini Wood: Overcoming Perfectionism
How to Live Authentically and Believe in Your 'Enoughness'
Ever found yourself cleaning the house before the cleaner comes?
Iterating on your perfect sales plan and not asking for the sale?
Waiting till you lose those 10 pounds before putting yourself out there on social media to market your product?
We've all been there, in fact most women feel intense pressure to show up perfect in all areas of their lives, an impossible goal that prevents us from taking the kind of imperfect action necessary to succeed in entrepreneurship or any career.
So why are most women such perfectionists?
Kamini Woods grew up in an Indian family in a predominantly white Connecticut town and says she felt intense pressure to blend in. With hard working immigrant parents, she internalized the belief: "Work hard and people will accept you." So, she did just that, and it worked. But she became addicted to the accolades of others, yearning for acceptance and if it didn't come, she felt she had failed or was somehow not good enough.
As women we all seem to internalize this message, no matter our personal stories, constantly striving for perfection to meet others' expectations. And somewhere along the way we lose touch with our authentic selves.
After a successful career in project management, Kamini became a certified professional coach, the creator of AuthenticMe® and CEO of Live Joy Your Way, helping individuals overcome their fears, unhelpful mindsets, and behaviors – including perfectionism.
The difference between mastery and perfectionism
The power of "imperfect action" in business and life
Why perfectionism is simply a manifestation of fear
And much more!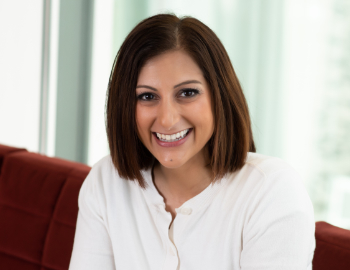 Be sure to join the conversation with Kamini and me over on the interactive podcast app Podopolo, where you can share your perspectives and she'll take your questions. Download Podopolo, follow Wings of Inspired Business, and invite your friends.
More about Kamini at Kamini Wood
Kamini Wood, a certified professional coach, helps people take the courageous steps to identify their limiting beliefs, the reasons for their stagnation or feelings of 'not enoughness', so they can have what they want professionally and personally to live a fulfilled life. She is the creator of AuthenticMe® and CEO of Live Joy Your Way, a coaching company helping individuals shake free of their fears, unhelpful mindsets, and behaviors in order to have healthy relationships and move forward on the professional path they choose.
Download her FREE 8 Steps to Overcome Limiting Beliefs
Get her book: Life's Gentle Reminders
Get the Transcript HERE
Podopolo: The Podcast App Where You Get Prizes – Just for Listening
Discover the perfect podcasts for you and your friends curated automatically to surface what you love from 5 million titles across all genres on the interactive podcasting app that makes listening social and personalized – and profitable for creators. Download now – it's free!  And sign up for our Contest to make a difference in the world and win prizes – just by listening.
Podcasters: Who Wants to Earn $2 for Every Listener?
When you invite your listeners to listen and engage with you and your show on the interactive podcasting app Podopolo, you get paid up to $2 for every fan you bring. Become a Podopolo Ambassador now and start monetizing your podcast.
Get The 7 Steps to Your Profitable Podcast
Leverage my complimentary 7 Step Guide to engage your tribe with a magnetic podcast that makes you money.
Zero Limits Ventures
How much is your company worth? Want to find out how to boost your valuation? Claim your FREE consult call with Steve Little, who's built and sold 6 of his own companies for 9-figure exits and helps other founders get a 5X to 10X multiple on the sale of their business.
If you liked this episode...
Then you will love these!
Michelle Norris
PODCAST #494 Hard to Kill
Angela Henderson
PODCAST #496 The 7 Profit Pillars
Renée Warren
PODCAST #490 A Place of Giving